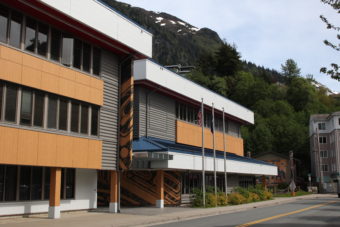 Federal funding cuts are reducing tribal welfare programs in seven Southeast Alaska communities.
Details have emerged about the four affected programs, offered through the Juneau-based Central Council of Tlingit and Haida Indian Tribes of Alaska.
Funding comes from the Bureau of Indian Affairs, which announced a reduction on short notice.
Tribal council director William Martin said about 230 low-income tribal members are being helped by one of the four programs this month.
The council runs the programs in Craig, Klawock, Douglas, Saxman, Wrangell, Juneau and Haines. They're run by local tribal governments in some other communities.
One provides bus passes, child-care assistance and other resources to get clients into jobs.
"It's designed to help them with things like interview clothing, if they don't have interview clothing," Martin said. "Or if they need work clothing or specialty work gear, like if they're going into construction, we'd be able to assist them with the basic needs in construction or in carpentry."
Martin said another program funds vocational training, including two-year degrees.
The third helps those seeking four-year degrees.
"Unfortunately because of these cuts, we cannot take any new clients and some of the services that we were able to provide for our existing clients will be reduced as well," Martin said.
A fourth program puts clients in temporary jobs in which they're paid. Martin said it's all about gaining skills.
"Work experience is a program that we have designed to assist our clients who have little or no work experience, or who want to try out a career that they think they're interested in, but not sure about it. So we can put it into a temporary position," he said. "It's designed to assist them in beefing up their resume so that they become more employable."
Five temporary employees will be laid off at the end of this month, Martin said.
The council is continuing a program that provides cash for food, shelter, utilities and clothing.
An earlier report incorrectly stated such assistance would also be cut.