Juneau attorneys are worried that the governor will pick a justice for the state's highest court who may have little background or experience with Southeast Alaska issues.
The Juneau Bar Association, a voluntary, largely informal organization based in the Capital City, recently drafted a letter urging Gov. Bill Walker to consider someone from Southeast Alaska for appointment to the Alaska Supreme Court.
Lael Harrison of the Juneau Bar Association concedes that their letter may sound like it's advocating for one particular nominee for the high court.
"We don't want it to be construed that way," Harrison said. "We want it to be an explanation of why we think geographic diversity is important unconnected to any particular candidate."
Four people have been nominated to fill the seat vacated by retiring Justice Dana Fabe. They include Susan Carney of the Office of Public Advocacy in Fairbanks, Superior Court Judge Andrew Guidi of Anchorage, private attorney Jahna Lindemuth of Anchorage, and Superior Court Judge Philip Pallenberg of Juneau.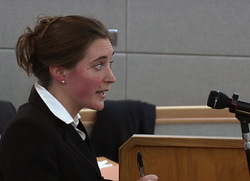 Harrison said they regretted not speaking up when a new justice was appointed in 2013 to fill the seat formerly held by retiring Justice Walter 'Bud' Carpeneti of Juneau. Harrison said a local or Southeast appointment to the high court could be important, for example, for their knowledge of the area geography, cultural differences, transportation challenges and courtroom practices.
"A justice and Supreme Court staff here in Juneau means that not only members of the bar, but also members of the public know these folks," Harrison said. "Having a Supreme Court justice who is a neighbor, who is a local really adds confidence in the judiciary for people of Southeast Alaska that they have that sort of informal access and knowledge that their unique situation is being heard."
The longest period without a Supreme Court justice from Juneau was from 1980 to 1996, according to research by Alaska Court System staff. The court also lacked a representative from Fairbanks from 1997 to 2007.
"There's certainly no rule or vested right for any community to have a justice represent them," said retired Alaska Supreme Court Justice Alexander Bryner. "And the justices deal with statewide issues, not so much local issues."
Bryner said they have multiple duties when they serve on the high court. Of course, they're required to consider appeals from lower courts, hear arguments and circulate opinions on any civil cases before them. They also have discretion to hear criminal cases appealed from the Alaska Court of Appeals. But that's not all.
Justices have the final word when it comes to disciplining Alaska attorneys and other judges for bad conduct.
Bryner said they also establish the rules of procedure for the entire Alaska court system, and help manage all 39 courthouses, 73 judges and 750 employees. Essentially, justices sit as a board of directors to the court system's administrative director.
"The Supreme Court also has the administrative responsibility for providing budgets, and organizing and setting internal procedures for all those courts to the extent they are dictated by statute," Bryner said. "So, it's got a wide administrative reach statewide in administering our entire justice system."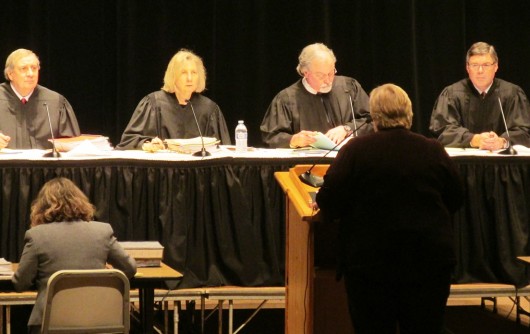 The Alaska Supreme Court is based out of Anchorage, although justices occasionally hear arguments in other communities and high schools around the state.
When a vacancy opens up in any state courthouse, the nonpartisan and independent Alaska Judicial Council solicits applications, and then vets and interviews applicants for the bench. Executive Director Susanne DiPietro said they evaluate all the applicants for their knowledge of Alaska law, competence, fairness, integrity, temperament, judgment, life experience and commitment to public and community service.
"I think there's a school of thought that says people who have all kinds of different experiences — whether they're from different socioeconomic classes, different geographical areas, different ethnicities maybe who have those life experiences — people will say those are important things that are brought to the decision-making process, but not in terms of knowing things (or) knowing facts in the record, but in terms of just the way you think or analyze or view the world," DiPietro said.
And Bryner, who served as chairman ex officio of the Alaska Judicial Council while he sat as chief justice for three years, confirms that much more goes into evaluating candidates for the high court.
"From my own experience, it's hard for me to conceive that the members of the council would pass up a justice that they thought was heads and tails above another applicant just to make sure that there's geographical diversity," Bryner said. "I mean, that's not the way it works."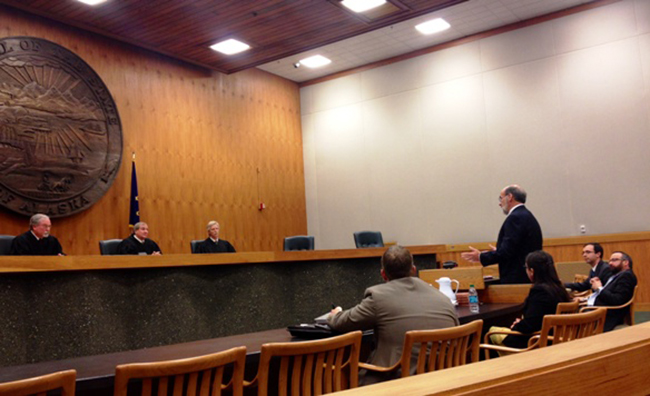 When the Alaska Judicial Council is done with the screening process, they usually forward the names of least two qualified candidates to the governor for his or her consideration.
For the current vacancy on the Alaska Supreme Court, Gov. Walker has a choice of four nominees who currently make their home in Anchorage, Fairbanks or Juneau. There are two men and two women.
According to the National Association of Women Judges, Alaska is well below the national average when it comes to appointing women to the bench. Depending on the governor's selection, Alaska could join Idaho and Iowa as the only states which do not have a woman sitting on the highest appellate level court.
Harrison said it's not like they believe that other forms of diversity are unimportant.
"Obviously, there's lots of things that need to be considered when making an appointment, lots of forms of diversity that matter, lots of forms of experience that matter," Harrison said. "We just wanted to be heard about this one particular issue that, we thought, might not otherwise be on the governor's radar."
Gov. Walker has until May 15 to pick a new justice. It's possible he may announce his selection as the Alaska Bar Association meets in Anchorage for their annual convention starting May 11.
Membership in the Alaska Bar Association is mandatory for all practicing Alaska attorneys, and officials say they usually don't take a stand on such issues.