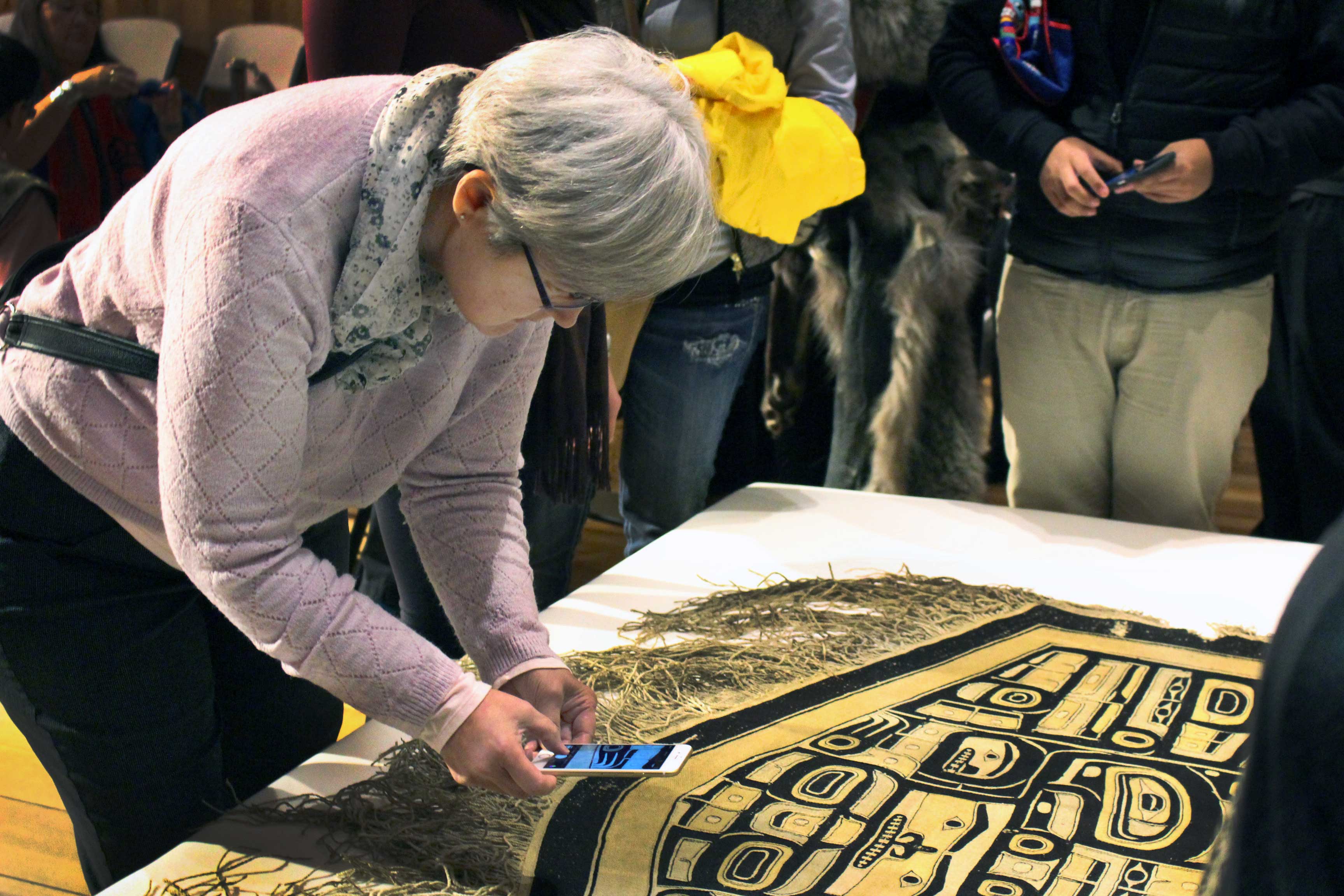 A Chilkat robe that was for sale on eBay has returned to Southeast Alaska. The robe traveled all the way from Texas, where it was almost sold to the highest bidder. Instead, Sealaska Heritage Institute welcomed it home.
A crowd packed the red cedar clan house at Walter Soboleff Building downtown: Tlingit, Haida and Tsimshian gathered together. The ceremony began with two songs of mourning: one eagle, the other raven.
The robe was brought in a cardboard FedEx box and unfurled to reveal a black and yellow design.
"It's a blanket made out of mountain goat wool and cedar bark and it takes about a year to make," said Rosita Worl, SHI's president.
Worl says the clan crest could be a thunderbird or a hawk. But the organization isn't sure. They were able to purchase the robe from the eBay seller at the base price.
Blankets like these can fetch upward of $30,000. Instead, SHI paid about $14,000.When the seller was informed about the item's significance, Worl said he worked with SHI to make sure it was returned. She hadn't seen the Chilkat blanket until this moment.
"I wish I had because when I first saw it I was just so overcome that I could barely make the opening remarks."
Dorothy Gregory came to the ceremony because she wanted to see the weaving. She said she knows this is one of many blankets that have been taken out of Alaska.
"My grandmother's blanket was one of them. We look forward to someday seeing it again, you know?" Gregory said.
George Blucker, the seller of the blanket, couldn't be reached for comment. But in a statement, he said he purchased it at a flea market in Illinois.
SHI believes is could have been a funerary object, due to the fraying at the ends.
The ceremony closed with dancing and a joyous song. Clan leader, David Katzeek, called the robe an amazing technology. But unlike your tablet or iPhone, he said this kind isn't isolating. It's known as at.oow.
"That which was paid for with our lives. That's the reason we have an intimacy," Katzeek said. "It can be misrepresented when people say our ancestors came home. When we're saying that, we're talking about that technology. That generates a very intimate way of thinking about family, about each other."
In the future, weavers and artists will be invited to study the blanket at SHI.