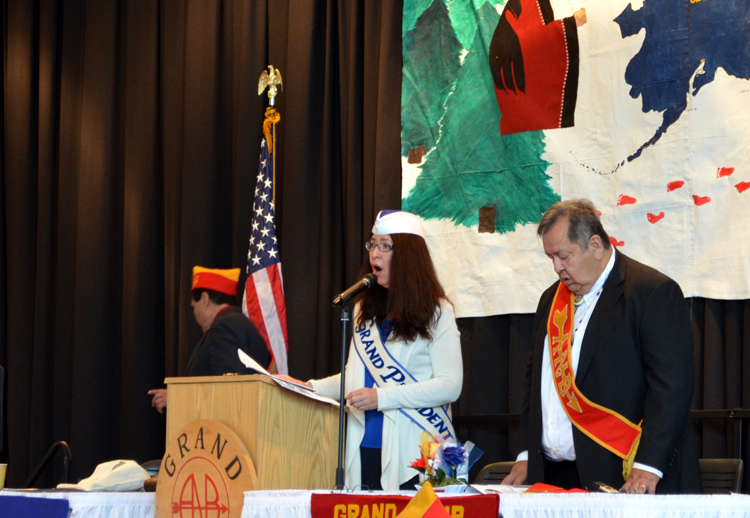 The Alaska Native Sisterhood is celebrating its 100th anniversary this week in Wrangell, where it was founded.
The Native rights group is honoring its past while contemplating its future. The theme for the anniversary celebration, which is being held in conjunction with the Alaska Native Brotherhood and sisterhood Grand Camp annual convention, is "building on the strength and wisdom of our founding mothers."
A group of women in Wrangell founded the Alaska Native Sisterhood in 1915 as an auxiliary to the Alaska Native Brotherhood, which was established three years earlier. The two organizations worked toward equal rights and citizenship for Alaska Natives, and they played a major role in starting the land claims settlement.
But after 100 years, ANS executive committee member Ethel Lund says the sisterhood's biggest challenge will be recruiting younger members and adapting to fit into the 21st century.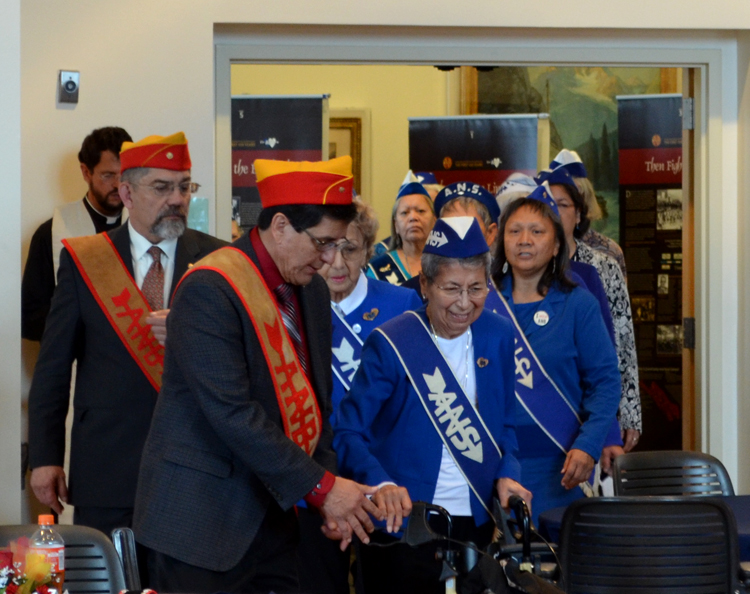 "And that means equality between the brotherhood and the sisterhood, and a more energized, informed delegation," she said. "It's evident that our median age right now is probably about 60. And we really are hard-pressed for input by the younger generation."
Lund was the keynote speaker on the first day of the 103rd ANB-ANS Grand Camp annual convention. She joined ANS in Wrangell nearly 50 years ago and was president of the Southeast Alaska Regional Health Consortium for 25 years.
Lund said she feels energized by the 100th anniversary of the sisterhood, but she doesn't want that century of work to just fade away.
"It's very evident that we have to update our constitution to meet the needs of today, because it needs to become a forward-looking organization rather than counting on our past history," Lund said.
Sandy Churchill is president of ANS Camp No. 1 in Wrangell. She says the Wrangell group is up to the challenge of attracting younger people to ANS and is including young girls in Grand Camp activities.
"We have young junior ANS members joining. And I think once their friends see all the enthusiasm and the community, the connection that they have, I think they're going to attract more members," Churchill said.
Churchill says she agrees with Lund's call to get young people involved.
"We're thinking, yes we need to get these girls involved and let them grow up in ANS the way we did," she said.
Several members recalled their mothers being active in the sisterhood, and some women joined the organization when they were as young as 16.
ANS Grand President Emeritus Mary Jones of Ketchikan talked about a committee of ANS members who went into homes and made sure children were taken care of and prepared for school.
The Alaska Native Sisterhood worked with ANB to lobby for Native citizenship, voting rights and integrated public schools. But the sisterhood still isn't fully equal to the brotherhood, and some members want that to change.
It wasn't until almost 15 years after ANS formed that sisterhood delegates were allowed to vote with the brotherhood at Grand Camp conventions. Between conventions, the decision-making committee consists of all of the brotherhood's executive officers and the sisterhood's grand president. Some members want the sisterhood to have equal input when important decisions are made for ANB-ANS.
In his report to the delegates, ANB Grand President Eric Morrison announced a new step toward equality for the sisterhood.
"We've started a sisterhood endowment, and we received our first check," Morrison said. "We're off to a flying start. We want our sisterhood to have a trust fund equal to ours. And that we can work equally together with funds and work as we see fit."
The ANS and ANB plan to continue working on resolutions about subsistence issues, transboundary mining and landless legislation.