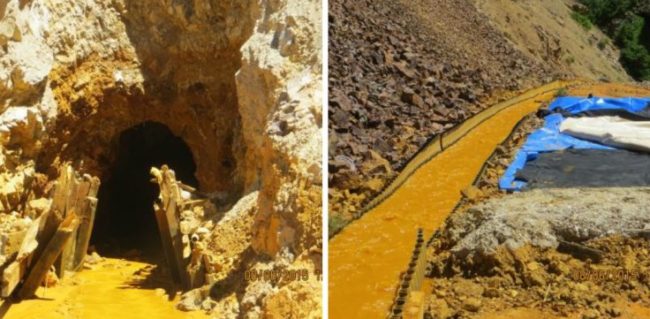 Environmental Protection Agency workers accidentally triggered the spill of a million gallons of mine wastewater into the Colorado River, the agency said Thursday.
Colorado Public Radio reports EPA workers were at the Gold King Mine using heavy equipment to investigate contamination at the site. Southwest Colorado has many abandoned mines, reports CPR, and workers have been in the area for years trying to rehabilitate the sites.
"We typically respond to emergencies, we don't cause them. But this is just something that happens when we're dealing with mines sometimes," said Dave Ostrander, EPA Region 8 Director of Emergency Preparedness.
The spill happened on Wednesday, but the agency didn't tell anyone about it until Thursday.
The Associated Press reports the EPA says it's too early to determine health risks, but that they've not found any so far.
Federal environmental officials say it's too early to know whether heavy metals that spilled into a river from a Colorado mine pose a health risk.
The Environmental Protection Agency said Friday that water samples still are being tested but so far no hazard has been detected. The EPA says lead, arsenic and other heavy metals were found in the Animas River in Colorado after 1 million gallons of mustard-colored wastewater surged out of the mine.
The EPA says it has no way to get the discolored water out of the river and that it will eventually dissipate. It wasn't clear when that will happen.
Officials say an EPA-led cleanup crew accidentally triggered the spill Wednesday.
The Animas flows from Colorado into New Mexico. Tests also were being done there, but results weren't known.
As of Friday evening, CPR reports, the mine is still leaking water that contains "lead, arsenic, along with cadmium, aluminum, copper and calcium and other pollutants." The EPA is building a settling pond to collect further discharge.
The Associated Press also reports that the spill has reached northern New Mexico where city officials have cut off the river's access to water treatment facilities.
A yellow sludge spilling from a shuttered gold mine into a southwestern Colorado river has reached northern New Mexico.
San Juan County Emergency Management Director Don Cooper says the plume arrived in the city of Aztec on Friday night and Farmington on Saturday morning.
Officials in both cities shut down the river's access to water treatment plants and say the communities have a 90-day supply of water and other water sources to draw from.
About 1 million gallons of wastewater from Colorado's Gold King Mine began spilling Wednesday when a cleanup crew supervised by the Environmental Protection Agency accidentally breached a debris dam that had formed inside the mine.
No health hazard has been detected, but tests were being analyzed. Federal officials say the spill contains heavy metals including lead and arsenic
Cooper told the Daily Times in Farmington, "It's not going to look pretty, but it's not a killer." He said people shouldn't panic because the EPA told San Juan County officials that the spill will not harm humans and that the primary pollutants are iron and zinc.
The Colorado Department of Public Health and the Environment told several national news outlets that the spill's impact on the environment wasn't clear. There are no fish in the Cement Creek Watershed because of a long history of poor water quality.
Jonathan P. Thompson, a senior editor at High Country News in Durango, Colorado, and the San Juan Citizens Alliance tweeted about the spill Thursday.
Friday afternoon Thompson reported the EPA says the spill would have happened on its own had someone not had someone not intervened and drained it.
KUNC reports the EPA has wanted to label areas around Silverton, Colorado, near where the spill happened, as a Superfund site. The town, however, has resisted the label because it could have a negative effect on tourism.
The EPA is posting photos from the spill on their website, but as of early Saturday afternoon the EPA's Region 8 office has made no mention of the disaster on Twitter or Facebook; neither has the main EPA office (Facebook, Twitter)