Update | 12:44 p.m. June 3, 2015
The Mendenhall jökulhlaup has ended. Water levels in Mendenhall Lake and Mendenhall River peaked at about 11:30 p.m. Tuesday below flood levels.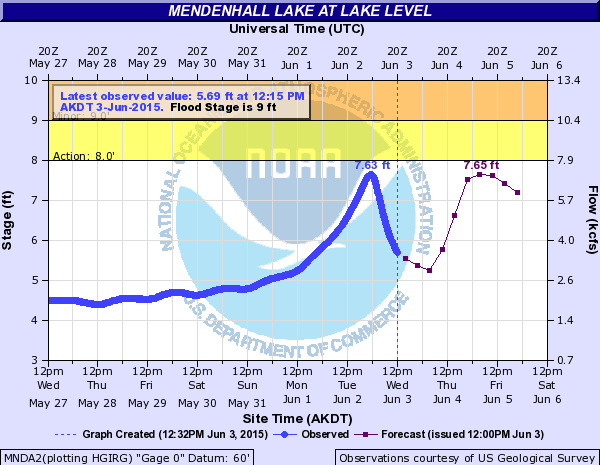 Original Post | 8:54 p.m. June 2, 2015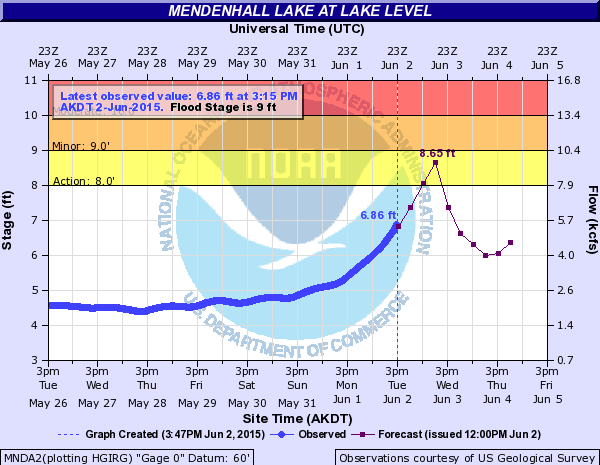 The National Weather Service in Juneau says a glacier dam release is causing high water levels in Mendenhall Lake and Mendenhall River. It's the earliest glacier dam release from Suicide Basin on record by a month.
"A lot of our scientists are monitoring this, caught us a little bit off guard just due to how early it released," says weather service hydrologist Aaron Jacobs. "Compared to previous years, the earliest one prior to this was right around July 4 in 2012."
The phenomena, also known by the Icelandic term jökulhlaup, began Sunday. Lake and river levels are expected to crest at 8.7 feet around 10 a.m. Wednesday, just below the weather service's benchmark for "minor flood stage." That's when Glacier Spur and Skaters Cabin roads flood. Historically, private property along View Drive has been the most susceptible to flooding.
Seasonal jökulhlaups in the Mendenhall Valley began occurring regularly in 2011. Water collects in Suicide Basin, which is about a mile upstream from the face of the Mendenhall Glacier. If enough water accumulates, it literally lifts the glacier up, kind of like an ice cube in a glass of water. As water flows out, it also bores a hole in the ice.
Jacobs says one hypothesis for why jökulhlaups have become fairly regular is the glacier's shrinkage.
"How warm the temperatures have been the past winters, stuff like that, not having enough snow and ice accumulations, that, over time, the weight of the Mendenhall Glacier is losing that much mass and that much weight that maybe it won't need as much water pressure to actually lift it up."
Jacobs says forecasting Mendenhall jökulhlaups is challenging because there are several hard to measure variables, including the mass of ice in the basin, the mass of the glacier and the volume of water in the basin.