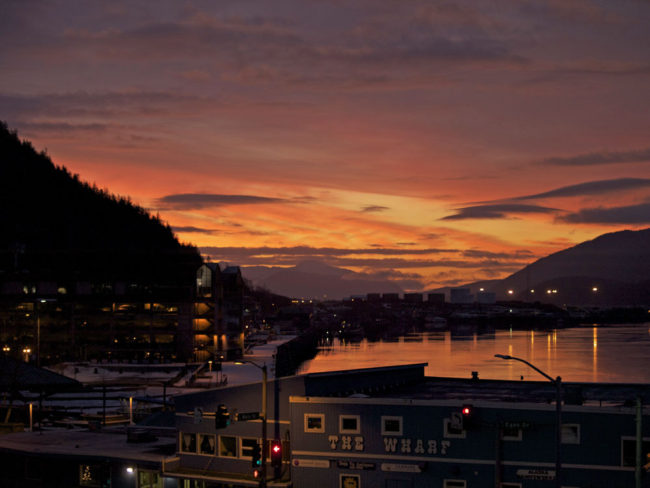 Since World War II, the capital city has switched from Pacific Time to Yukon Time to Alaska Standard Time — and was even out of sync with the rest of Southeast Alaska at one point.
Sen. Anna MacKinnon says a new version of her Senate Bill 6 heals an old time zone "war wound" for Southeast while eliminating daylight saving time statewide.
The topic of time in Alaska has always been complicated. The state's vast size has made the pros and cons of daylight saving time and time zones inconsistent.
"Because Alaska is so diverse in terms of its breadth of longitude, there's no way that everybody can be happy," says Frank Norris, a historian with the National Park Service.
Norris says communities had set their own time zones in the pioneer days. It wasn't until the gold rushes at the turn of the century that the U.S. Army set the territory's first singular time zone. Residents were reluctant to observe it, but the U.S. Congress mandated it along with daylight saving time in 1918 to conserve energy for the war effort.
"Alaskans have always been an independent bunch. And they haven't over history necessarily thought of themselves as Alaskans first," Norris says. "So because of that they've had differing notions about what time zone they want to be on."
Folks in Skagway wanted to be on Yukon Time, while other Southeast residents preferred being aligned with Seattle — it was a conflict that divided Alaska in the decades following World War II.
This lack of unity and capital accessibility concerns prompted then-Juneau Mayor Bill Overstreet to act. Through an Assembly resolution, he requested the U.S. Department of Transportation move the capital city off Pacific Standard Time. The feds granted the change to Yukon Time, and Juneau fell out of sync with the rest of Southeast.
Pacific Time, all the time

By Jeremy Hsieh
On March 28, 1980, locals voted 2-1 in a single-issue special election to amend the City and Borough of Juneau's charter regarding time zones.
The election came not long after Assembly members successfully petitioned the federal government to move Juneau off of Pacific Time. The charter amendment forced the Assembly to petition the federal government again to revert to Pacific Time, and continues to bar the Assembly from supporting anything but Pacific time.
The language remains in section 3.19 of Juneau's charter:
"The assembly may not sponsor, petition, propose, recommend, refer or otherwise act in any way to provide for a change of the Pacific Time Zone applying to the area of the municipality."
Juneau residents were not pleased.
The time zone issue drove Rich Poor to run for Assembly in the 1980s.
"Basically Juneau was kind of sandwiched in between Anchorage on one side and the rest of Southeast Alaska on the other side and we were kind of a no-man's land for our time zone, and we were kind of in sync with nobody," Poor says.
Poor says Overstreet's time change spurred a local political uprising and a recall attempt of the mayor and four Assembly members.
"That caused such a commotion that the DOT came back, held more hearings and moved Juneau back to Pacific Time," Poor says.
The city would not stay in this time zone for long. Then-Gov. Bill Sheffield sought to eliminate the two-hour gap between Southeast and the Railbelt by setting one statewide time zone. The legislature passed Sheffield's proposal and Alaska Standard Time went into effect in 1983.
The state has been on the same system since and continues to observe daylight saving time. The legislature has introduced multiple bills attempting to exempt the practice, but none have succeeded.
Eagle River Sen. Anna MacKinnon says she learned her lesson when her first daylight saving time bill failed six years ago. She says eliminating daylight saving time is difficult without addressing the effect on the state's singular time zone.
That's why she added a provision to SB 6 requiring Gov. Bill Walker to petition the federal government to consider moving the state's time zone.
"It was our original intent that we wanted to spring forward and stay on daylight saving time," MacKinnon says. "And to do that from a time zone interpretation, that means we would go to Pacific and stay there."
MacKinnon says her latest legislation "honors the sacrifice" Southeast residents made when switching off Pacific Time.
Regardless of what the federal government determines, SB 6 would still exempt the state from practicing daylight saving time. MacKinnon says studies correlating daylight saving time with increased rates of heart attacks and suicides prompted her decision to introduce the bill.
"The erratic nature of moving forward or falling back is at least starting to prove out scientifically and statistically that there is some kind of relationship between the two," MacKinnon says.
Numerous local businesses testified in opposition to SB 6 before the Senate Finance Committee Tuesday. Stuart Cohen, owner of the clothing store Invisible World, says a loss of evening daylight could inhibit tourists from getting off cruise ships to shop.
"Adding one more obstacle, it's not gonna put us out of business, but it's just kind of makes it a little bit harder," Cohen says, "And I just don't see how anybody in Southeast Alaska benefit(s) from this at all."
Anchorage resident Lynn Willis testified in support of the legislation, yet he objects to the added amendment because of the delayed sunrise central Alaska would experience if moved to Pacific Time.
That's to be expected, says National Park Service historian Frank Norris.
"I think that those tensions will continue to exist just because Alaska is such a large place, it's such a diverse place, and because people have differing needs on what they want to see from their time zones."
Norris says as the state continues to develop and expand, the daylight debate will not be setting any time soon.