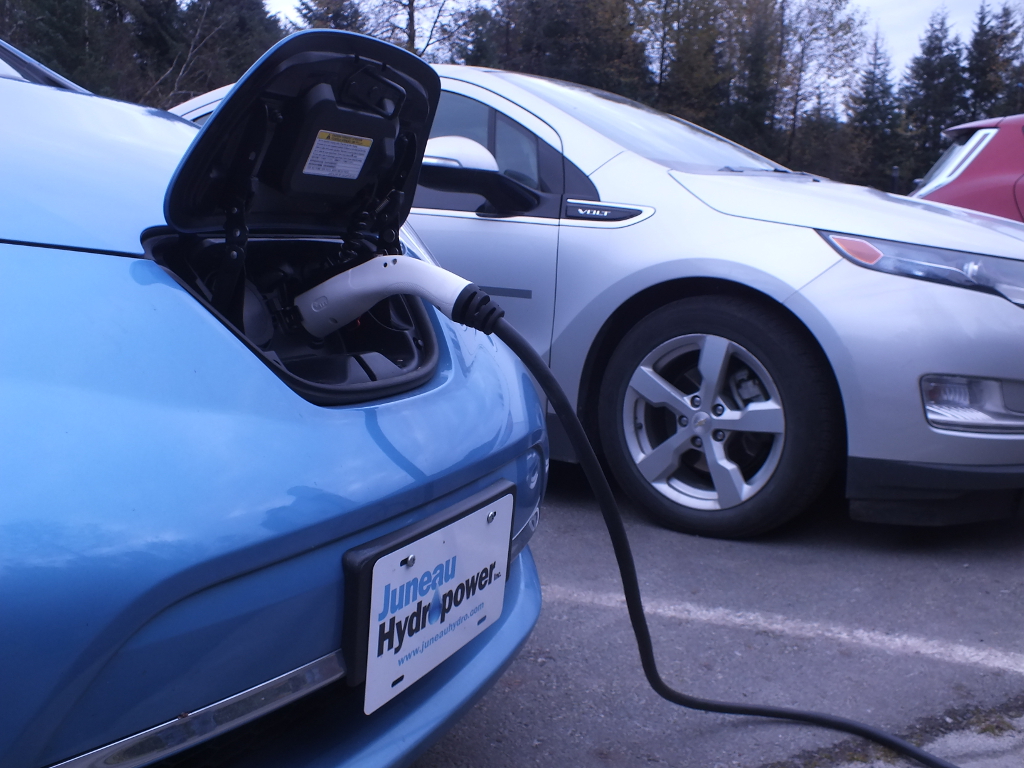 A small group of electric vehicle owners on Friday celebrated the first of five public EV charging stations to be installed on the Juneau road system thanks to $50,000 raised by local businesses and nonprofits.
The two-outlet station is located at Eagle Beach State Recreation Area, about 27 miles from downtown Juneau.
Kyle Cuzzort owns a Nissan Leaf, which has a range of about 84 miles per charge. Like most EV owners, Cuzzort has a special outlet in his garage to allow for overnight charging. But he says he and his wife are excited to have the option of powering up out the road.
"We come out here to walk the dog pretty often, and everybody goes, 'Oh, you drove all the way out the road?' It's great, I love it!" Cuzzort says. "It doesn't cost me a whole lot. So I go out and I get to use all the trails all the time, because I'm not worried about, you know, 'Oh crud, I just burned $10 in gas to walk the dog.'"
The Juneau Economic Development Council secured a $25,000 grant from Florida-based Funders Network for Growth and Livable Communities to expand the number of charging stations in the capital city. The grant required local matching funds, all of which came from private donations. Duff Mitchell is with Juneau Hydropower, which gave $10,000 to the cause.
"Three years ago I think we had two electric cars running around (Juneau), and now we have probably 25," Mitchell says. "With the chargers, I think you're going to see more and more people. They're just going to have that safety net to be able to go in and charge everywhere, and you're going to see a lot more people become comfortable with electric vehicles."
Besides Eagle Beach, EV charging stations will be installed at Eaglecrest Ski Area, the Marine Parking Garage, the new Mendenhall Valley library and the University of Alaska Southeast. Additional grant money will be used to buy charging stations for local businesses that pay the cost of installation.