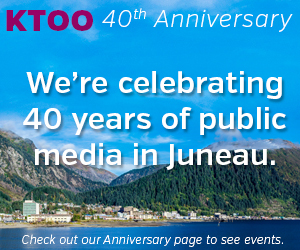 January marks the 40th Anniversary of KTOO-FM, Juneau's public media outlet. Started in 1974 by a group of volunteers, the station first began its operations in a closet beneath the Audio/Video booth in the Juneau-Douglas High School Auditorium. Since then, the station has broadcast from a former cigar factory at the corner of Third & Main Streets, a former church at 4th and Franklin Streets, and from its current facilities at the corner of Egan & Whittier.
During that time, the station has seen thousands of people walk through its doors, both as volunteers and guests. It's also expanded to include two other public radio stations, KRNN & KXLL, as well as the TV facilities of KTOO-TV and 360 North.
To celebrate the anniversary, the stations will re-broadcast various moments of KTOO's History, in many ways, the history of Juneau at the same time.
Tune in to KTOO-FM Monday afternoon at 3 p.m. for a program highlighting the first 20 Years of the Juneau Jazz & Classics festival.
Tuesday night at 7, during Telling Tales on KTOO, tune in for a KTOO Timeline, featuring audio snapshots of KTOO's history.
Wednesday afternoon at 3 on KTOO, during A Juneau Afternoon, station founders Frederick Hoskinson & Dennis Harris share memories with other surprise guests.
There promises to be other surprises throughout the week as well.