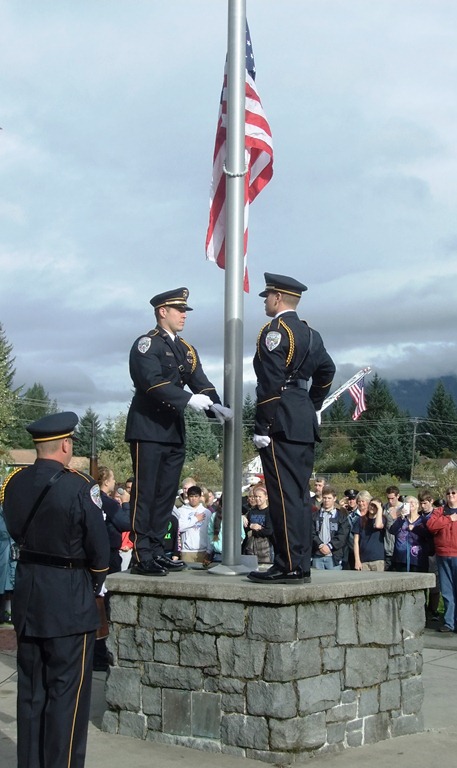 Juneau paused with the rest of America Wednesday to remember those who died or were forever changed from the September 11, 2001 terrorist attacks on the U.S.
The commemoration is now called Patriots Day.  Juneau's memorial is hosted by local Rotary clubs at the park they built in the Mendenhall Valley.
Police officers, firefighters and paramedics, National Guardsmen, U.S. Coast Guard and other first responders were greeted by a crowd that included a number of Thunder Mountain High School students.  They were toddlers 12 years ago and know little about the events of that day.
It was the first time sophomores Shane Mielke and Jamie Yaletchko  have attended the memorial.
Mielke said 9/11 meant "help" to him, referring to  first responders. Yaletcho had seen a movie about 9/11.
"I watched the movie and thought it was really cool and then I thought it'd be cool to come and see and hear them talk about it," she said.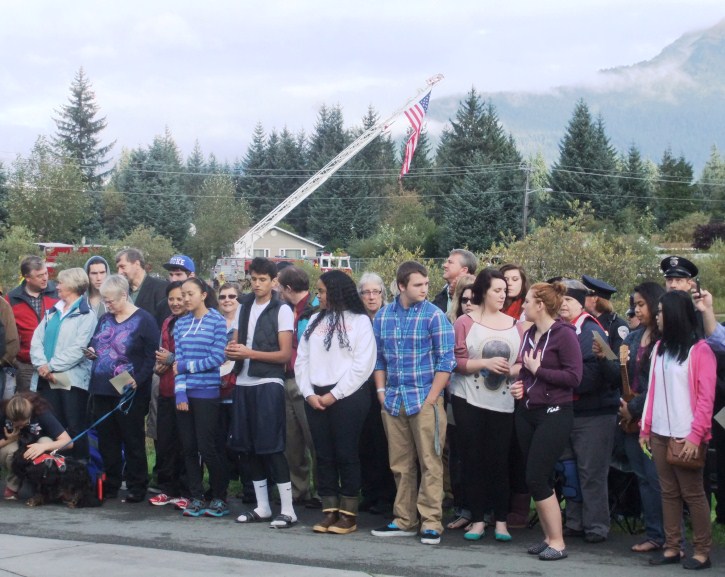 But most at the ceremony remembered the day well and the impact it had.
Ed Quinto is an assistant chief for Capital City Fire and Rescue. He told the crowd that 9/11 will always be etched in America's heart.
"We must never forget the 343 firefighters and 60 fallen law enforcement officers. Never forget the sacrifices that were made that day, the courage of the firefighters and law enforcement offers who rushed into the burning buildings to save thousands of others."
After the ceremony a large group of Juneau police officers lined up for a photo.  A number of them were on the force 12 years ago, including Lt. Dave Campbell.  His first stop that day was Juneau International Airport, which had been shut down like all U.S. airports.
"We didn't know what the scope of the attacks were on the morning of 911, so when I started at 6:30 (a.m.)  the airport got shutdown, and we made sure we had a presence at the schools just to kind of reassure people and make sure we had a presence at places that might be considered targets," Campbell said. 
Twelve years later, Campbell said he finds encouragement from the day as he reflects on the way America and its communities like Juneau came together.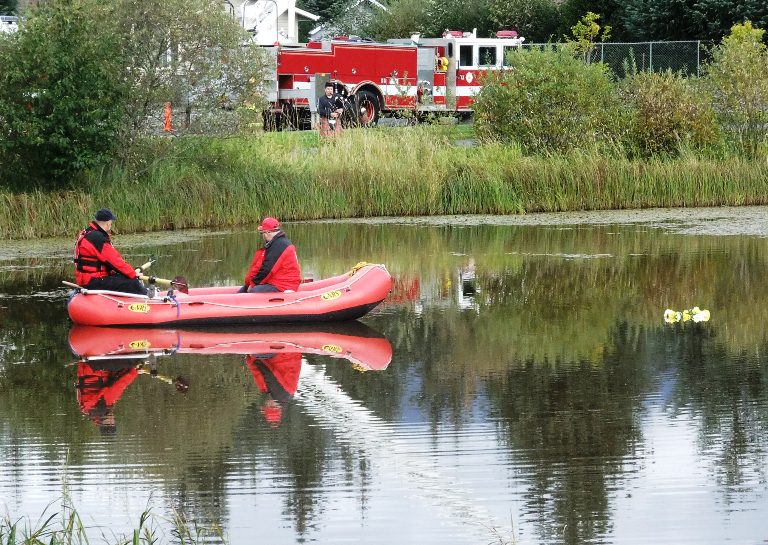 The September 11th memorial at Rotary Park is constructed of concrete and Pennsylvania marble in the shape of a broken pentagon. Each side is four feet in length to represent the four high-jacked airplanes that crashed into the Pentagon, the New York City World Trade Center and a field near Shanksville, Pennsylvania.  Nearly 3-thousand people died that day.