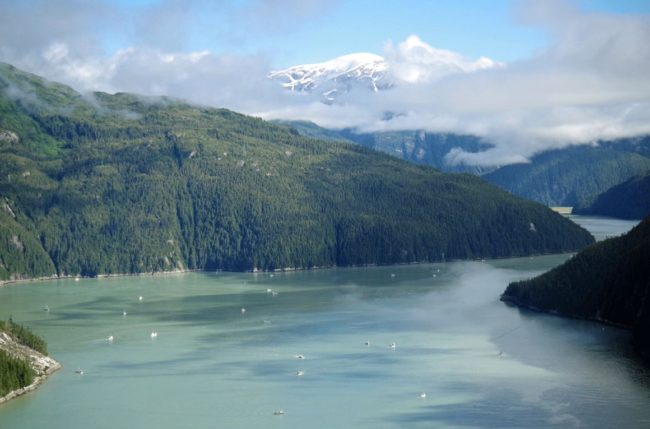 50,000 sockeye salmon is the early catch estimate for a 3-day gillnet opening at Port Snettisham and the Speel Arm near Juneau, with 35,000 of those fish caught in the first six hours.
The fishery is targeting sockeye salmon from the Snettisham Hatchery.
The fishery opened 6 am Tuesday, with more than 100 gillnet boats showing up for the first day. By Wednesday afternoon, only a handful of boats remained.
Dave Harris is the commercial fisheries area management biologist for Fish and Game. He says the weekend rain helped at least 4,000 sockeye reach the glacial Speel Lake, which is the minimum escapement goal.
"They hone in on their key stream, the scent of their stream draws them in. They'll get close and they'll sort of hold and just sort of wait for conditions to get them, so they get a big blast of fresh water and it just gets them all excited and away they go," Harris explains.
Harris describes the fishing area in Speel Arm as deep and narrow with depths between 400 and 600 feet deep.
The Snettisham Hatchery was originally developed by the state in 1980 and operated by Fish and Game. Douglas Island Pink and Chum – or DIPAC – took over operation in 1996. The hatchery is located right next to the hydro-electric facility that serves most of Juneau.
"The water that comes out of the plant, that's kind of their water source, and so it's quite cold. Sockeye definitely like the cold water," Harris says.
DIPAC expects a total return of 240,000 sockeye to the hatchery.
The average weight of a hatchery sockeye is around 5 pounds, and the fish are being sold at $1.70 per pound. Harris says that's the best price he's seen in a while.
Gillnetters have until noon Thursday to fish in the Snettisham area. Harris anticipates opening the special harvest area for the next several weeks concurrently with the normal gillnet fishery.