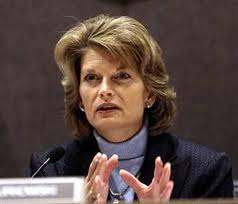 Alaska Senator Lisa Murkowski's version of the Sealaska lands bill has passed out of its only committee of referral.
That's a major step toward a Senate floor vote.
But there's no guarantee it will move any further in Congress. Its best chance is as part of a package of lands legislation. Read details of the bill.
Murkowski told the Senate Energy and Natural Resources Committee today that it's the result of years of negotiations.
"And I recognize it has created tensions within our communities. But we have worked aggressively and tirelessly with all of the stakeholders, not just Sealaska and their shareholders," she says.
The bill is co-sponsored by Alaska Senator Mark Begich. A similar measure by Alaska Representative Don Young passed out of the House Natural Resources Committee earlier this month.
The Southeast Alaska Conservation Council has endorsed the legislation as a reasonable compromise.
But other critics – including environmental, sportsmen's and small-community groups – continue to oppose the bill. They say Sealaska wants to trade marginal acreage it can already claim for the most valuable timberlands in the Tongass National Forest.
Andi Burgess is rainforest program director for the Alaska Wilderness League. Her group is particularly concerned about an area on the south end of Prince of Wales Island.
"One of the most productive salmon streams in the Tongass is in Keete Inlet. It's an area identified by Audubon and Trout Unlimited scientists as being one of the most high-value watersheds," Burgess says.
The bill would allow the regional Native corporation to choose about 68,000 acres of timberlands from within the Tongass.
Around another 1,600 acres would be transferred for renewable energy and ecotourism development or preservation as cemetery and historic sites.
The total, a little more than 70,000 acres, is less than the 85,000 Sealaska has said it's entitled to.
Murkowski points to acreage that would gain new protections under the bill.
"It will help the Sealaska region's timber industry grow, while at the same time we're working to protect more than 150,000 acres of habitat for fisheries and wildlife," she says.
Juneau-based Sealaska has about 22,000 shareholders. More than half live outside Southeast, but have family ties to the area.
Point Baker resident Don Hernandez issued this statement in response to the legislative action:
"There is a lot of heartache out here right now. We find it hard to believe that a Senate committee would support a bill that so unfairly benefits a special interest. Murkowski and Begich are touting all the 'compromises' that were made, but the only thing that was compromised was their duty to look out for the public interest over the special interest of Sealaska Corp. The bottom line, after all the deal making, is that some of the best forestland on the the Tongass will be clearcut and will never be the same, and no amount of conservation protections written into the bill will change that. One of those watersheds is near and dear to our communities and it will be a tremendous loss if this bill were to pass the full Senate."