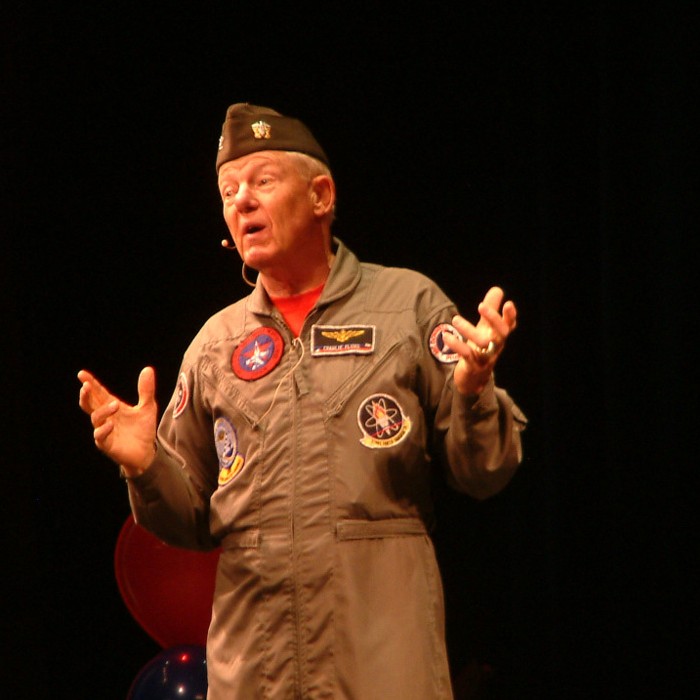 A former Vietnam prisoner of war encouraged Juneau and Hoonah youth to make their own choices and take advantage of challenges and opportunities presented by adversity.
Capt. Charlie Plumb (Ret.) was a Navy fighter pilot who served as an adversarial pilot at Navy Fighter Weapons School at Miramar Naval Air Station in San Diego, now known as Top Gun.
He was later based on the carrier U.S.S. Kitty Hawk, flew an F-4 Phantom jet, made over a hundred carrier landings, and flew 74 combat missions over North Vietnam. But Plumb and his co-pilot were shot down over Hanoi just five days before the end of his eight-month tour. He was tortured and spent the next six years in a prison camp.
I'd like for you to try your best to smell the stench of that imaginary two-gallon bucket in the corner I call my toilet. I'd like for you to feel the baking heat of a tropical summer in a tin roof prison cell ten-thousand miles away from Juneau. I like for you to taste the salt, the annoying taste of salt in the corners of your mouth from the sweat, the tears, and the blood. Not that you'll ever be prisoners of war, God forbid!"
During the last installment of the Pillars of America speaker series on Wednesday, Plumb described the lessons he learned as he and his colleagues survived and supported each other.
Plumb said his fellow prisoners, usually in darkened cells or separated from each other, communicated by code that was based on tugs of a wire pushed through cracks in the walls.
Wearing a khaki garrison cap and flight suit, Plumb started his talk Wednesday in near-total darkness, pacing off the three steps that he could take in his eight-foot by eight-foot cell. Sometimes he would hold out his hand and move it forward and back quickly to demonstrate the pull of the wire as he communicated with his fellow prisoners.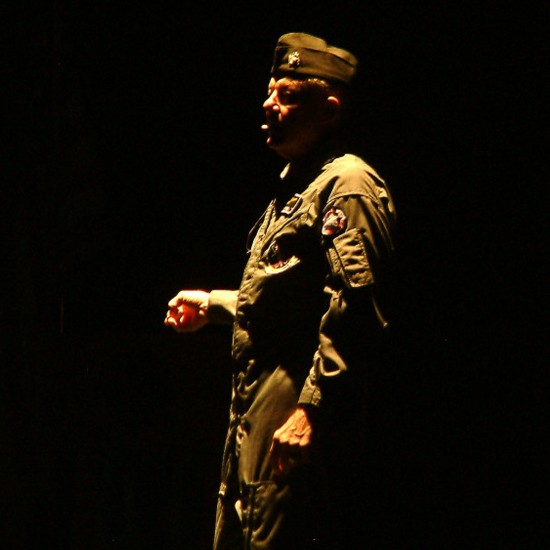 This silly, archaic, cumbersome code became our language. No, more than that. It became our lifeblood. It was absolutely vital; It was life or death that we communicate with each other. And the interesting part was (that) it wasn't the words, it wasn't the phrases, it wasn't the meaning of the sentences that was the important part. The life saving value of communication in a prison camp was the simple validation of another human being."
He used the story of eventually coming home and meeting the seaman on board the Kitty Hawk who packed his parachute and knew exactly who Plumb was.
The best I could do was stagger to my feet, reach out a very grateful hand of thanks. He came up with just the proper words. The guy grabbed my hand, he pumped my arm, and he said 'I guess it worked!"
'Parachute packer' was Plumb's metaphor for those who gave of themselves, passed on important principles in life, and asked for nothing in return. They were those who youth could look to for support in time of need. Plumb said some of the more-important parachute packers in his life included his middle school basketball coach and the superintendent of the Naval Academy.
If adversity is a horrible thing to waste, how do you waste adversity? Well, you start by blaming other people for your problems. And when you do, you give away control of your life. You start wasting adversity by feeling sorry for yourself and crawling over in the corner of your little mental prison cell and wait for something better to happen. You waste adversity by expecting somebody else to make it fair in your life. And what you find out is — once you've worked yourself through this is — that the person in control is you."
This was at least Plumb's second visit to Juneau as part of the motivational series organized by the Glacier Valley Rotary. His first visit was in 1995.
Six students from Hoonah were flown into Juneau to eat lunch with First Lady Sandy Parnell during Plumb's hour-long talk.