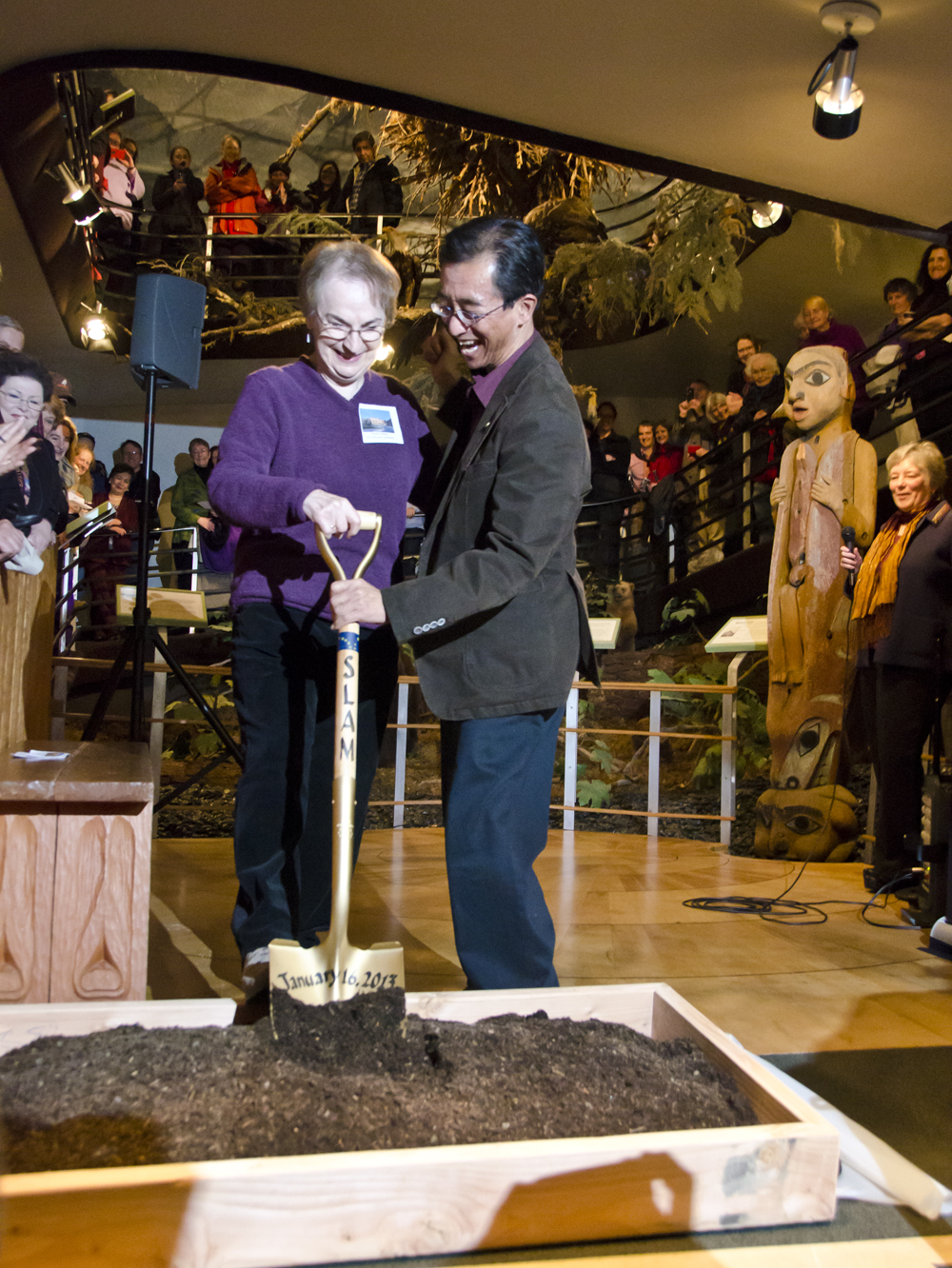 Dirt has been turned for the new State Libraries, Archives and Museum in the capital city. The project to hold Alaska's treasures in one building is already underway, as contractor PCL Construction prepares the ground behind the current Alaska State Museum.
Wednesday's cold rain in Juneau moved the groundbreaking inside. The museum was packed with state and local officials, including legislators and Juneau Assembly members, some who had their pictures taken with the special shovel in a trough of dirt near the museum's landmark eagle tree.
Linda Thibodeau is director of the SLAM project.
"I wish we could have had a beautiful sunny day and we could have gone outside and dug in the back lot, but we don't.  It's winter time in Juneau and we have a lovely pile of, as our commissioner said, fertile earth here, ready to go.  This is a day we've been waiting for, for a long, long time,"  Thibodeau said.

So far, the Alaska Legislature has approved about $81 million toward the $131 million project.  Gov. Sean Parnell has included $20-million in his proposed state capital budget.
As Juneau Mayor Merrill Sanford thanked the many people who have worked on the project, he reminded lawmakers in the audience that another $50 million is needed to complete construction.
"And in fact your work is not done yet.  We're going to be banging on your door – I see a chairman of a finance committee here  – for a little bit more money to get this new facility completed all together," Sanford said.
At 118,000 square feet, SLAM will have twice the space currently allocated to the state libraries, archives and museum in Juneau, according to Department of Education and Early Development Commissioner Mike Hanley.
"The new SLAM building will double the exhibit size and triple our storage space above what we have here.  When we look at the operating costs it will do it for the same operating costs that we have now, because of a focus on energy and because of the work we've done with our architects.  It's tremendous.  A huge building that will be able to be operated for the same cost that we're operating this one now," Hanley said.
He also said that structures used in construction called "unified curtain walls"  can be built in Alaska.
"At one point we thought our only option was to have these constructed overseas and brought back. We recently found out that we have been able to move that contract to Bucher Glass in Fairbanks, into a new factory that will employ an additional 16 to 20 individuals.  And it's been said that this project, the SLAM project, was the spark that allowed them to get their feet under them and get that project rolling," Hanley said. 
The SLAM project is to be complete in 2016.  Education officials say it will allow the state to improve its technical and program support for archives, libraries and museums statewide.