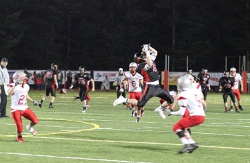 The state high school football playoffs get underway this weekend, with both Juneau teams in action.
The Thunder Mountain Falcons host the Homer Mariners tonight (Friday) in a medium-schools semifinal game at Falcons Field. Kickoff is scheduled for 7 p.m.
Homer comes to Juneau with a 5-2 record overall in the regular season, 4-1 in the Northern Lights Conference. The Falcons finished 5-3, going undefeated in the Southeast Conference. The teams played twice last season, with the Mariners winning both contests – 84-20 during the regular season and 46-6 in the playoffs.
The Juneau-Douglas Crimson Bears are scheduled to play Service on Saturday at 2 p.m. in a quarterfinal matchup.
The Cougars of the Cook Inlet Conference are ranked second in the state's large-schools division with a 7-1 overall regular season record — the only loss coming in a non-conference game against Leilehua, Hawaii to start the season. The injury-riddled Bears on the other hand come into the contest 4-4 overall, 3-3 in the Railbelt Conference. Service handed Juneau-Douglas a 64-21 loss in last year's playoffs, also the last meeting of the two teams.
Saturday's game is scheduled to kickoff at 2 p.m. at Dimond Alumni Field in Anchorage.