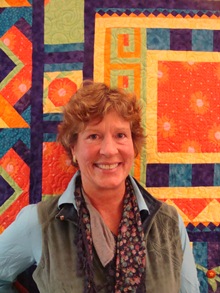 At next Tuesday's municipal election, Sally Saddler's name will be the only one on the ballot for School Board. First elected three years ago, Saddler is the current board president and chair of the budget committee. She'd like to think that running unopposed shows the community is happy with the education system, but says there's more work to do to create a world-class school district in Juneau.
Saddler isn't the type to lack energy. A couple years ago, after a lifetime of playing basketball and soccer, she quit both sports and picked up another one.
"Gave it all up for hockey," she says.
Yep. Juneau's school board president is a fast skatin', stick totin', hip checkin' hockey player.
"I was a hockey widow for many years, and now I've decided if you can't beat 'em, join 'em," she says.
Saddler worked for the state for more than 30 years with three departments – Labor, Education, and Commerce – and raised two kids who graduated from Juneau-Douglas High School. Now retired, she has ample opportunity to pursue hockey and her many other interests. But a portion of her life is dedicated to the school board.
"Tongue in cheek my husband said I was going to quit working for money and go to work for free, and it seems that he's actually been proven correct in that respect," Saddler says.
And in a way, being on the board is an extension of Saddler's career, much of which focused on helping students transition to the workforce and training adults for new opportunities. She gives high marks to the Juneau School District's "career pathways" program, which encourages students to follow their passions – both in the classroom, and outside it.
"Jocks and docs is kind of a colloquial expression, but it's for those students who may be interested in health care opportunities," she explains. "So, we have many connections with the hospital, with the university here in Juneau that enable our students to learn in the context of perhaps some occupational interests they may have."
Juneau's on-time graduation rate was 71.5 percent last school year. Saddler says that leaves plenty of room for improvement, and the board recently raised the number of credits that will be required for graduation, starting with this year's freshman class.
"We kept a balance so that those students who may be engaged through the more career tech, hands on kinds of programs didn't feel disenfranchised," Saddler says.
In addition to being board president, Saddler chaired the budget committee this past year, when revenue decreases forced the district to cut 4.1-million from the nearly 90-million dollar budget. She says the cuts were balanced in a variety of ways.
"We raised the classroom size from grades three on up, holding the kindergarten through second grade harmless, thinking that it's important for those teachers to have smaller class sizes to work with those students," says Saddler. "There were some cuts in the arts, there were cuts to science, nobody was singled out."
Looking ahead to her next three-year term, Saddler believes the district is moving in the right direction. She points to the strategic plan, developed during her first term, and its goal of making Juneau a world-class school district by focusing on four areas.
"First of those is improving student achievement; second is investing in our faculty and our staff, making sure we have strong professional development; third is, making those connections with the community, getting out and helping our students build those bridges and connections; and then last, and certainly not least, is learning to operate our administration in an efficient and economic manner," she says.
Saddler is running unopposed for one of two open seats on the school board. Nobody filed to run for the other seat, but Sean O'Brien is running a write-in campaign.