As part of Fire Ops 101, participants were asked to show up a few days ahead of time so they could be sized for their Personal Protective Equipment (PPE), also known as bunker or turnout gear. They include a fire-resistant jacket and pants with suspenders, helmet, boots, and gloves.
Participants were also introduced to the air pack or Self-Contained Breathing Apparatus (SCBA) which features a tank, regulator, and a clear mask that provide breathable air in a smoke-filled environment.
Other common tools used by firefighters include an axe, pike pole, halligan tool, chainsaw, circular cutting saw, and a thermal imaging camera.
Like other firefighters, Capital City Fire/Rescue's Erik Goldsberry has his own personal set of tools and other helpful items that he keeps stashed in the pockets of his turnout gear. They include a cheat sheet of engineering calculations, wooden wedges for blocking doors and sprinklers, a rolled-up nylon webbing strap, vise grips, and a firefighter's spanner wrench. That's a foldable multi-tool that can open and close hose valves and propane tank valves, cut seatbelts, and break windshield glass.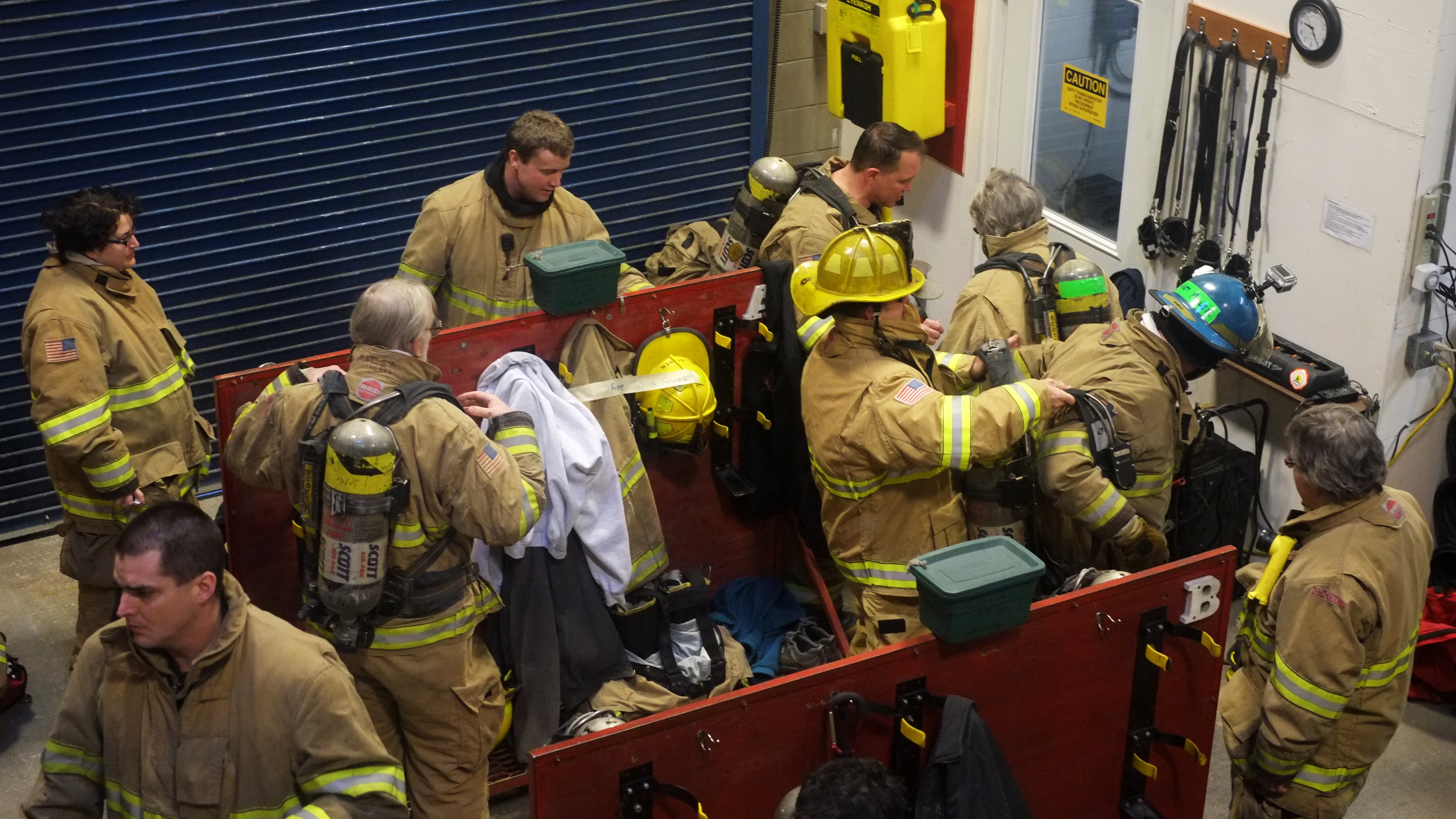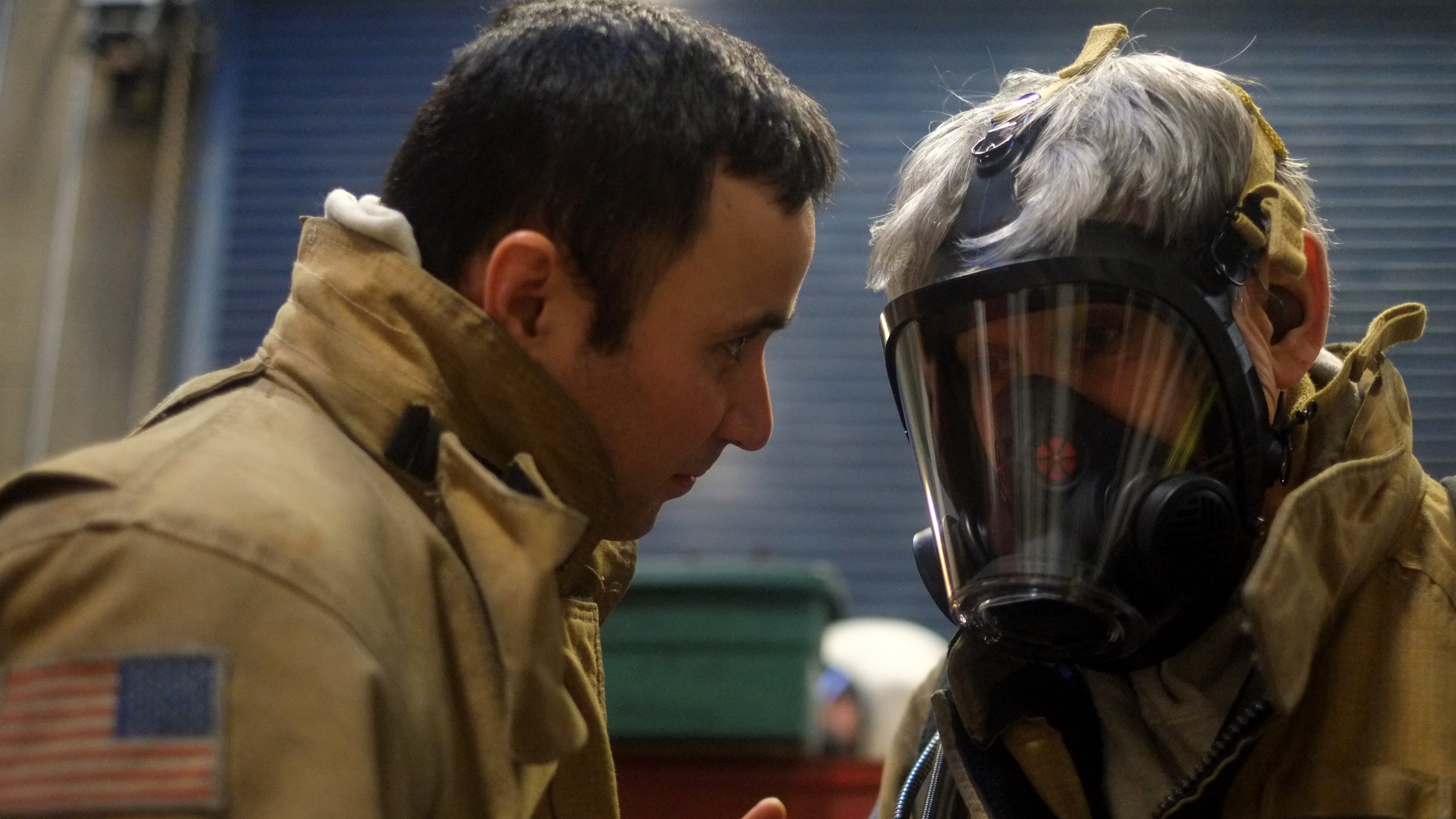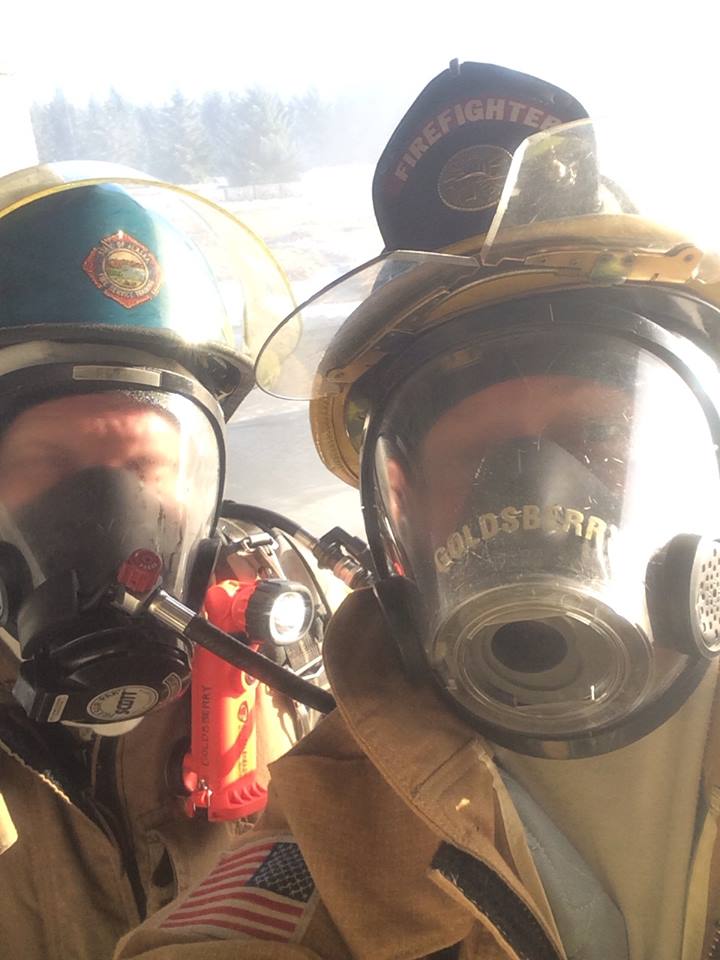 A group of CBJ officials and Assemblymembers, and members of the Juneau media were among those invited to participate in Juneau's version of Fire Ops 101.
"The purpose is to demonstrate the need for more staffing," says Captain John Krebsbach of Capital City Fire/Rescue.
"There are three main points that we're trying to get out of this whole thing: Our jobs are time sensitive, they're labor intensive, and they are highly technical."
CCF/R has 18 paid personnel, but department officials say Juneau needs 44 people to operate all of the apparatus at all five stations ranging from an engine and utility truck in Auke Bay to ten vehicles at the Glacier station, including three airport crash trucks.
There are as many 70 volunteers on the roster, but only half are qualified to enter a burning building. The rest may help with logistics or support, and certainly not all of the volunteer firefighters will ever be available at the same time to respond to a fire call.
Similar Fire Ops 101 exercises have been held in the Lower 48.
"They're usually eye opening," Krebsbach says. "They didn't realize how involved the job actually is. It is a hard job. It's physically demanding."
"This is a young man's career," says Erik Goldsberry, a career firefighter at CCF/R who voluntarily divulged his age as 50 years old.
"This is hard work," Goldsberry says.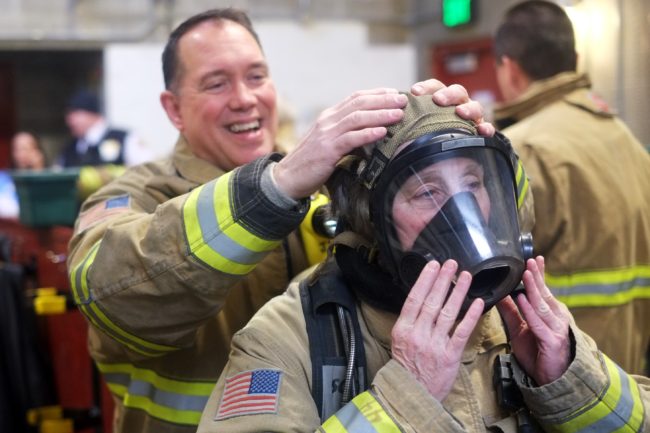 Capital City Fire and Rescue basics
[fancy-ul icon_type="standard_dash" color="Accent-Color" alignment="left" enable_animation="true"]
(This note card was used by Fire Ops 101 'shadows' as they explained to session participants how their department operates.)
CCFR responded to 3634 calls last year (almost a 200% increase in 10 years with no increase in staffing).
100 fires – 35 structure fires
Engine 31 and Engine 11 responded to 1530 calls each, Engine 21 and Engine 41 responded to 90 calls each, Engine 51 responded to 9 calls
91% of calls are in Station 1 and Station 3 districts (Downtown Juneau and Glacier stations), 3% for District 2 (Douglas station), 5% for District 4 (Auke Bay station), and 1% for District 5 (Lynn Canal station)
Battalion 1 responded to 177 calls
Career staff respond to 100% of calls
CCFR responded to 18 CPR calls. Arrived at ER with return of spontaneous pulse with 8 patients. That's 44%. We strive to be as successful as Seattle's 52%
Our budget is $7 million. JPD is $14 million. Most cities keep police and fire funded fairly close.
The normal staff for a city of our size is 44 firefighters staffing fire apparatus (this number does not include ambulance staffing.) We have 18 firefighters staffing fire apparatus (that's a shortage of 26 firefighters).
It coast $12,000 to $15,000 to put a volunteer through Fire Fighter 1 training. 40% of new FF1 students don't last more than a year, so the cost is actually more like $20,000/student.
60% of all volunteers have less than 5 years
There are only 5 (soon to be 4) volunteer Driver/Operators left
There are no volunteers in the Downtown district.
[/fancy-ul]