Candidate Profile
Jerry Nankervis
District 2 Assembly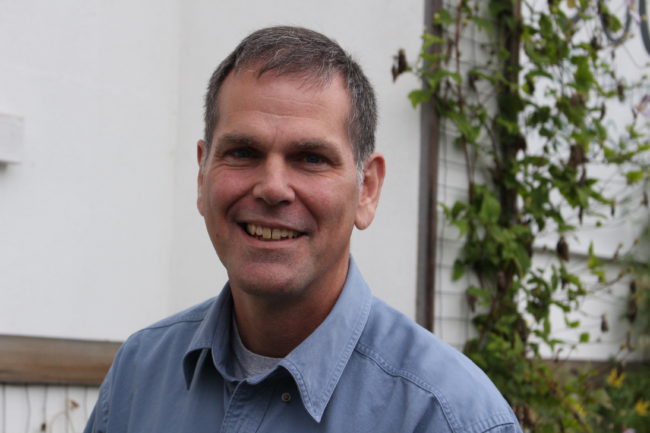 About
Jerry Nankervis
Age: 53 
Family: Wife, two sons
Occupation: Retired Juneau Police Department captain and commercial fisherman
Current community involvement: Current assembly member, President of Juneau Hockey Officials
Previous government or other relevant experience: 24 years with the police department
Highest level of education: B.A. in Science, emphasis in conservation
Quick Hits
Would you support a plastic bag ban?
No.
Is climate change caused by people? No.
Have you ever smoked or consumed pot? Yes.
How did you vote on marijuana legalization? No.
Do you support the city subsidizing two public pools? Yes. 
Do you support the city subsidizing Treadwell Ice Arena? Yes.
Do you support the city subsidizing Eaglecrest Ski Area? Yes. 
Sales tax holiday? No.
How did you vote on the ballot initiative to legalize marijuana? No.
How'd you vote on the minimum wage initiative? No.
Who did you vote for in the governor's race? Sean Parnell.
Would support an ordinance banning discrimination against lesbian, gay, bisexual and transgender people? Yes.
What's on your iTunes playlist? Everything except reggae and rap. I have classical, jazz, blues, country, folk, bluegrass. And most important to me, I have my son, and I listen to my son's performances quite regularly. He's is a saxophonist and plays jazz very well and classical.
Positions on Juneau Issues
With about 6,000 state employees in Juneau, our economy is closely tied to the expansion and contraction of state government. How should the city prepare for the effects of the state's budget crisis? 
You prepare by being diversified as you can. Just like your personal portfolio, you don't buy 100 percent of your stocks in widgets because if something happens to the widget industry then you're in trouble. I think the same has to be said for the Juneau economy. There's a tremendous importance and a large percentage of our economy is government, a large percentage is tourism. Very important both of those. But if you can diversity that, you're going to more stable when things take a turn down. You minimize your risk, you minimize your exposure by having diversification. It'd good in a personal portfolio, it's good in a city's portfolio.
---
Should Juneau's sales tax exempt food and other necessities?
What I've realized is it's a balance. How much are folks willing to pay for how much services? How much that is has to be determined and how much you're willing to pay has to be determined. And it's different for everybody.
But I hesitate to say what we need to do is go to a 6 percent sales tax and get it off food not knowing what the state is going to do. There's so much change out there that is coming right now and so much uncertainty that it's hard to get out ahead of that when I don't know what the state is going to do that impact us.
---
The Juneau Police Department is testing body cameras for officers. What's your position on police body cameras? 
I think people look at body cameras as a way to keep officers from acting inappropriately. I don't think that happens nearly to the level some people think it happens. You could say I'm a homer because I worked there, but I saw it. I wouldn't have worked at a place that allowed that to happen or fostered that sort of behavior. Absolutely not.
What I think body cameras will do is they will verify that police, for the vast majority of the time, at least in this town and I would say nationwide, are doing what they should be doing. Now sometimes, are they doing things people find unpleasant? Without a doubt. But I'm charging them with protecting me, protecting you, and protecting everybody in this city. Does that sometimes mean they sometimes need to hit people? Does they mean they sometimes need to Tase people? Yes, it does. And do I think they're doing that appropriately? Without a doubt.
---
What's your perception of the drug problem in Juneau? How should the assembly address it? 
I think we support our police department. We support the laws that will try and allow us as a community to address those issues. It's not really any different than any other drug. I think there's laws on the books that allows us to address that.
But I believe also there needs to be education and awareness in the home. The police might not be aware of it in every home. Where it is in those homes, somebody should be aware of it. And try and help those people to either get off those drugs, alert them to the dangers associated with that sort of drug use. And if that doesn't work, tell the police so the police can get involved and try to address that. But there has always been to varying degrees a drug problem in Juneau.
---
Are you receptive or resistant to marijuana businesses in Juneau? 
Yes (receptive), because I need to.
What specific zoning restrictions, if any, should the city implement with regard to marijuana businesses? 
I think we're going to need look at regulating them and zoning them like we would many other business. With the understanding that there's certain aspects of this business that are different than others.
How close to the schools you can sell it, I think we need to look at limiting that just like we do alcohol. We're going to need to look at that. And since this can also be eaten, you can put it in food items, I think that to me is the danger in this whole initiative in this legalization. My fear is it's going to in the schools far more now. Best thing we can do is look at what Washington and what Colorado have done and try not to make mistakes where they think they've made mistakes.
---
City responsibilities
What is the city doing that it shouldn't? 
My role is to make sure we are doing what we should be doing properly. And are we doing stuff that will place us in the best position in the future. I put my role on the assembly and view things through that lens. It's not always what Jerry wants. It's what I think is good for the city.
What is the city not doing that it should? 
It is an easier question for people that aren't on the assembly because there's a tendency to think the city isn't doing things and I had that belief as well before I got on the assembly. And it isn't a self-serving belief now that I'm on the assembly because it's not. I think we are.
But if you're not aware of what someone is doing, the tendency is to believe they're not doing anything. And we are doing things. Could we do more? Hopefully the economic development plan will demonstrate we are doing the things we should be doing. 

---
With blighted private properties in Juneau, do you prefer a laissez­faire approach, like with the Skinner Building, or something more aggressive that risks the taxpayers' money, like with the Gastineau Apartments? 
I'm a big advocate of individual rights and personal property rights. And it concerns me any time I'm infringing upon your ability to do what I think you should be able do with your property. I don't like what's going on with the Gastineau Apartments and I really don't like the city is having to step in and do that.
Now can we do things at the assembly level to make it more appealing for folks to revitalize their property? If we can, and it isn't at a detriment to you, we need to look at doing that.
---
With regard to housing, what do you think about the city's zoning and building codes? 
I think we just eased some restrictions that were in place that should make it easier for people to develop property. Either their own or a developer can come in, buy property and develop it.
We took the major subdivision and moved it from five homes, up to 13, is now considered a major subdivision. We eased some of the restrictions on sidewalks and paving and lighting and street width, that sort of thing. That hopefully will promote some housing development in town. And I believe any development increases affordability. If there isn't anything out there for people to get, the cost goes up. With an increase in stock, we should see an increase in affordability and a decrease in cost.
---
The Alaska Supreme Court is deliberating on Ketchikan's lawsuit that claims that requiring local governments contribute to public schools is unconstitutional. What's your take on the case? 
With the exception of one year, we've continually funded school to the cap and beyond. With the current budget uncertainties that I mentioned earlier: the possibility of an income tax, possibility of state income tax, possibility of a state sales tax.
There is no certainly what the education level funding will be from the state next year. Without that certainty, it's hard for us to say what we're going to do and or not going to do. I think there will be hurdles for us if Ketchikan is successful.
More Candidate Profiles
Mayor
District 1 Assembly
District 2 Assembly
School Board (3 positions open)
Compare Responses by Issue
Assembly issues
Mayoral issues