Candidate Profile
Jason Hart
School Board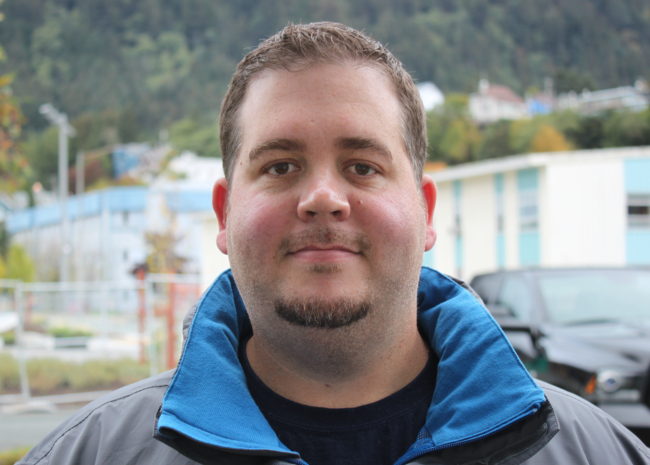 About
Jason Hart
Age: 37
Family: 9-year-old son Liam, attends Mendenhall River Community School
Occupation: Contracts administrator for Greens Creek Mine, Hecla Mining Company
Current community involvement: Youth soccer and baseball coach, co-chair of Juneau Economic Development Council's mining cluster initiative
Previous government or other relevant experience: 
Highest level of education: Attended Spartan College of Aeronautics and Technology in Tulsa, Oklahoma
Quick Hits
Did you go to public school? 
Yes.
Do you support school choice or vouchers? Yes.
Do you believe in evolution? Yes.
Do you think creationism should be taught alongside evolution? No.
Should high school students be able to come and go from their campuses throughout the school day? Yes.
What was the last book you read or what are you reading now? "81 Days Below Zero: The Incredible Survival Story of a World War II Pilot in Alaska's Frozen Wilderness" by Brian Murphy.
Positions on Juneau Issues
Should schools educate students for the sake of education or for the workforce?
It's a little of both, but I think the main one would be for the workforce. We need to make sure we're developing our students. You're either going to have the students that are going to college, you're going to have the students that go to tech school, or you might have a student that goes out after school when they graduate and finds a job that they enjoy and that's what they do.
But I'm kind of a strong believer that there's definitely preparing them for later down the road in life, not just giving them a basic education.
---
Should pre-kindergarten be universal in Juneau regardless of cost?
Yes. One of my big initiatives is pre-K education. There are studies that have shown that at that age for pre-K and in kindergarten, students are basically sponges that absorb up to 90 percent of the information that's given to them and they learn to either use it or relate to later in the education process.
---
Every year the Department of Health and Social Services anonymously surveys high school students. The Youth Risk Behavior Survey asks questions about the students' alcohol and drug use, sexual behavior and general health, among other things. Are you comfortable with the collection of this information?
On an anonymous basis, I think the collection is fine. I don't think it should be a name, address, phone number requirement. But to find out the general direction that our youth is going in, what kind of decisions they're making, is definitely a good idea in my eyes.
---
The use of powerful cloud-­based services like Google Docs and Khan Academy are becoming more and more common in the classroom, which also connects students with the big data industry. What do you think about this evolution in education?
I wasn't aware of it. We went to a government class this last week and I was actually pretty impressed that there were laptops or Google Chromebooks for every student. They have their own logins, so everything was on there. The collection of data – and I believe the Google Chromebooks actually collect more data than most – I'm not sure that's a good thing or a bad thing at this point. I'd have to research and look into it a little more.
---
Most students are interacting online. Do you think schools should monitor students on social media?
During school, I don't think the social media thing should be happening whether it's by blocking certain websites on iPhones or iPads or smart tablets and stuff like that. But after school, I don't think the school district has a lot of say in what happens after school with the students and what they decide to do.
---
Where do you stand on Common Core?
The foundation – math, English, science, government – is more through freshman and sophomore year. And then I would hope when they get to their junior, senior year they've decided or have a vision of where they want to go after high school. Should we be trying to educate them for a tech school? Should we be trying to educate them for college courses? So I think it's somewhat different with every student and that's where our educational process needs to evolve and adapt a little bit.
---
Funding for sports and extracurricular activities has been severely cut over time, with private fundraising and out-of-­pocket fees covering more and more of the cost. Should schools be responsible for subsidizing extracurricular activities?
I think the school has a responsibility to fund a portion. What portion of it is up for debate. But I'm against the fact that we've banned middle school travel. If the students are willing to put in the time outside of school to fundraise through car washes, bake sales, tickets and all that kind of stuff, then I see no reason that middle school travel shouldn't be able to continue or be reinstated with no burden to the school district.
High school sports are a little different. I don't really agree with the fact that we're asking our student body to reimburse the district for state or championship travel. Activities and sports are a big part of high school and middle school. That is a lot of students' first time away from home without parents for an extended period of time, whether it's two days or three days to Anchorage or Ketchikan or wherever. So, I'm definitely for reinstating middle school travel and then talking about the reimbursement to the high school sports and activities teams.
---
The implementation of Erin's Law will require students to receive age­-appropriate education on sexual abuse and teen dating violence prevention. Do you think parents should be able to opt their children out of such education?
Yes. I guess there would be parents that would elect to opt out. Personally, I wouldn't. I would want my child to know the yes touch, no touch, something's going on, and to be able to feel confident that they can come to a teacher or a principal or myself or whatever the case may be, and let me know what is going on.
---
How can schools encourage Juneau's best and brightest students to return or remain in Juneau?
In my eyes, it's not so much a school problem. That's more of an assembly problem. We have to get the affordable housing under control to where students can afford to work here, afford a house. When you come out of college – if you go to UAS or go down south and come back – with a lot of jobs, you're not going to be able to make $250,000, $300,000 house payments just starting out, on top of having $500-$700 a month student loan payments. So we need to make Juneau a little more affordable to be able to bring people back.
More Candidate Profiles
Mayor
District 1 Assembly
District 2 Assembly
School Board (3 positions open)
Compare Responses by Issue
Assembly issues
Mayoral issues