Candidate Profile
Greg Fisk
Mayor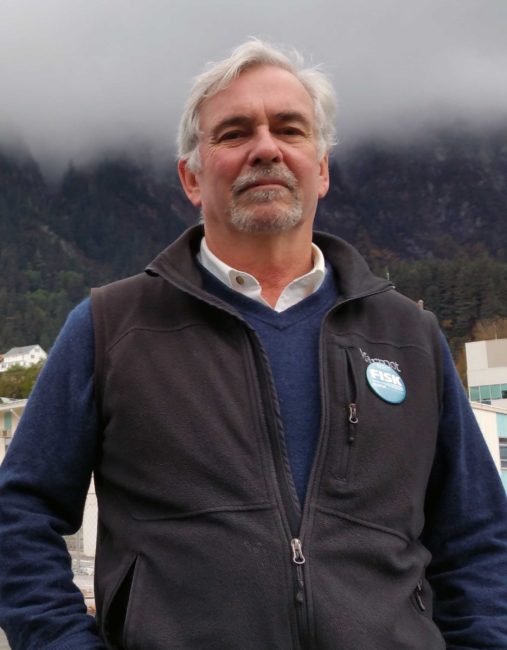 About
Greg Fisk
Age: 70
Family: Son Ian, grandson Kai
Occupation: Self-employed fisheries and development consultant
Current community involvement: Juneau Economic Development Council, Downtown Business Association
Previous government or other relevant experience: Worked on Native land claims in Alaska and eastern Canada, Docks and Harbor Board, Fisheries Development Committee
Highest level of education: B.A. in Geography, emphasis in cultural and economic geography
Quick Hits
Would you support a plastic bag ban?
 I would love to see plastic bags go away but it's not as easy as that.  I wouldn't support an out-and-out ban at this time.
Is climate change caused by people? That's a big part of the equation for sure and I don't think there's any denying that.

Have you ever smoked or consumed pot? Youthful indiscretion (yes).
How did you vote on marijuana legalization? Yes.
Do you support the city subsidizing two public pools? Yes.
Do you support the city subsidizing Treadwell Ice Arena? Yes, and Juneau may need a second in the future.
Do you support the city subsidizing Eaglecrest Ski Area? Yes.
Sales tax holiday? I'd have to see the proposal; potentially yes.
How'd you vote on the minimum wage initiative? I don't remember. I probably would have voted yes on that.

Who did you vote for in the governor's race? Bill Walker.
Would you support an ordinance banning discrimination against lesbian, gay, bisexual and transgender people? Yes.
What's on your iTunes playlist? I don't have an iTunes playlist; I still use CDs. The last CD I listened to was one by Rosanne Cash.
Positions on Juneau Issues
What do you want to achieve as mayor?
I think we need to focus on economic development and diversity because we're going to take some hits on state government jobs. We have to work on attracting other industries and developing other business opportunities: tourism, seafood, research.
---
What do you hope to do as mayor that you wouldn't as a regular assembly member?
I think Juneau needs to promote itself a lot better than we've been doing. We need to look ahead and see what kind of city we want to be. The downtown revitalization work that I've done, a lot of people are talking about that and really what it boils down to is seeing Juneau become one of the great small cities in the country.
---
With about 6,000 state employees in Juneau, our economy is closely tied to the expansion and contraction of state government. How should the city prepare for the effects of the state's budget crisis?
We have to be very careful with our budget and I think the assembly has been doing that. I don't think there's any more low-hanging fruit in terms of things we can trim off the budget, but there needs to be a continuous mindset of looking for efficiencies. We really need to look at the gross side of our economy. We can't cut our way to prosperity; we have to develop to prosperity.
---
Should Juneau's sales tax exempt food and other necessities?
I think the assembly was very concerned about protecting the most vulnerable people in the community and I think that what's been crafted does that. But there was a lot of testimony about potential negative side effects; that's going to be law, so I think the new assembly is going to have to monitor what's happening and if some of those dire predictions begin to come true then we may have to rethink it. I support the current direction, but it's something we have to continue to monitor.
---
The Juneau Police Department is testing body cameras for officers. What's your position on police body cameras?
I don't think we've had some of the problems, fortunately, that have occurred elsewhere. I think we have a good police force that is polite and considerate of the public. I don't know what the body cameras cost; it may be something that we have to examine but I don't see a pressing need here.
---
What's your perception of the drug problem in Juneau? How should the assembly address it?
I think we're fortunate compared to a lot of places, but it's a continual issue, especially for youth, and JPD is doing a pretty fair job on enforcement issues. It doesn't jump out at me as the most serious thing facing our community, but obviously it needs to be monitored continually. I think a more serious problem in that regard is the continuing problem with alcohol. It's a public health issue and I think that's essentially how we're going to have to deal with that.
---
Are you receptive or resistant to marijuana businesses in Juneau?
I'm sort of middle of the road on this. I'm really glad that we won't be incarcerating people for simple marijuana offenses, but in my view we would have been better off with decriminalization. There's a lot of talk about economic opportunity; I don't think it's going to change our budget, but there is some room for a few businesses.
What specific zoning restrictions, if any, should the city implement with regard to marijuana businesses?

There's going to be some definite restrictions; these establishments, wherever they are, they obviously should not be near schools. But specifics about allowing them on one of the side of the street or another, those things are going to have to work through the Marijuana Committee and Planning and Zoning Commission.
---
What is the city doing that it shouldn't?
If the (state) budget crunch becomes very severe, the assembly may have to look at what kind of services we can't afford to do in the future. The assembly had that conversation a year ago and nobody came up with a class of services that we should eliminate.
What is the city not doing that it should?

I think there's a number of things the city should be doing. The biggest issue we're facing when it comes to economic development is housing. Every economic development idea that you have, it always circles back to housing. And there is a number of things that we are not doing that municipalities all around the country are doing — that is putting our economic clout behind housing projects.
(We could use) private purpose bonds to lower the cost of housing financing. We don't use our land base as an actual equity tool. An example: if a developer is looking at a $10 million project and needs to come up with $3 million in private equity, a lot of that is usually tied up in land. The city, if they have a piece of land that they want to develop could actually hold that as part of an equity interest in the project and not get paid until the project sells and that would really make things easier for developers.
I think we can move the development needle with that kind of activity; we haven't done that kind of thing and we really need to.
---
With blighted private properties in Juneau, do you prefer a laissez­-faire approach, like with the Skinner Building, or something more aggressive that risks the taxpayers' money, like with the Gastineau Apartments?
I think the blighted properties issue is pretty important. There's been a number of them downtown, the notable one is the Gastineau, where you have an unresponsive owner and it puts the city in a very tough spot. One of the things we could look at is a blighted properties ordinance.
The city has been very reluctant to exercise eminent domain and I understand that. I support the effort to get rid of it at this point in time. I think we could have been more active with regard to the Gastineau and should have been.
---
With regard to housing, what do you think about the city's zoning and building codes?
There has been some work on Title 49, which is good. We can always work to make sure that the permitting process is as unconvoluted as possible and streamlined.
The Willoughby plan was interesting because it changed allowable densities and parking requirements; I think that's good and we need to capitalize on that. It's really a question of the city being more active and less standoffish with developers.
---
The Alaska Supreme Court is deliberating on Ketchikan's lawsuit that claims that requiring local governments contribute to public schools is unconstitutional. What's your take on the case?
The sentiment that I get in Juneau is that we try to support our schools as much as we can; that reflects a strong commitment to education which I share and would always seek to fully fund schools.
I've got a 5-year-old grandson who is just starting kindergarten, so I have a personal interest in making sure schools are good for his sake. But it's also an economic development issue. If you want to bring businesses here, a lot of their decision making involves things like schools. We have to be good in that regard. We have to have a good solid school system.
More Candidate Profiles
Mayor
District 1 Assembly
District 2 Assembly
School Board (3 positions open)
Compare Responses by Issue
Assembly issues
Mayoral issues