Candidate Profile
Andi Story
School Board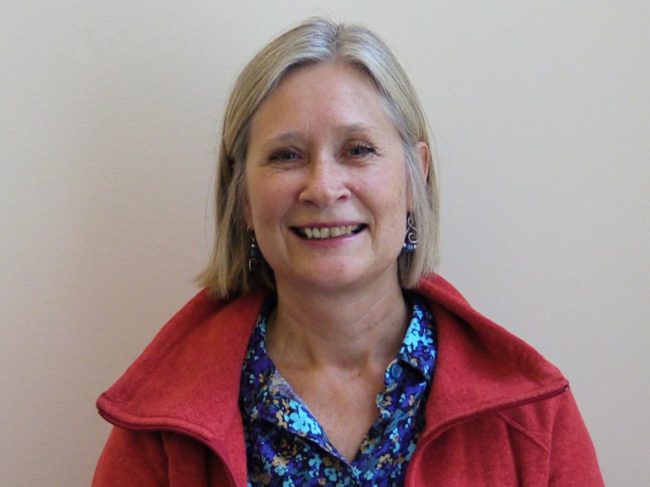 About
Andrea "Andi" Story
Age: 56
Family: Husband Mike and three adult children
Occupation: School board member, homemaker, community volunteer
Current community involvement: School board, president of Association of Alaska School Boards
Previous government or other relevant experience: 12 years on the Juneau school board, legislative liaison for the Association of Alaska School Boards
Highest level of education: MSW (Masters of Social Work)
Quick Hits
Did you go to public school?
Yes.
Do you support school choice or vouchers? No.
Do you believe in evolution? Yes.
Do you think creationism should be taught alongside evolution? I think kids should be aware of all the different things that our adults are discussing. I think that's what a public school system does.
Should high school students be able to come and go from their campuses throughout the school day? When they're seniors. That's a policy we have, and I think it's a nice privilege to have when you're a senior. I like our policy that we have now.
What was the last book you read or what are you reading now? "A Full Life" by Jimmy Carter.
Positions on Juneau Issues
Should schools educate students for the sake of education or for the workforce?
I would think you need both of them. As we know, we're going to have strong communities when our kids come out ready for work, career tech or college. And that makes a strong economy, and also a fine education makes for concerned citizens, conscientious voters. Really, that's what democracy is: a participatory government, having a knowledgeable society. That's what our country is based on. And it's a right, a guaranteed right. I think that's wonderful about our country – every child is guaranteed a free public education.
---
Should pre-kindergarten be universal in Juneau regardless of cost?
Pre-K is what's going to make all the difference in the world because kids come to kindergarten at such different skill levels. If you've had a lot of exposure to literacy when you're younger, a lot of talking, you come to kindergarten pretty much ready with the skills that education looks for. School's easier because when you're on grade level, it's like running a race. People always use that analogy.  You can come 2 miles behind the race or you can come 2 miles ahead.
So early literacy makes a ton of difference. There's many studies showing that. And our state is one of the few states that does not provide … well, they are sponsoring, and we are fortunate to have some early childhood grants. We have a couple of our preschool programs because of the state, but I'd love to see them expand that and expand parents as teachers and a whole bunch of early learning opportunities.
---
Every year the Department of Health and Social Services anonymously surveys high school students. The Youth Risk Behavior Survey asks questions about the students' alcohol and drug use, sexual behavior and general health, among other things. Are you comfortable with the collection of this information?
Yes, and I would like to see the state change to go back more to an opt-out. Right now it's an opt-in, so parents have to give permission for their students to take it. And why I think it's important to do it the way we used to do it, an opt-out, is because it helps us … it's anonymous … it helps us get an idea of what supports and interventions we need for students – a realistic picture, and that can help us apply for grant money. If you don't have a certain set of people taking it, you can't apply for the money. It gives us a realistic picture of what's happening.
---
The use of powerful cloud­-based services like Google Docs and Khan Academy are becoming more and more common in the classroom, which also connects students with the big data industry. What do you think about this evolution in education?
It's here to stay. We all use it as adults. Our children really need to be digitally literate, because they have to know, "Who put that out there? What is their background?" So they can be smart consumers of the web and have safety.
Our three high schools were just re-accredited and part of the plan was we're behind on technology services to our kids, and in order to keep our accreditation going we need to update that. It's one of the priority things to do.
---
Most students are interacting online. Do you think schools should monitor students on social media?
I'm not sure what you mean by that question. I know we have some safeguards for certain sites, we have protections that kids can't go to sites that are inappropriate for them.
---
Where do you stand on Common Core?
What is happening in Alaska is we have the Alaska state standards. And so, I'm all for higher standards. … We knew that our standards were low, and so we've adopted the Alaska state standards. They're similar to the Common Core, but unique in some ways and I support the higher standards.
---
Funding for sports and extracurricular activities has been severely cut over time, with private fundraising and out-of-­pocket fees covering more and more of the cost. Should schools be responsible for subsidizing extracurricular activities?
If we weren't on the budget constraints that we were, I would like to be giving more to funding. When we opened the second high school, Mayor (Bruce) Botelho at the time and myself – I was board president – we formed a committee called TEAM, Task Force Exploring Activities Money. We looked at the current funding for activities, we looked at what the city was paying in relation to other states, what the school district was paying – at the time we were paying very little. We were little in comparison to others. We came up with formula. It was costing us $2 million. The city would pay a quarter, the district would pay $1 million and public fundraising would pay a quarter.
Well, what was happening at that time is the public was paying $1.5 million, the district about $200,000 and CBJ the rest. So, the citizens had been paying a lot. Now we're going back to where we're going to have to go back to that formula because of budget cuts, where they're paying a lot.
I think we need to think of ideas, such as, we are a nonprofit – we could have one huge pool that could could contribute (to) and we can have a way to distribute that among our groups. I think we need to be looking at some creative ways to tackle this problem.
High school activities keep kids in school. I played in the band, I was a cheerleader. I've talked to so many people. I mean, they go hand in hand with a good education. How to pay for that – that is the question that we're facing right now and we've (gone) back to where we were not paying much. And so, no we're having to fund raise more and it's a stress.
---
The implementation of Erin's Law will require students to receive age­-appropriate education on sexual abuse and teen dating violence prevention. Do you think parents should be able to opt their children out of such education?
I do think parents should be able to opt out and they can under our school district policies.
---
How can schools encourage Juneau's best and brightest students to return or remain in Juneau?
I think, in listening to the candidates, I could talk about housing and things like that, but having the quality public education system is very much right up there. Because where you raise your kids you want to know that they're getting the best instruction possible and having a wide variety of activities, from extracurricular to hands-on science-based inquiry, learning about where we live. And I think our schools are doing a really good job.
If ever I get overwhelmed by the funding situation over at the capitol building, I go visit a school and see the kids and the good dynamics happening. Sure, we have things to improve, but we have personal attention, we've got nice sized schools. You know, continuing, that's one of the reasons why I'm running is I want to continue to focus on quality schools for every kid.
More Candidate Profiles
Mayor
District 1 Assembly
District 2 Assembly
School Board (3 positions open)
Compare Responses by Issue
Assembly issues
Mayoral issues