In Juneau, quirky people, untold stories and little mysteries are as abundant as the rain. For the things about Juneau you can't Google, why not work with a KTOO reporter to satisfy your curiosity?
Introducing a new KTOO news feature: Curious Juneau. Starring you and your questions.
Curious Juneau is a recurring news feature driven by questions and reporting from our audience.
---
Are you curious about Juneau? The history of Alaska's capital city, its places and its people? Or if you just like to ask questions, then ask away!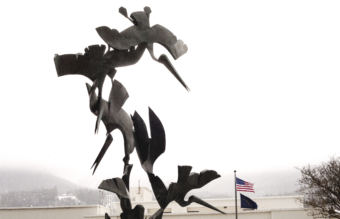 A common story goes that there was a shipping mix up. Somewhere in Florida, there's a federal building with our eagle statue, and our federal building got their pelicans. Is it true?
Read More »