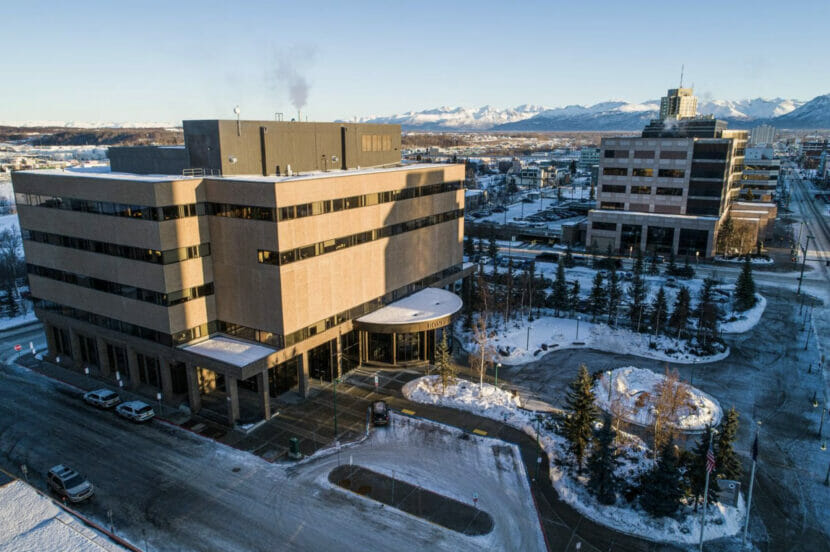 A staffing crisis in the state agency that provides guardianship services for some of the most vulnerable Alaskans means it can no longer accept new cases, agency heads said in a letter to the Alaska courts recently.
The Office of Public Advocacy is required by law to provide guardianship services for adults with severe mental illness, intellectual or developmental disabilities, dementia or traumatic brain injuries, along with young adults transitioning out of the custody of foster care or the juvenile justice system. That means connecting them with basic services they need to survive, including housing and medical care.
But recent turnover among public guardians — whose training and certification process takes at least two years — has led the 17 fully certified public guardians employed by the office to each have a caseload between 97 and 100 wards, more than double the standard of 40 wards per guardian recommended by the National Guardianship Association, according to the letter sent Friday from the Office of Public Advocacy director and deputy director to the Alaska Supreme Court chief justice and presiding judges.
"As we have been alerting the courts for the last several years, the public guardian caseloads have become overwhelming," wrote Director James Stinson and Deputy Director Beth Goldstein, explaining their decision to cease accepting new cases.
They went on to write that if public guardians are forced to accept additional cases without additional staffing, the "wards and protected persons would only receive the illusion of protections because the Public Guardian cannot carry out the essential tasks to keep them protected."
Those tasks include obtaining funds, housing, benefits, food and medical treatment for Alaska residents who cannot do so for themselves.
Continuing to accept new cases, they said, would expose the agency, which is part of the Alaska Department of Administration, to "numerous negligence lawsuits" and create the possibility that additional public guardians will leave the agency "because they are petrified of being negligent and costing someone their life because their caseload is unmanageable."
State law requires public guardians to follow rules adopted by the National Guardianship Association, including a minimum of one visit per month with each ward.
"OPA is on the brink of having the entire Public Guardian section implode," Stinson said in an email. "If I do not take this step, we may be left with no Public Guardian section at all."
Alaska courts spokesperson Rebecca Koford declined on Monday to say whether the courts had formulated an official response to the letter.
Stinson and Goldstein said in the letter that the staffing shortage is not a result of inadequate funding, but of high turnover.
"OPA's challenge has not necessarily been funding or an inability to hire. The Governor and the Legislature have been supportive of additional requests for positions. The issue has been the attrition rate of Certified Public Guardians and the length of time it takes to train and certify a Public Guardian," Stinson said in an email.
However, Stinson cited low pay among several factors contributing to turnover in recent years, in addition to high workload, a shrinking pool of interested and experienced applicants, and a lack of growth opportunities in the position.
Staff turnover and recruitment and retention challenges have been cited in recent months as leading to crisis-level challenges in numerous state agencies, including the Public Defender Agency and the state office responsible for handling public food assistance. Other agencies have pointed to past funding cuts and poor retirement and benefits options as contributors to the workforce challenges.
Seventeen public guardians have resigned in the past three years — four in the past year, Stinson said. The staffing reached a breaking point when a public guardian responsible for 85 wards had to take a long-term absence for health reasons, forcing remaining guardians to take on those cases and creating "an untenable staffing situation," according to the letter.
Stinson and Goldstein said it would likely be nine to 12 months before they would have capacity to take on new cases, as additional guardians become certified.
The agency asked the court in the meantime to consider several interim solutions, including implementing a waitlist, prioritizing new cases on the basis of urgency and need, and appointing private attorneys to serve as temporary guardians, using a separate pool of state funds.
That separate pool has already been tapped by the state Public Defender Agency, which announced earlier this year it could no longer take on new clients charged with serious felonies in the Bethel and Nome Superior Courts because of staffing shortages.
Stinson said the Office of Public Advocacy, in consultation with the governor's office, is also considering hiring additional employees to fill lower-level positions "that can help take the less complicated, but voluminous, work off the remaining" certified guardians.
A spokesperson for Republican Gov. Mike Dunleavy said his administration is "working closely with the Office of Public Advocacy and the Department of Administration to determine what steps will be taken to alleviate the shortage of guardianship staff" and that the agency has already received approval for additional positions.
"There will be more information on that in the near future," spokesperson Jeff Turner said by email. He did not answer when asked if Dunleavy saw the staff shortage in the Office of Public Advocacy as connecting to shortages impacting other state agencies.
The agency has set a target of around 60 cases per certified staff member to meet national standards. Currently, the agency's 17 certified public guardians are handling more than 1,600 cases.
Stinson said the agency is committed to keeping all existing clients, which is "already a challenge." The agency's caseload has remained steady in recent months, he said, because as new individuals are assigned to the agency, other individuals die or have their appointment dismissed.
"The issue is that the cases have gotten more complex, and there are less resources for the clients so finding ways to meet the clients' needs now takes longer and we have less certified staff to handle the cases," Stinson said.
This story originally appeared in the Anchorage Daily News and is republished here with permission.