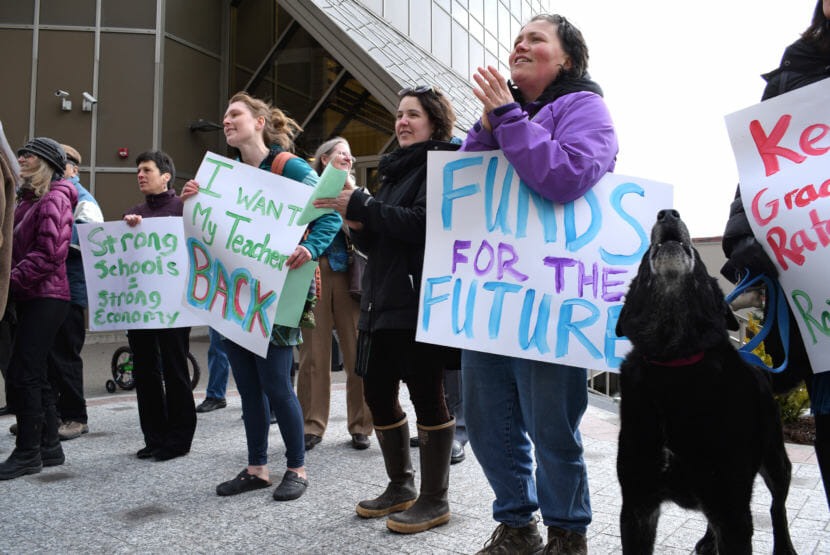 Teachers, school administrators and parents plan to meet outside the capitol building in Juneau Monday night to call for more education funding.
Alaska funds school districts through a formula called the base student allocation, or BSA. It determines the amount of money per student a district gets from the state. 
The BSA hasn't increased substantially since 2017. On Juneau Afternoon last week, Dzantik'i Heeni Middle School science teacher Cheyenne Cuellar said the BSA hasn't kept up with urban Alaska's consumer price index, which has increased by 15.4% over the last five years. 
"Since 2017, it's only increased 0.5%," she said. "Districts across the state are really feeling the impacts of this."
The BSA increased by $30 last year. This year, the Alaska Association of School Boards is calling for an increase of at least $860. Gov. Mike Dunleavy's proposed budget did not include an increase to the BSA, though he acknowledged "inflationary issues that need to be addressed."
Dzantik'i Heeni music teacher Mike Bucy said flat-funding education impacts negotiations with teachers' unions. The Juneau Education Association declared an impasse in its negotiations with the school district last month. Teachers and staff in Fairbanks have also declared an impasse.
"In the classroom, you can just feel that there's not the resources – more and more students with fewer and fewer resources – year after year," Bucy said. "That all goes back to the formula funding."
State funding also affects district's abilities to hire other workers, like bus drivers or paraprofessionals who work with special needs students. This fall, a shortage of bus drivers left Anchorage School District bus routes without service for weeks at a time.
Bucy said budget cuts hurt students, especially when class sizes have to go up.
"I know one of the sixth grade teachers this year started with 43 kids in his class," he said. "These are 11-year-olds. 43 of them — many of them with special needs. How on Earth is he going to help a student that's struggling with something in that class? It's impossible."
The Alaska Association of School Boards has also called for a defined benefit retirement plan for teachers. Juneau Sen. Jesse Kiehl has introduced a bill to give public workers, including teachers, the option to pay into a pension.
Monday's rally will be at 6 p.m. at the steps of the capitol building.