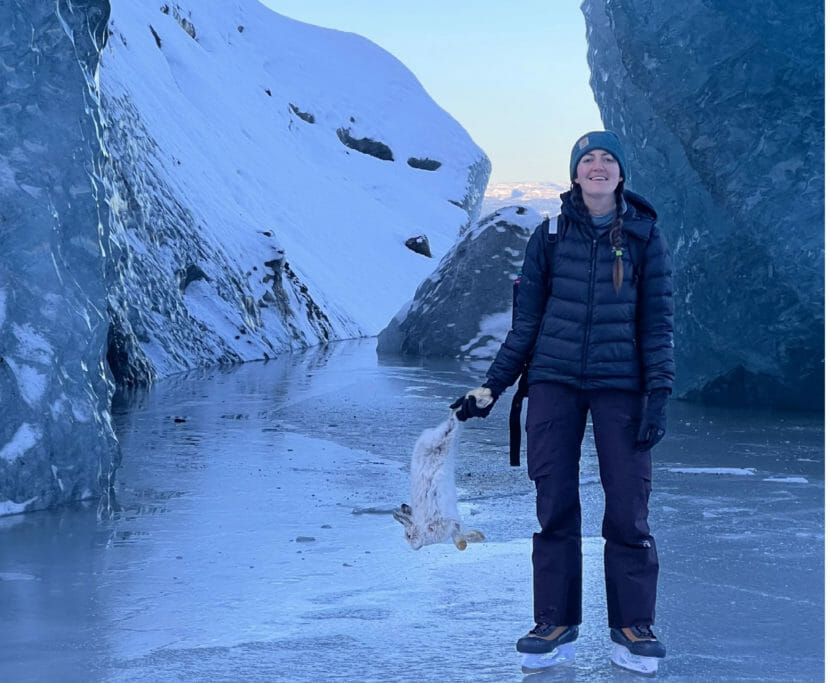 When Homer resident Kelsey Haas fell into an open patch of icy water earlier this winter, she didn't panic. It was her first time falling through ice, but as a guide and avid adventurer, Haas did know a few techniques for getting out of frozen water.
None of those techniques involved the carcass of a snowshoe hare.
It was late November. Haas was skating to the Grewingk Glacier with a group of about a dozen others. The massive, 13-mile-long glacier has become a popular destination in Kachemak Bay State Park, especially in winter. After a boat ride from Homer, it's about a two-mile trek, partly over a frozen lake, to get there.
The 29-year-old hiking and rafting guide had been there many times before, in warm and winter months, and her friends were also experienced adventurers. They had throw ropes and rescue gear in tow, and they were testing the thickness of the ice with ice screws.
While she was exploring around the glacier, Haas found the carcass of a snowshoe hare on the ice. She thought it was kind of mysterious.
"It wasn't warm, it wasn't super stiff, but it wasn't like I wanted to eat it because I don't know how it died," she said. "It was interesting. There were no puncture wounds."
Haas decided to hold onto the carcass. She wanted to take it home to skin it and save the fur.
Later, as the sun was about to set, Haas and her friends discovered an ice formation that Haas described as a "perfectly picturesque arch, right in the middle of an iceberg."
"We all knew it was really thin ice and that it wouldn't be a good idea," Haas said.
But the arch was too beautiful and tempting, and she wanted to skate through it.
If anything did happen, Haas figured there was a trained group of well-equipped people who could help. And she had extra warm clothes in her backpack. So she tempted fate and skated through the arch as fast as she could.
Instead of thin ice, she found an open hole.
Haas said her instincts kicked in after she fell in the water. Instantly cold, she knew she had to go back the way she had come, toward where the ice was at least somewhat stable. She also knew that she had to position her body horizontally to pull herself out of the water.
A dry bag she carried on her back had air inside, which helped keep her afloat. And she still had the dead hare.
"I don't know how I didn't let that go," she said.
When she reached the edge, she slapped the hare forward onto a shelf of ice. The wet carcass quickly froze onto the cold surface. Haas said she used the frozen snowshoe hare like an anchor to pull herself out of the icy water.
She was out before her friends could help.
"I just looked at them, and I was like, 'I just have to skate as fast as possible and work my body temperature back up.'"
Once she made it back to shore, there was a group waiting for her.
"It was like a pit crew, like everyone just swarmed me," she said. "[They] took off all my clothes. I looked like a giant marshmallow."
Haas said one of the biggest struggles was taking her ice skates off because the laces were frozen solid. She remembered three people tugging on each skate, struggling to remove them. After she was able to get her skates off, she still had a mile and a half hike to the water taxi.
"My coldest thing was my feet," Haas said. "On the hike back, my feet were definitely pretty numb the whole way."
While Haas said she was able to laugh about the situation immediately afterward, she said it definitely affected her days later.
"Anytime I close my eyes, I kind of have a flashback," she said. "I didn't sleep for a couple of days. And that's when I realized like, 'Okay, this was probably more traumatic than I thought at the time.'"
Haas said the most important thing is to be aware of your personal safety while exploring places like Grewingk Glacier.
"It's so important to recognize that level of risk," she said. "Always have dry clothes, always use a dry bag, have a throw rope, have all the things you need to get people out of that ice, and just do it really safely."
And as for the snowshoe hare that Haas used to pull herself out of the icy water?
"I want to make slippers," she said. "Definitely want to make slippers out of it."