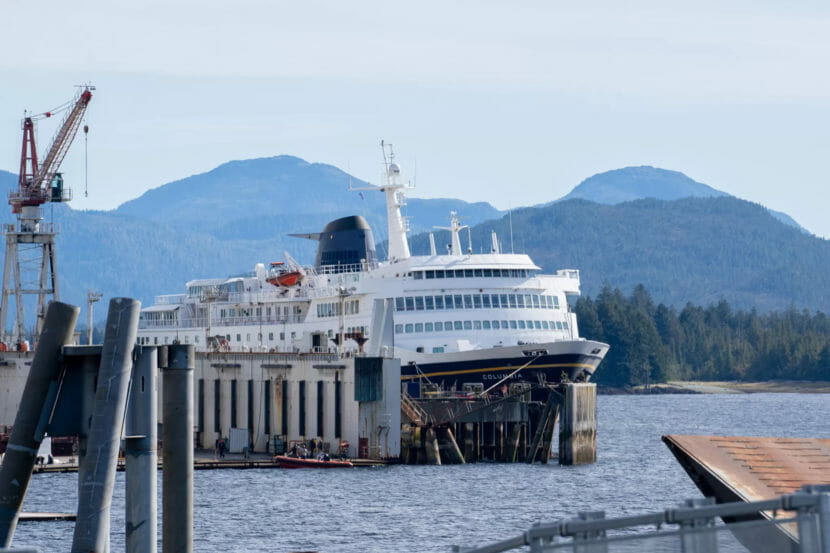 Alaska's flagship ferry Columbia will sail in Southeast communities this spring. It's the largest of the Alaska Marine Highway's ferries, but it's been docked in Ketchikan since 2019, when it was taken out of service as a cost-saving measure.
The Alaska Department of Transportation announced the move Wednesday. Spokesperson Sam Dapcevich says crews made an unfortunate discovery while working on maintenance for the ferry that typically covers Southeast routes. He says the 60-year-old Matanuska has a fair amount of what's called "wasted steel."
"That's like corroded steel on the vessel that needs to be repaired," Dapcevich said in an interview with KSTK Wednesday afternoon. "They didn't expect to have to do it, and it increases the cost and pushes out the timeline for it to return to service."
Last fall, the Department of Transportation announced the 418-foot Columbia would remain docked despite years of work to make the ship ready to sail. The department had originally planned to task the Matanuska with the mainline Southeast route.
During its more than three-year layup, the Columbia served as housing for Alaska Marine Highway crew. Dapcevich says the Matanuska will likely take over that role with the Columbia back in service.
"While [Columbia] was operating as a housing vessel, or 'hotel ship' we call it, it was also getting work done," Dapcevich says, "And that will likely be the same case with the Matanuska – while it's being worked on, it will be a hotel ship."
Dapcevich says the Columbia is scheduled to begin sailing Southeast routes on Feb. 13.
That will mean some changes to routes and schedules. For one, the Columbia isn't certified to serve international ports. That means it won't be able to stop in Prince Rupert, British Columbia. Dapcevich says the smaller Kennicott will take over the Canadian route in May once crews finish scheduled maintenance on the vessel.
The Columbia also isn't able to dock in the Kupreanof Island community of Kake, so Dapcevich says the Marine Highway is working to add sailings to Kake using the day ferry LeConte.
Dapcevich added on Thursday that the Columbia's fine-dining room — one of only two in the state ferry fleet — will be open for breakfast and dinner, according to the ship's captain. The ship's cafeteria will also be open for lunch and dinner, and he added the department hopes to have the Columbia's bar open for service in the summer.
The department says it hopes to publish the Columbia's full sailing schedule in the coming days.
This story has been updated to reflect that the Columbia's dining room will be open when the Columbia sails.