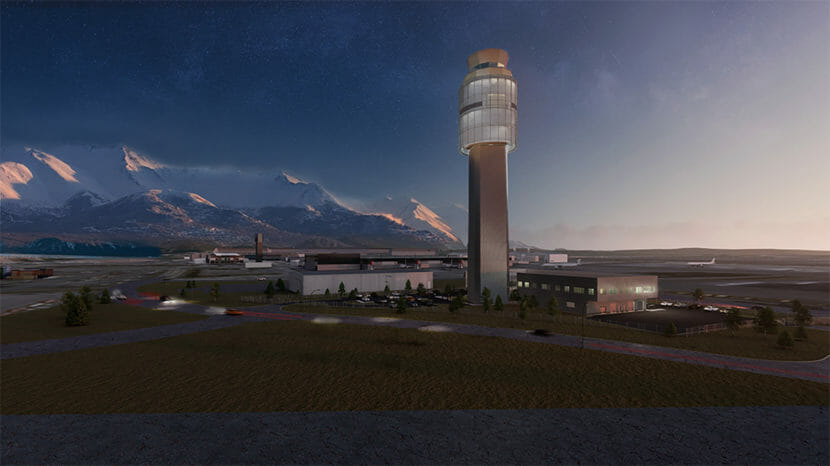 Work is underway on what will be Alaska's tallest building.
A new air traffic control tower is planned for the Ted Stevens Anchorage International Airport. It'll stand at 306 feet — 10 feet higher than the current record holder, the ConocoPhillips building in downtown Anchorage.
The new tower will be almost double the height of the current control tower, with an expanded "cab," or upper viewing area, that will accommodate 10 operators, while the current cab is only built for six.
Ross Timm, a senior architect at Stantec, the firm recently selected by the Federal Aviation Administration to design the new tower, said the designers didn't set out to break any records.
"We knew it was gonna be up there," he said. "That final height was determined by the cab eye level, so we weren't trying to achieve the tallest building in Alaska, it just so happens to be that."
Timm said the FAA chose a new location and optimal height for better viewing of the entire runway complex, including the Lake Hood seaplane airport that it also oversees. He said the FAA determined the current control tower was inadequate to handle the growth in traffic, especially cargo traffic, the airport has seen since it was built in 1978.
"So the current tower wasn't built to the FAA current standards. It has obsolete electronic equipment, mechanical equipment, as well as it doesn't have nearly enough operator positions," Timm said.
The tower will also include a new radar facility at its base that controls air traffic throughout the Anchorage airspace, including from Merrill Field and JBER, according to Timm.
The FAA has not provided a cost estimate for the project, but Timm said the airport will not have to share the cost. He said design should be completed by May 2024, with construction expected to begin later that year.