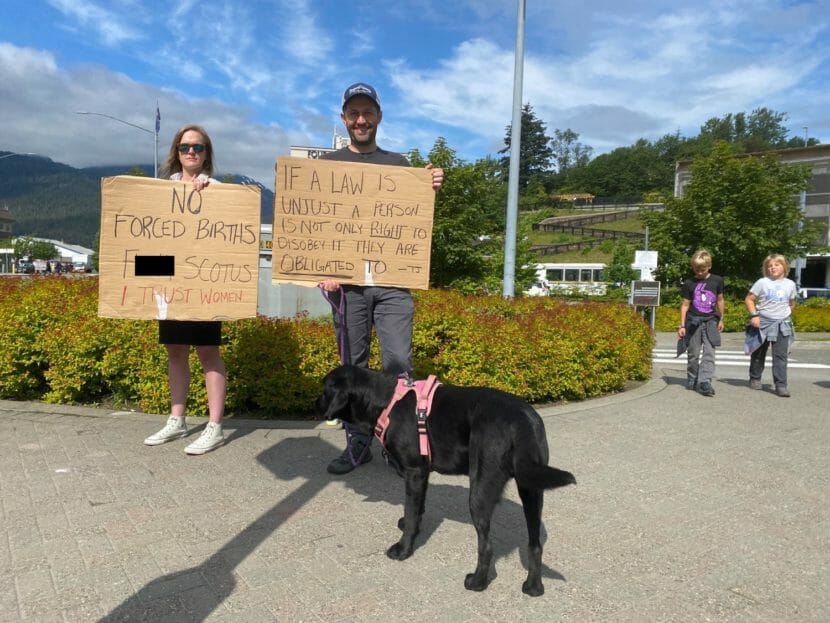 The Supreme Court overturned Roe v. Wade on Friday, eliminating the right to abortion after 50 years. Nearly half the states are expected to ban the procedure.
Abortions are still legal in Alaska, though many women live hundreds of miles from access to abortions.
Juneau residents Emily Chapel and Brian Sparks took to the corner of Egan Drive and Main Street with signs protesting the decision around 9 a.m.
Chapel said she was there because restricting access to safe and legal abortions will cause harm and suffering.
"I just can't believe that my daughter has fewer rights today than I did and her age," she said. "I'm really upset. Guns have more rights than I do at this point, as a woman in the United States."
She carried a sign that read: "No forced births, f— SCOTUS, I trust women."
Sparks said he was there to support women and their right to choose.
Nancy Courtney is a board member for Juneau Pro-Choice Coalition. She says the board is dismayed by the Supreme Court decision.
"We knew it was coming. We knew it was coming. But it's still a shock," she said.
The Coalition is organizing a rally Saturday at Dimond Courthouse.
"I'm hoping that we can come together as Alaskans and do the right thing and maintain safe legal abortion in our state," Courtney said.
The Alaska Supreme Court has ruled that abortion rights are protected by the state constitution. But in the November election, Alaskans will decide whether to hold a constitutional convention, which anti-abortion activists see as an opportunity to change that.
Some Alaska lawmakers had repeatedly tried to limit abortion access in the state. Rose O'Hara-Jolley, state director with Planned Parenthood Alliance Advocates Alaska, is preparing for a fight.
"We know that they're going to try to come against that because they already do," O'Hara-Jolley said. "In their last session was a constitutional amendment to remove abortion. Also, HB 206 was one of the most extreme anti-abortion bills in the country, and it was in the Alaska state House."
Gov. Mike Dunleavy issued a statement affirming he is pro-life. He said he will introduce a resolution during the next legislative session for a constitutional amendment that would determine whether abortion is a constitutionally protected right.
Sen. Lisa Murkowski said she strongly supported Roe v. Wade and codified abortion rights, although in May, she voted against a bill that would have protected abortion rights if Roe v. Wade was overturned. She and Sen. Susan Collins of Maine introduced a narrower bill in February that drew little support.
This story has been updated. Alaska Public Media's Wesley Early contributed to this report.