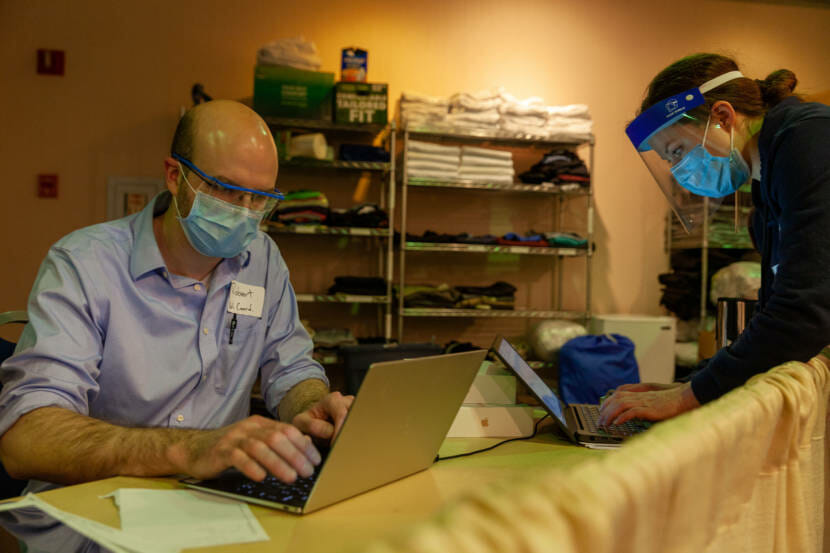 Updated at 8:21 p.m.
At the latest Juneau COVID-19 community update, people had a lot of questions; health officials spent about an hour answering them. 
Some residents are concerned with the spread of COVID-19 in Juneau schools and questioned whether steps the district has taken to limit transmission of the virus are working. 
"We've seen some limited transmission in schools," said Emergency Manager Robert Barr. "But most of the case activities that we've seen in schools started outside of the schools."
At the state level, data on new cases has been falling further and further behind in recent weeks. But state public health nurse April Rezendes said the state has mostly cleared the backlog. She said there is a one to two day lag now. That means the numbers being reported by the state give a fairly accurate picture of COVID-19 in communities. 
Juneau's case counts are trending up. On average in September, 27 new people a day test positive for the virus — the highest it has ever been. 
As case counts have climbed higher around the state, the city has been cut off from the type of detailed information about each case that it used to get. Now, local officials rely on the state for numbers and broad trends in who is catching and transmitting the virus. 
Barr said Juneau likely won't go back to local reporting of positive cases unless the state's reporting starts to lag again. He said the move frees up time for Juneau emergency staff to focus on testing and contact tracing.
With hospital capacity in Anchorage and Seattle at its limit, a lot of people also had questions about Juneau's hospital capacity and about medevacing. So far, the hospital is strained but not overwhelmed. 
"I mean our capacity really to handle a car crash or serious injury has not changed," said Bartlett Regional Hospital's Chief Nursing Officer Kim McDowell. "We are still very able to handle that. Our staff, you know, are very well trained and you know, are able to handle those situations."
But she said medevacing is a little more tricky because hospitals in Anchorage and throughout the Pacific Northwest are seeing a surge of patients. While Bartlett can handle most emergency care, specialized care for things like trauma can require a medevac. And some hospitals might not be able to accept them. 
She said if no hospital can accept a medevac, then all hospital staff can do is take care of the patient the best they can with the resources available.
Juneau officials will hold a COVID-19 community update at 4 p.m. today.
You can watch the meeting through Zoom or Facebook live. You can also call 1-253-215-8782 or 1-346-248-7799 with webinar ID 985 6308 5159.
Health officials will give a presentation and answer questions from community members afterward.
Over the weekend, Juneau officials reported 95 positive cases and the death of a Juneau resident. Yesterday, they also reported that there are "roughly 193 active cases" in Juneau.
Officials identified a few trends in how the virus is spreading — social gatherings, households, Juneau schools, daycares, some workplaces and travel.
Vaccines are still effective at preventing hospitalization and death from COVID-19. 80% of Juneau residents eligible for the vaccine are fully vaccinated and 69% of the total population is vaccinated.