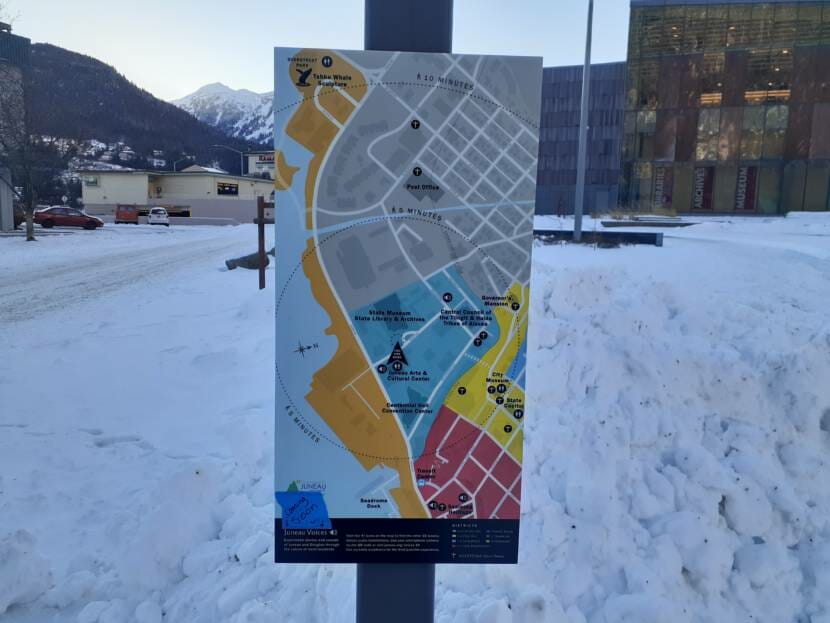 Take a stroll along some of Juneau's downtown streets and you'll find brand new signs with maps and information about each location. But the signs do more than just tell you where you are — each one tells an oral history about the place as part of an audio storytelling project called Juneau Voices.
The new signs feature QR codes. Scan them and you'll be taken to an audio story about the place.
Ten stories are narrated by people from throughout Dzantik'i Héeni, or Juneau, whose family histories go back generations. The narrators include the late Kingeistí David Katzeek and Erin Tripp, whose Tlingit name is Xáalnook.
Kingeistí is part of the Eagle moiety. Xáalnook is part of the Raven moiety. Together, Eagle and Raven guide the listener through this sonic journey.
Lillian Petershoare is one of the artists who helped with Juneau Voices. She said the project is meant to tell rich stories about the diverse experiences of local people.
"The stories are a wonderful cross-section featuring oftentimes lesser-known stories and lifting up people's experiences so that local residents and visitors can have a better understanding and appreciation for the diverse people that live in this community," Petershoare said.
Petershoare said one of those lesser-known stories is a tale of two statues near the Alaska Capitol building, narrated by Sorrel Goodwin. One of the statues is of William Seward and sits in front of the Capitol. The other statue isn't there — or at least not yet. It's of Sheep Creek Mary, who was Goodwin's great-great-grandmother, also known as Mary James, who took a stand against the Gastineau Mine company that eventually forced her to sell her land.
Petershoare said it's important to tell these stories.
"Because either the listener is living on Lingít Aaní or they are visiting Lingít Aaní," she said. "It's so important to understand the Indigenous people of the area."
Ryan Conarro, an artist with Juneau roots, also helped facilitate the project.
"You can almost think about radio drama or podcasting with sound design and music to illuminate their stories," said Conarro.
He said it started when he met Petershoare in 2018 while co-producing a theater project called "Aan Yátx'u Sáani: Noble People of the Land," where Tlingit elders shared stories about Juneau's Aak'w Village District.
The city had already initiated the idea of creating a signage project to help visitors find their way.
Over the course of several months, Conarro and Petershoare hosted story circles around town and put together what represents the breadth and depth of the city's history. The project was delayed by the pandemic but is planned to officially launch in March.
Petershoare said she hopes the city can put up more signs with stories around the rest of the borough in the future.
Editor's note: The QR codes on the signs are currently inactive, but will be ready to scan in early March.
Disclosure: KTOO  is a partner with the Juneau Voices project.