Update (7:50 p.m.) — Andrew Kitchenman, KTOO and Alaska Public Media
Alaska health care providers will again be able to perform elective procedures. Gov. Mike Dunleavy announced the change at the daily COVID-19 briefing on Tuesday.
Dunleavy said the state is getting a handle on the personal protective equipment needed by health care workers, and that's allowing the change.
"We figure that with the metrics that we can watch very carefully, we can fine-tune this approach and that, in the end, it would be better off that we begin the process of opening this sector up now," Dunleavy said.
Dunleavy and health officials plan to issue a new mandate on elective procedures on Wednesday. Details of the changes, including when they go into effect, weren't available on Tuesday evening.
Dunleavy said the state will be monitoring any increase in the number of people with the virus, with the goal of keeping within the capacity of the health care system.
He said Alaskans will continue to practice social distancing — like staying 6 feet away from others — until there's a way to prevent or treat the disease.
"There are still going to be things that we can't do — or we're going to have to do very differently," Dunleavy said. "But there are going to be more and more things that we used to do that we are going to be able to do in the future, if we continue to practice some of these hygiene practices that we've talked about, but also some of the social distancing."
State Chief Medical Officer Dr. Anne Zink said the state will make adjustments.
"I think of it a lot like either trying to ski down a mountain or drive down a road," Zink said. "We could just bomb our way down it, but there could be a lot of collateral damage in the process. And so we're trying to mindfully make those turns, to put on the brakes, to be able to do this in a controlled fashion, as we're building up supplies, as we are getting treatment and hopefully a vaccine."
Dunleavy also announced that people ordering meals from restaurants and bars will be able to have beer or wine included.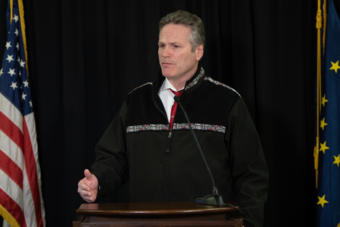 Original story — Rashah McChesney, KTOO
Gov. Mike Dunleavy's latest COVID-19 press conference is scheduled for 5 p.m.
The governor, Health and Social Services Commissioner Adam Crum and Chief Medical Officer Dr. Anne Zink have been holding these briefings almost daily since March 10.
They've shared updates on the number of people in the state with confirmed cases, announced public health mandates and explained the administration's strategy and rationale.
The state's health department reported Tuesday that a ninth Alaskan has died from the disease. The state also reported that another eight Alaskans were diagnosed with COVID-19 on Monday, bringing the total to 285. The number who have recovered from the disease rose to 98. The total number of hospitalizations remained unchanged, at 32.
To date, Dunleavy's administration has imposed numerous public health mandates that have reshaped daily life across Alaska to combat the spread of the virus. Those mandates and other Alaska-specific COVID-19 resources and information are available at coronavirus.alaska.gov.
Dunleavy said at Monday's news conference that he expected to discuss the state's economy this week, and how and when different businesses and communities may begin to reopen.
"Eventually, I think we all realize that sooner than later we have to open up the economy," he said. "And I want to be clear that when I say that, I don't want anyone to get the wrong idea that we're going to put the economy ahead of the health of Alaskans. That's not the case at all."
You can watch today's press conference live on this post, the governor's Facebook or Livestream pages, or on 360 North television.
The headline for this story has been updated.