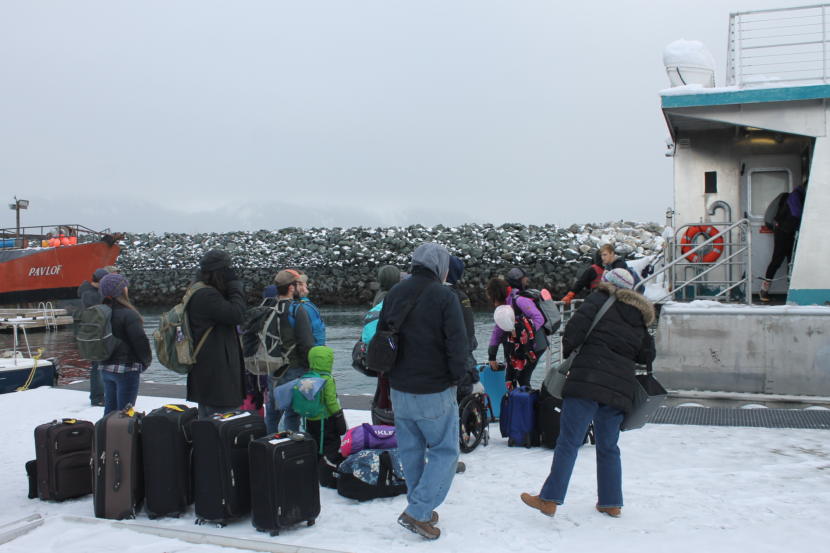 Since the breakdown of the Alaska Marine Highway System, schools have had to look for alternative transportation to get their students to and from sports competitions and other activities.
On Monday, Haines and Skagway schools partnered to hire Allen Marine Tours to bring students home from Juneau by boat.
Last week, Haines Glacier Bears basketball teams were scheduled to play a series of games against other schools in Southeast Alaska. After the ferry shut down, the Haines school had planned to fly the students, but the crew of the reality TV program "Ghost Hunters" had chartered a boat trip from Haines to Juneau already and they let the teams catch a ride with them.
Amanda Painter is an assistant coach for the girls' basketball team in Haines. She says it wasn't smooth sailing.
"You know we took this boat on Saturday and then had to turn around kind of near Seduction Point with the 'Ghost Hunters' crew. The next day we stayed on this dock for two hours," she said.
Eventually the winds died down enough to get to Juneau.
From there the basketball teams made their way to Metlakatla and Craig to play a total of four games. Painter says with all of the different types of transportation required to get between communities, they were travelling non-stop.
"It was constant movement," she said. "One day we took three buses, two boats, two flights and one shuttle."
On the last leg of their journey from Juneau to Haines flights were cancelled for three days because of inclement weather. And the Haines basketball teams weren't the only ones trying to get home.
Drama, debate and forensics teams from Haines and Skagway had been competing at the state championships in Juneau. Other residents from Haines and Skagway were grounded in Juneau as well.
Haines School Superintendent Roy Getchell says that both the Haines and Skagway schools decided to pay for a private marine charter.
"Because there was a critical need to get our students home, to get students from Skagway home and to do our best as a community to respond to something that nobody has planned for, and that's no ferry service to the Upper Lynn Canal for seven weeks or more," he said.
Three weeks ago Alaska's Department of Transportation paid Allen Marine to shuttle stranded travelers between Haines, Skagway and Juneau. Since then the state has not paid for any more trips.
The Haines Borough Assembly discussed funding private charters at a meeting last week, but instead decided to request that the state fund alternative transportation while the ferry system is offline.
Getchell says it was only possible for the Haines and Skagway schools to book a private charter for their students because they could charge other passengers for the remaining seats on the boat.
"You know because of the demand it's actually going to really favor us and things have fallen our way in that regard. But this is not a sustainable long-term solution for our school district or any school district in Southeast Alaska," he said.
Getchell says that Haines School Activities Director has had to adapt to constantly changing travel circumstances.
"The thing that has been so hard is the logistics, planning one or two days in advance. I am so appreciative of our activities director Lynzee," Getchell said.
In spite of all of the trials and tribulations, coach Painter says it was an excellent trip.
"That's why I'm here in Alaska — 'cause of adventure. It's an adventure traveling and seeing new parts of Alaska. It was great to bond with the girls," she said.
The Glacier Bears basketball teams will hit the road again next week for a series of games against Wrangell and Petersburg.