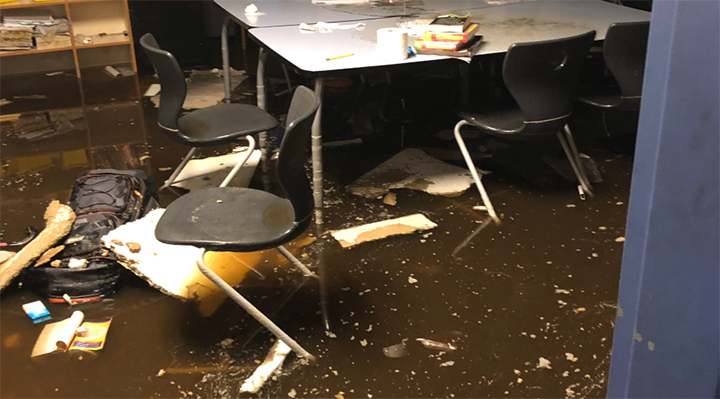 Update (Feb. 10) — Anna Rose MacArthur, KYUK – Bethel
Hooper Bay students returned to school Feb. 3, for the first time since December. A pipe burst in the school during winter break, flooding the building, wreaking havoc and delaying the spring semester. (Read more)
Original story
School is out in the coastal community of Hooper Bay in Western Alaska after extreme cold weather in December caused a pipe to burst and flood the building.
Students were supposed to return on Jan. 5, but Lower Yukon School District officials say that can't happen until the school has been repaired.
There's a movie floating on social media that a Hooper Bay resident Daniel Cerneck made. It's cell phone video and still images shot by people walking through the Hooper Bay School in December.
Several inches of water pour down the stairs. The lights are flickering or fully out in the hallways, chunks of ceiling tiles float along the floor — at one point, a man opens a classroom door and at least a foot of water, books and paper plates stream out.
"We had a significant break in a fire-suppression water line," said Lower Yukon School District Superintendent Hannibal Anderson.
The damage is extensive, but Anderson said staff are hoping to have the school reopened by the end of January. He said the current plan is to extend school days when class is back in session to make up for the time off.
Right now, the teachers and staff who would normally be working, are not.
Anderson said the teachers will continue to be paid on their normal schedules — they're salaried. But it could pose a problem for staff who are paid hourly.
So far, Hooper Bay School Principal David Harris said all of the staff — about 20 of them — who could have been out of work have instead taken jobs cleaning up the school.
He said it's hard work.
"We're a two-story building, and I have 50-year-old women going up and down these stairs, and I don't know about what kind of shape you're in, but I know I get tired just looking at them," Harris said.
He said it has been a community effort to get the school gutted, fixed and reopened. The school's cook is making meals during the day.
"Sunday they made a turkey dinner for all the workers. I think today, I think he's doing moose today. A moose dinner," Harris said. "I had a lot of Papa Murphy's pizzas in my freezer, so we were able to feed 'em Papa Murphy's, which is always a big hit out here."
Still, it's costing the school money to be closed. A basketball tournament that was scheduled in January had to be canceled. That's how the kids raise money for activities — selling tickets and things from their school store.
"That's a financial hit that we're taking. Probably $12,000 to $15,000," Harris said.
There's another large basketball tournament coming up: the Bering Sea Classic. Typically the Hooper Bay School hosts eight other schools, or 16 teams-worth of kids in the school building. They've rescheduled the event for Feb. 5, but schools set their travel seasons in advance, and Harris said hasn't been able to confirm that any of the other schools are still coming.
"(I) would love to talk to any coaches in Alaska who would like to send their teams out here. We would love for them to come, to fill out our bracket," he said, laughing.
And what are all those kids doing while the school is closed? Harris said it's tough, because school is a big part of their lives.
"In village life, the school is the epicenter. We provide the daily routine of going to school. We provide open gym for the kids to come play ball on the weekends," he said. "These kids, they don't have movie theaters, the don't have bowling alleys, they don't have shopping malls."