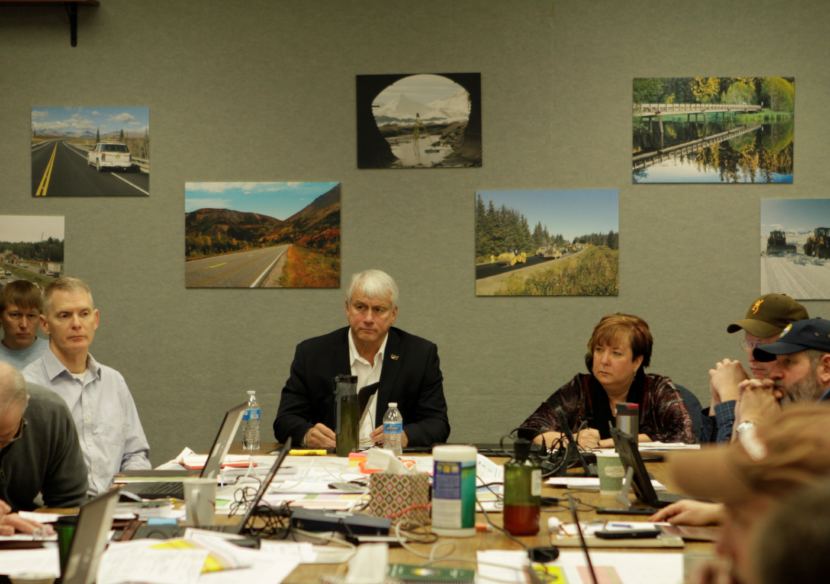 Something you probably wouldn't do in a corporate setting: replace a big business's chief executive when it's in the middle of a crisis response.
But that's pretty much what happened Monday at the Alaska Department of Transportation, which has 3,000 workers.
As Governor Mike Dunleavy was sworn in, his new transportation commissioner, John MacKinnon, started his first day on the job, while the outgoing commissioner, Marc Luiken, packed up.
It was three days after a 7.0 earthquake hit Anchorage, causing major damage to roads and other infrastructure that DOT is still trying to fix.
On Monday at 7:30 a.m. sharp, DOT was having its pre-dawn incident command briefing in a conference room at its Anchorage headquarters, by the airport. The place was still kind of a mess — there was plaster on the floor that had fallen during the earthquake, piles of candy and a tray of stale tortilla chips.
As people went around a huge table introducing themselves, they got to Luiken, who identified himself as the "chief observer."
"You're still commissioner for a while," MacKinnon quipped.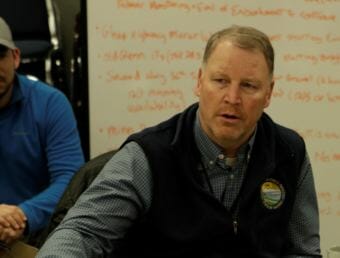 Luiken was joking — he was still, in fact, the transportation commissioner. But only for a few more hours, because of Dunleavy's impending swearing-in 500 miles away, in the Northwest Alaska hub town of Kotzebue.
Monday was transition day — when Bill Walker, the governor for the past four years, was replaced by Dunleavy, a Republican.
Dunleavy spent the last year on the campaign trail often criticizing Walker and his policies.
So you might think the transportation department would be set up for some major changes as soon as Dunleavy takes office. But that's not how MacKinnon sees it.
"It's like a birthday. You're not going to feel a year older. I don't think it's going to feel any different – it's just moving into it, and Marc is moving out of it," he said. "Frankly, you've got an incredible department that is taking care of the business. And very important business right now, getting things back on."
At some of the other departments — there are 14 in all — major policy shifts are likely.
One example: Walker's revenue commissioners pushed for taxes, while Dunleavy ran on an anti-tax platform. Dunleavy has also asked for resignation letters from an unusually large group of state workers.
But on the spectrum of executive branch agencies, DOT isn't exactly the most political, and it's unlikely that more than a handful of political appointees will be removed, according to MacKinnon.
He also convinced the Anchorage office chief, Dave Kemp, to postpone retirement and stay on for the first part of Dunleavy's term.
And MacKinnon, 66, is more of an old hand than new blood — he was once deputy transportation commissioner, then ran a construction industry trade group that worked with the transportation department. He comes from a longtime Juneau family that moved there in the 1880s.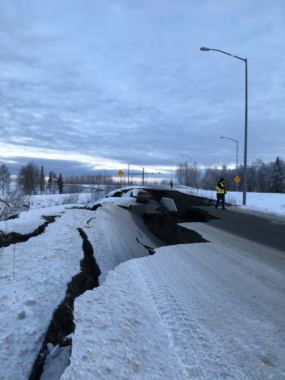 "You would expect at the political level, in a campaign, there would be some differences of opinion. I think at the department level, though, you don't take it apart like this and crank the rudder over hard," MacKinnon said. "This department has a very important role in the economy of the state and public safety, and I think that role needs to be maintained and supported."
While Dunleavy's campaign focused on budget cuts, MacKinnon said one thing he'll be looking at closely is whether transportation spending has already been cut too far.
"Have we cut too much? You know, that depends on who you ask," he said. "But when the roads aren't safe for school buses for the public to travel, we may have cut too much."
He added: "I wouldn't want my grandkids going out on a school bus on roads that weren't maintained well."
Meanwhile, in an office next door, Luiken, the outgoing commissioner, was taking care of a last few loose ends.
Leading up to the transition, Luiken said, he was keeping MacKinnon in the loop through emails and text messages. And, he said, he doesn't think a department led by MacKinnon would have done much different in the earthquake's wake.
"I think if the transition had happened Thursday afternoon that you would see probably almost identical responses," he said. "I had my chance to do my part and I did. And after noon today it's going to be Commissioner MacKinnon's chance to do his part."
Luiken talked with MacKinnon before the big Monday morning meeting. He said he told the incoming commissioner that he hopes to see certain Walker administration initiatives continue – particularly when it comes to the direction of the state ferry system and the Anchorage airport.
"I won't say he's fully on board. I'm not sure exactly where they're going with the marine highway. But we see pretty close to eye-to-eye on what needs to be done to make it successful," he said. "It may be a slightly different direction than what the Walker administration would have done. But I think the bottom line is that certainly in this department, we have Alaskans best interest in mind when we make decisions."
Luiken said he has a job lined up, though he won't say what it is yet.
He said his first task after leaving work midday Monday was taking his wife to lunch.