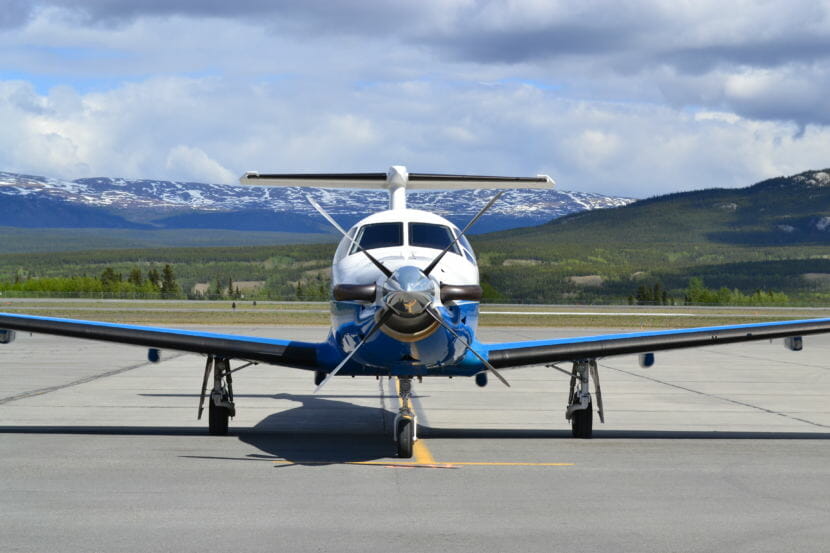 This past June, Alaska Seaplanes began offering the only direct flights between sister cities Juneau and Whitehorse three times a week. They stopped running in September, but they're planning to continue offering the seasonal flight next spring. General manager Carl Ramseth said that business was a little slow at the beginning, but it picked up as the summer went on.
He said there were some permitting delays with the Canadian government that pushed their first flight back to June 15.
"That put us in a tough spot for the summer of 2018," Ramseth said.
The trip is just 55 minutes in a nine-seat, fully pressurized Pilatus PC-12. Compared to an hours long ferry ride to Skagway plus a two-and-a-half hour drive into the Yukon, or alternatively, flying through Seattle and back up, it's a big time-saver.
It's also gotten a lot of support from tourism organizations in Juneau and Whitehorse. Ramseth said that a group of stakeholders, including TIA Yukon, the Juneau Economic Development Council and Travel Juneau met in September to discuss marketing ideas to promote the airlink. Liz Perry, president and CEO of Travel Juneau, said that the direct flight creates the opportunity to market Southeast Alaska and Western Yukon as one travel destination.
"There are lots of opportunities for Juneauites to travel to Whitehorse and for residents of Whitehorse to come down to Juneau, and experience, you know, sitting by the water and getting some fishing in and doing things they can't do up there," Perry said. "People could ostensibly start their trip either in Juneau or Whitehorse and then make the extended trip up, either up into the Yukon or down south into Southeast Alaska."
"It's a comfortable flight, and you get to see some beautiful scenery on the way up and back," Perry added. "So if time is of the essence, or time is a consideration, I think this is going to be a great option for a lot of travelers."
Robin Anderson, global marketing manager at Tourism Yukon, agrees. He said that because Yukon and Southeast are often a combined destination for travelers, and having a direct flight helps tourism on both ends.
"A lot of visitors, when they come this far, they've traveled a long way. They really quite often combine the Yukon and Alaska in the same itinerary," Anderson said. "Anything that can be done to help facilitate travel between the two destinations is only going to have a positive impact. We would love to see it continue."
On top of that, he said Yukoners visiting Southeast Alaska appreciate the shortened travel time.
"Yukoners think pretty highly of Southeast. A lot of Yukoners even own property in places like Haines or Skagway. Or you know, we go fishing in Yakutat and Hoonah … To be an hour or so from doorstep to doorstep is very attractive."
Ramseth said that the 2019 season will kick off on April 23. He said Alaska Seaplanes is planning to continue with the route for at least the next two seasons. "We're hopeful that the demand will grow … the longer we're in the market and more people are aware of it, the convenience of it," he said. "And our schedule is set up where we could add more days of the week if the demand is there."