Loading election results…
Update (11:55 p.m.) – Adelyn Baxter
Celebrating with her supporters at a restaurant in the Mendenhall Valley, Story said she was excited to serve and grateful to her volunteers. She said it's time to make some changes for the state.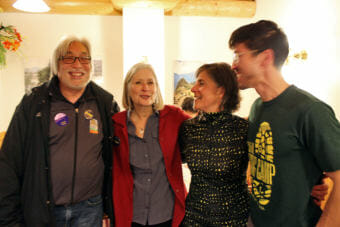 "We need to have a financial path forward and it needs to be more than the price of oil. We need to make some strategic investments to get Alaska growing again and I think that message resounded with a lot of people that I talked to," she said.
Nankervis could not immediately be reached for comment, but Story confirmed he called to concede Tuesday night.
Update (10:17 p.m.) – David Purdy
With about 86% of precincts reporting, Andi Story currently has more votes than Jerry Nankervis. Story has 53% of the votes tallied so far and Nankervis has 46%.
Original story
Andi Story and Jerry Nankervis are vying for the open seat in Juneau's House District 34.
The winner will succeed Democratic Rep. Justin Parish for a two-year term. District 34 includes the entire Mendenhall Valley, Auke Bay and Out the Road.
Story, a Democrat, is a longtime Juneau school board member. Instead of seeking an eighth term on the board, she decided to run for the Alaska Legislature to put her experience in education policy and budgeting to other use. She won the Democratic nomination in August.
Nankervis, a Republican, retired from the Juneau Police Department in 2011 as a captain. He's now a commercial fisherman and was elected to represent the Valley on the Juneau Assembly in 2012, serving as Deputy Mayor before his term ended last month.
Nankervis and Story both ran on a platform of fiscal responsibility and improved public safety, but they differed on how to pay for state services and taxes. Story has stated support for a state income tax, while Nankervis opposes the idea.
They both support expanded funding for the Alaska Marine Highway System, but Nankervis is staunchly pro-road, meaning he supports extending Juneau's road north closer to Skagway and Haines.
This story will be updated as election results come in.
Watch live election coverage: