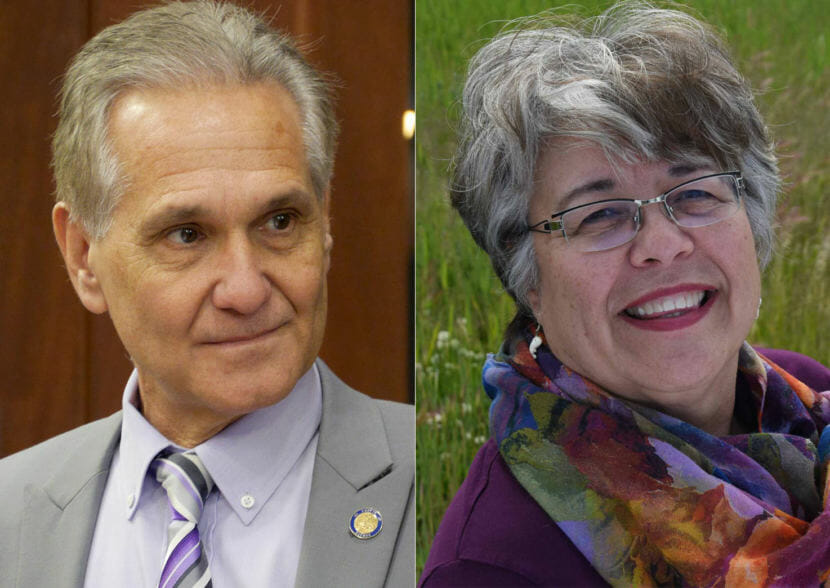 While the spotlight has been on candidates for governor Mike Dunleavy and Mark Begich, their running mates also offer contrasting choices for voters Tuesday. Republican Kevin Meyer and Democrat Debra Call have different backgrounds.  
Meyer, an Anchorage Republican, has held elected office for 26 years – including 10 years in the state Senate. He said his experience will help if he and Dunleavy are elected.
"With the years of experience that I have, working as a legislator, I think I can help the governor sell his ideas, his policy, his bills to the Legislature," Meyer said.  
Meyer also works for ConocoPhillips as a procurement coordinator.
Call hasn't held elective office. But she said her work experience has prepared her. She was the Alaska Native hire director for Alyeska Pipeline Service Company. And she retired as director of operations for the Alaska Native Heritage Center. She serves on the Cook Inlet and Knik tribal councils.  
"I've had a number of years of experience in the for-profit arena, as well as in the nonprofit, working in the oil and gas industry as well as oil-field services, where there's a number of employees," she said. "But what gives me the benefit, is also working in the nonprofit (sector), with different state agencies over a number of years."
Meyer received some criticism over the weekend on social media for comments he made in June at the Chugiak-Eagle River Senior Center. Meyer had answered a question about whether Alaska should be an English-only state by saying all students should know English before they attend school.
"Before these people send their kids to our school that we pay for,  they need to learn and promote learning English before you send your kid to our school because we can't we shouldn't have to have a teacher hired just to help two or three kids who haven't learned the English language yet," he said.
Meyer also said adults in the U.S. should speak English if they want to live here.
Call said Meyer's statement was offensive to Alaska Native language speakers and others. She said language diversity can enrich students' education.
"I'm Dena'ina Athabascan and Dena'ina Athabascan is the homeland language for the land that Kevin now lives on," she said. "So I would like to see him learn Dena'ina Athabascan."
She's been learning the language as an adult and said she wishes more Alaskans learned it as children.
Meyer said that his comments are being misunderstood. He said he wasn't referring to Alaska Natives, or to rural schools. But he said that the number of non-English speakers in urban schools is a challenge. Meyer said he appreciates the contributions of immigrants to Alaska, and that both he and Dunleavy value diversity.
"I'm not anti-immigrant whatsoever," he said. "And I just think that it makes it easier for them as well, if they … can speak the main language, and our main language is English."
Libertarian Care Clift also is running for lieutenant governor on a ticket with Billy Toien.