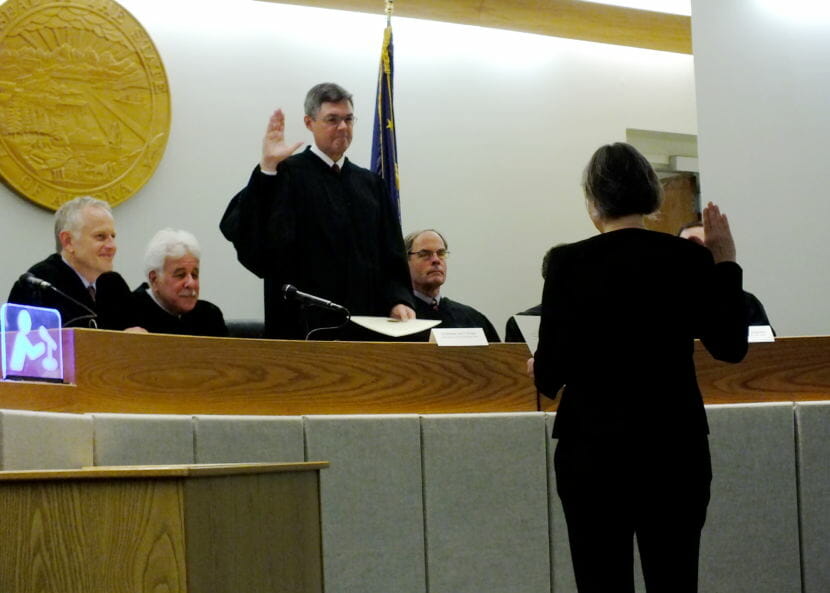 Juneau's newest judge has been formally welcomed onto the Superior Court bench.

During a special ceremony on Oct. 26, Juneau Superior Court Judge Amy Gurton Mead took the oath of office that was administered by Alaska Supreme Court Chief Justice Joel Bolger.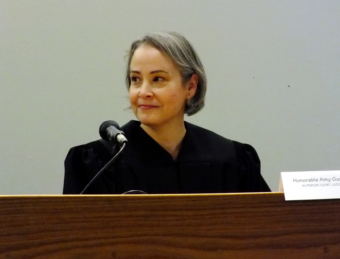 With the help of husband Travis Mead, she then put on her judge's robe to more applause from family members, Juneau attorneys, and court workers who filled a courtroom at the Dimond Courthouse.
Also attending the event was nearly every active or recently-retired judge in Southeast Alaska. Ten judges total were squeezed together, all sitting up on the bench.
"An observation before I give my comments. This is the first – I believe – the first time in history of the First (Judicial) District that has had two women on the bench at the same time," said retired District Court Judge – now Senior Judge – Keith Levy.
Judge Mead joins District Court Judge Kirsten Swanson at the Dimond Courthouse. In addition to Juneau's most serious criminal and civil cases, Mead may also preside over such cases in Haines, Skagway, Hoonah and Yakutat.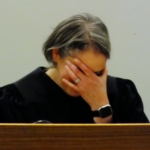 Mead was most recently the city attorney for the City and Borough of Juneau. Former coworkers and other judges called Mead conscientious, hard-working, and always well-prepared.
"I appreciate everything that everyone has said," Mead said. "I really hope to do a very good job. I'm trying to do a very good job and I hope that that is recognized and felt."
Chief Justice Bolger said it's important to celebrate new judges because decisions they make protect our community, economy, society, and democracy.
"Judges protect our democracy by making decisions about elections, by reviewing decisions of administrative agencies all the way from the lowest planning commission up to the governor of the state of Alaska," Bolger said. "And judges protect our rights. Judges protect our rights to freedom of speech and the press, our right to bear arms, our protection from unreasonable searches and seizures."
Judge Mead has actually been hearing cases for last two months. First Judicial District Presiding Judge Trevor Stephens of Ketchikan administered the official oath by video conference Aug. 21.
An installation or robing ceremony is usually held later for the benefit of family and friends from out of state.
Mead succeeds Superior Court Judge Louis Menendez, who is retired and now serves as senior judge filling in as needed on a temporary basis.
Mead, a finalist for the position, was selected in July after Governor Bill Walker controversially rescinded his appointment of Juneau attorney Julie Willoughby.
Justice Bolger said the Alaska Judicial Council will soon be holding public hearings on candidates to fill a new, third Superior Court judgeship in Juneau.