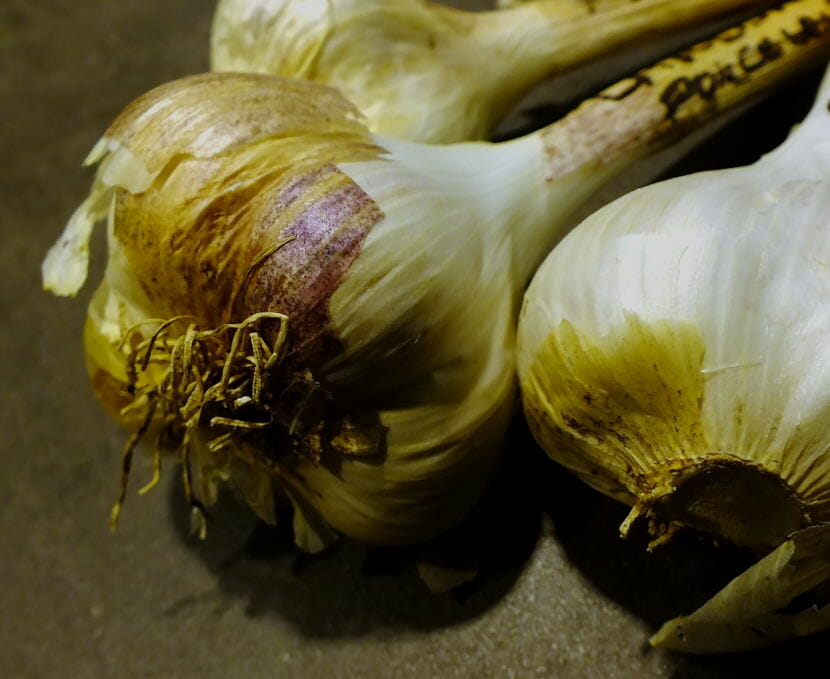 KTOO listener Carole P. writes: "This fall is so unusually warm. When should I plant the garlic?"
Master Gardener Ed Buyarski said he'll actually be planting garlic this weekend, even if it stays mild for the next few months. But he said anytime before the ground freezes in October is ideal.
First, he suggests seed hardneck garlic — not the typical California softneck garlic found in grocery stores — as the best type for Alaska gardens.
Gently break the garlic bulbs into individual cloves, and set aside the small cloves for cooking instead of planting.
Plant the biggest cloves in rich, well-drained soil in a sunny location. They should be planted about 2 inches deep and 6 to 8 inches apart with each clove's pointy end up.
"It is a fairly heavy feeder," Buyarski said. "Working in compost and organic fertilizer into the soil before planting really is an important item."
Gently cover the cloves with soil and then add a layer of compost or seaweed. Adding a layer of plastic on top will prevent the soil from becoming too wet during the fall rains.
Ideally, Buyarski said garlic should not sprout in December or January. That's too soon.
Adding mulch and then covering with spruce or hemlock boughs may provide enough ground insulation to prevent the ground from repeated freezing and thawing, and keep the garlic on schedule for sprouting in March or April.
Listeners have also asked for links to seasonally-sensitive episodes of Gardentalk that recently aired. Click on the link to bring up the page for that particular segment.
Gardentalk – How to treat your freshly harvested potatoes with TLC
Gardentalk – How to protect your veggies from the coming frost
Gardentalk – How to collect your own flower and vegetable seeds
Gardentalk – Great Alaska Slug Hunt: Fight back against invading mollusks