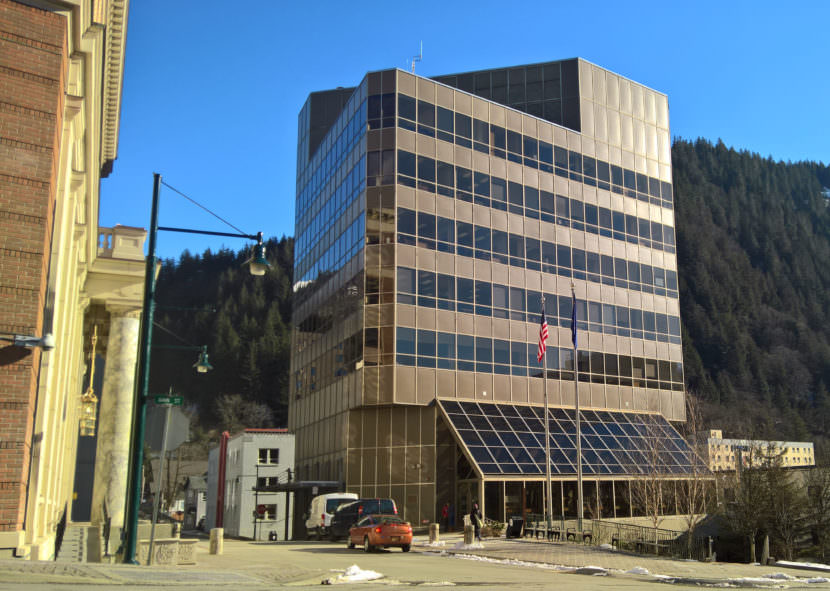 A 26-year-old Juneau man spent roughly six months in jail for allegedly assaulting his grandmother. Then the man, who's diagnosed with paranoid schizophrenia, is alleged to have done it again — this time in a Juneau courtroom. And it took 11 minutes for a law enforcement officer to arrive.
The incident is raising questions about courthouse security.
On Aug. 6, Konnie Chitty was testifying in a closed guardianship hearing for her grandson Tyler Leatham on the third floor of the Dimond Courthouse. The hearing would help determine if the state would become the guardian for Leatham.
Chitty told a recent forum held by supporters of candidate for governor Mike Dunleavy what happened. She said she was testifying about the earlier assault.
"While I was standing just like this, speaking directly to the judge, my eyes not wavering, my grandson jumped from right here, beside his attorney, and knocked me out in one punch," Chitty said.
While Leatham stopped the assault after his mother and others in the courtroom urged him to stop, it took time for help to arrive.
"There was only two of us in this, beside his attorney, the judge (and) his secretary, both pushing a panic button inside a locked room and no one came," she said.
The courthouse had two judicial services officers, who would have been responsible for responding, but both were guarding prisoners at the time. A Juneau police officer outside of the courthouse responded and arrived 11 minutes after the alarm.
For Chitty, the incident raises two concerns. One is about courthouse security. The other is about whether the state provides enough mental health treatment to those like Leatham who need it.
Chitty said the statewide need for in-patient mental health treatment far exceeds the capacity of the Alaska Psychiatric Institute.
"He does not particularly need prison, but a mental health institution," Chitty said.
Chitty had this concern before the August incident. After Leatham's first alleged assault against her in February, he was first jailed, then flown to Anchorage. His family understood that the state was seeking to move him to the state psychiatric institute. However, Chitty said that never happened and he spent much of his time in solitary confinement.
"I don't know if we're going to get help for our Tyler," Chitty said.
Neil Nesheim is the area court administrator for Southeast Alaska. He was working nearby when the incident occurred. He said judicial services or Juneau Police Department officers are generally in courtrooms at the request of one of the parties or the judge.
"If somebody would be considered dangerous and a threat in the courtroom, certainly either party or either attorney could ask the court to provide some sort of JS officer or JPD officer or state trooper to be present, if that were the case," he said. "To my knowledge, we haven't received anything along those lines."
Nesheim said those who work in the courthouse learned from the August incident.
"It was an unusual incident," he said. "I don't think anybody expected that really to happen. Certainly it's one of those things where it's one for the learning books in terms of what to look out for in terms of: Does someone have any mental health issues and would they be considered a danger to society or those people in the courtroom?"
Nesheim said the incident may lead to having more security in the courthouse.
"I would expect that the change would primarily result with the additional staff of judicial services officers," he said. "Right now, they only have two. Typically in the past they've had three. I don't know if that's because of budget cuts or just the inability of being able to find somebody. But simply the presence of another judicial service officer would certainly help."
Chitty flew down to Seattle last week to have her injuries from the incident checked out.
"It's been horrible for our family, but we are moving forward," she said.
Leatham has been in Juneau's Lemon Creek Correctional Center since the incident. And Chitty said the state has been granted guardianship over him. That means the state will provide for his treatment and everyday living needs.