Update | noon Wednesday
With 100 percent of precincts reporting in House District 33, the second and third place finishers have swapped places. Haines Borough Assemblyman Tom Morphet moved up to second place, and Steve Handy of Douglas fell to third. Sara Hannan remains the clear winner of the Democratic primary.
Original story | 12:38 a.m. Wednesday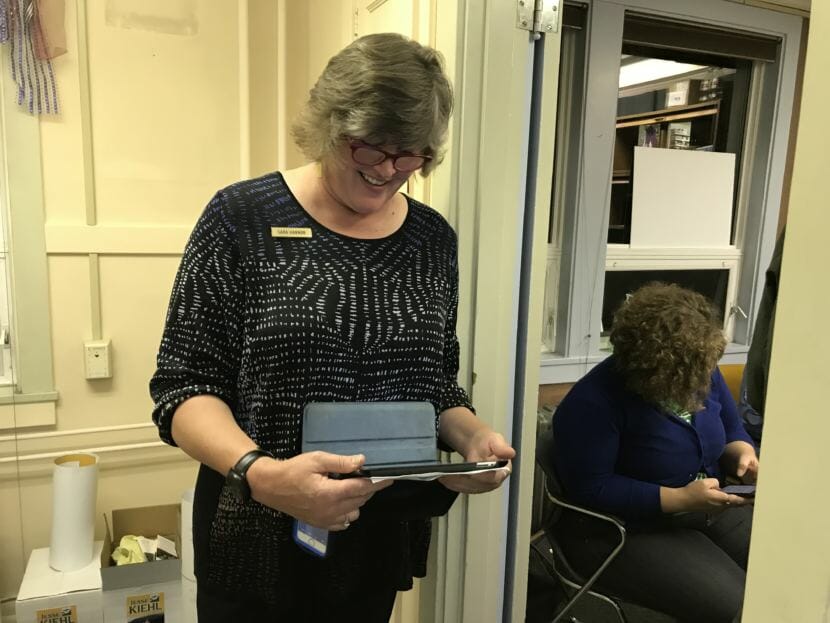 Democratic primary voters chose Sara Hannan as their nominee to replace Rep. Sam Kito III on Tuesday. That means Hannan will go head-to-head with independent Chris Dimond in the November 6 election for House District 33.
Hannan, who lives in Douglas, defeated political newcomer Steve Handy of Douglas, who came in second, and Haines Borough Assemblyman Tom Morphet, who came in third. James Hart of Haines was also on the ballot, but asked voters not to vote for him. The district encompasses downtown Juneau, Douglas, Haines, Skagway and Gustavus.
Hannan spent Tuesday evening at a Democratic Party shared office space in downtown Juneau. She sat with supporters refreshing the election results as they came in.
"I had planned on prevailing tonight and now I've got 77 days to earn the votes to represent this district," she said.
Hannan emerged as the front-runner early in the day. At downtown polling locations, many voters spoke enthusiastically about their support for Hannan. Her two decades as a teacher at Juneau-Douglas High School earned her many fans.
"She was my high school history teacher," said supporter Robert Anderson. "I've been going to the marches and rallies at the capitol recently and I've been seeing her there and I more or less watched her evolution and decision to run. So I've been supporting her since."
Other voters liked her progressive policy positions. Hannan supports single-payer health care and an income tax.
"I believe that she will be a strong supporter for issues relating to education and health care," said supporter Laura Lucas. "I really believe that Sara has the experience to work as a team and to make things happen."
A common image of Hannan prevailed among her supporters: that of a mediator who can reconcile differences in the House of Representatives without compromising on her progressive principles.
Hannan's primary opponents spent Tuesday morning cramming in some last-minute campaigning. Handy and Morphet stood along Egan Drive flashing their campaign signs for passersby.
Morphet said he faced a steep learning curve.
"I learned a lot about campaigning and if I ever were to do it again I would do it very differently," he said.
Strolling to the polls Tuesday morning to vote for herself, Hannan said she felt confident that she'd be nominated.
"I think from the outset I had a very serious plan to do a ground game and to just really engage with people on issues. I think voters respect that when people want to talk and engage and one of the other skills as a teacher that you develop is the ability to listen to people and hear their concerns," she said.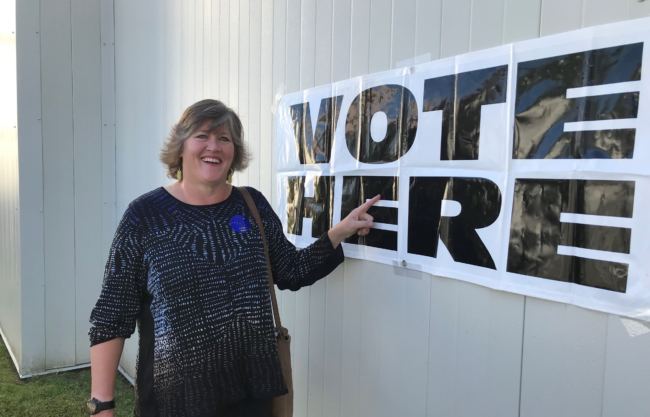 Hannan had other reasons to feel confident. She raised more money than either of her primary rivals. As of Aug. 18, she raised more than $34,000. Morphet raised around $8,000 and Handy raised just over $1,500.
Hannan proved to be a formidable fundraiser but her opponent for the general election has an even bigger war chest. Chris Dimond has raised over $62,000.
The general election is Nov. 6.