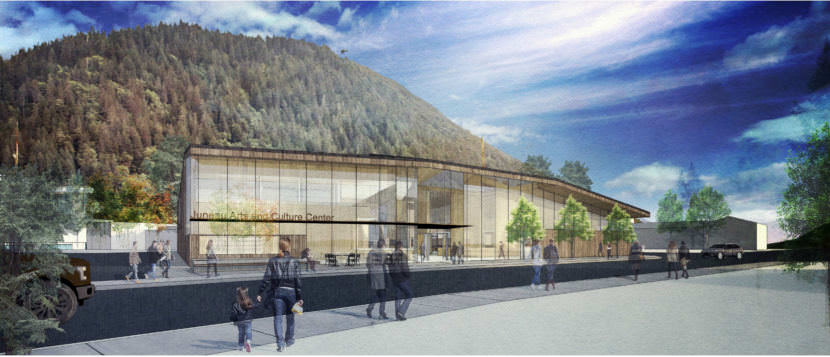 Efforts to rebuild the Juneau Arts and Cultural Center – touted as the "New JACC" – are in flux.
That's following divisions among elected officials over its ownership and financing structure.
The Juneau Assembly has less than three weeks to put a bond measure on the October municipal ballot asking voters to approve a bond to improve Centennial Hall and a new JACC.
Both are city owned but are run by the nonprofit Juneau Arts and Humanities Council. Some on the Assembly oppose city investment in the JACC at all.
Assemblyman Norton Gregory said the cost of living is rising and many are struggling to keep up.
"But if you can't afford housing and you can't afford food, how can you afford to go out and have fun at a new JACC?" Gregory told KTOO Thursday.
At a Wednesday committee meeting, the Assembly changed the proposed ballot language. The $12 million bond proposal was trimmed to a $9 million investment from a mix of sources.
The arts council's marketing director Ben Brown notes the city owns the current JACC property, which is housed in a former armory building.
"The old JACC is a CBJ asset and so, there is a responsibility on the part of the city to decide what the city wants to do with that existing asset," Brown said.
Brown said the latest tweaks to the ballot language caught the arts council off guard.
"Basically, there was a Plan A which we supported and there was a Plan B that we're learning more about and which we may well support," Brown said. "We certainly don't oppose it."
The New JACC is expected to cost at least $31 million. Private donations have raised more than $3 million plus another million reserved for operational costs.
Brown said the question of public investment should be put to voters in October.
"The fund raising continues apace and there's a great deal of interest in the private sector and foundation world of helping to support this project." he said. "And we're going to continue working that angle, but some public investment is something that we think is reasonable. We hope the Assembly will see the reason in that and allow the voters to decide to invest in the community."
Assembly Finance Committee Chairman Jesse Kiehl — who opposes the ballot change — said there are apparent tensions between boosters of the New JACC and the city's visitors bureau.
Kiehl said that means more meetings, "where we drag everybody to the table and put the arts and humanities council partnership and Travel Juneau on the record and then the Assembly will need to decide which one proposal goes forward, if any."
Travel Juneau did not respond to requests for comment.
The Assembly has until Aug. 14 to finalize the ballot language for the October ballot.