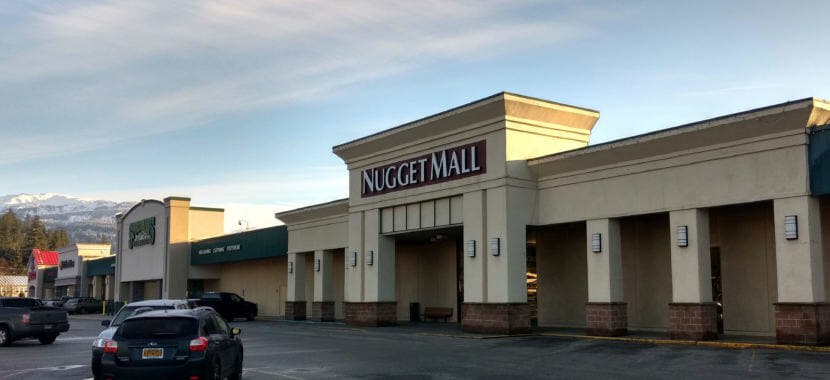 The corporate lender taking over Juneau's Nugget Mall is pledging to refurbish the aging retail complex that's struggled with vacant storefronts.
A $12.5 million real estate deal to sell the Mendenhall Valley properties fell through earlier this year. Now, the mall's Seattle-based creditors are taking possession of the properties later this summer.
"I'm not suggesting that this particular mall could be something extraordinary, admittedly. But we can absolutely make it better," Brad Shain, a fund manager with Columbia Pacific Advisors, said in a Monday interview.
The Nugget Mall has had years of legal and financial troubles. It went into court-ordered receivership in 2015. Sportsman's Warehouse was added, but a broken sewer forced longterm food vendors out.
"The old owners didn't have any money and they didn't want to invest in it and it's really sad because when we look at the property, we see that this thing could be so much better than what it is today," Shain said. "It just needs some TLC. I know that sounds cliché but it's actually true."
The firm is taking bids from contractors for a host of projects including repairing the parking lot and towing away abandoned vehicles, Shain said. There are also planned improvements.
"We want to create a food court inside," Shain said. "We need to do some new heating and HVAC systems in there. We want to re-carpet the interior, we're going to paint the interior and exterior of all the common areas. There's just a lot of deferred maintenance that needs to get done."
Shain said online shopping has taken its toll on brick-and-mortar retailers across the country suffering from the so-called "Amazon effect."
"But people still want to go to the malls," Shain said. "They want to have an experience. They want to touch and feel stuff and they also want food. They want haircuts, they want to get their nails done, they want some of those basics that you can't order off of Amazon, so to speak, or the internet."
Vacancy currently hovers around 30 percent, Shain said. He added his firm is willing to offer incentives to new tenants that will help revitalize the mall.