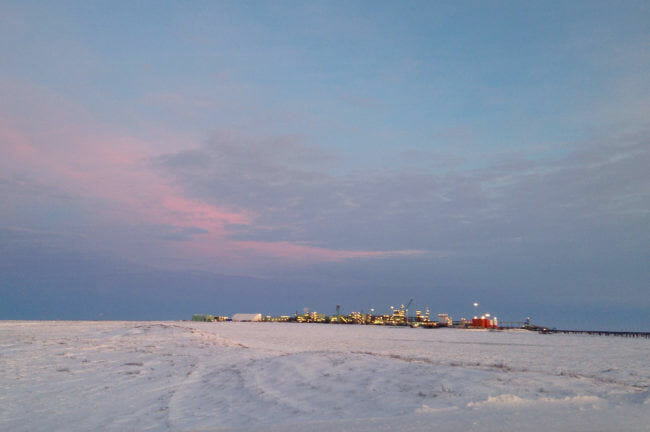 Governor Bill Walker's Climate Action Task Force met Wednesday to discuss a draft document that could influence the state's climate change policy in the future.
The Climate Action Task Force had something new to work with this week: A report from the Oil and Gas Technical Committee, which is a group made up of task force members and a mix of volunteers and includes representatives from industry.
Overall, that report suggests that hard numbers for reducing carbon emissions won't come easy — especially since industry emissions have already decreased between 2005 to 2015. Though, economists aren't entirely sure why.
But the governor's task force is still trying to set some clear goals. The current draft plan includes language to reduce oil and gas emissions by 30 percent over 2005 levels by 2030.
To help achieve that, the document includes the prospect of upgrading North Slope's energy infrastructure. On the conference call, Alaska Energy Authority Executive Director, Janet Reiser, says that project seems like a heavy lift.
"I see big concerns about the ability of this project to be economic or even beneficial to any real degree" Reiser said.
There was another sticking point in the nearly two-hour long meeting: Should the task force include the words "climate change" in its policy statement on science education and encourage more curriculum related to that? It was included in an earlier draft.  
Larry Hinzman, a Vice Chancellor at the University of Alaska Fairbanks, suggested treading lightly.
"If people think we are trying to indoctrinate their children, you know, that could kill the whole program," Hinzman said.
But Mark Masteller — the task force member who helped craft the policy statement — disagreed.
"We're using 'climate change' in many parts of the document," Masteller said. "What our charge is, is to lead on the issues related to climate change."
In the end, the task force seemed to come to a broad conclusion to act boldly and potentially include the language.
Their next in-person meeting is August 2 in Anchorage. The task force hopes to have the draft policy completed by September.
Editor's Note: An earlier version of this story contained an error. The draft plan includes language to reduce oil and gas emissions by 30 percent over 2005 levels by 2030 — not 3030.