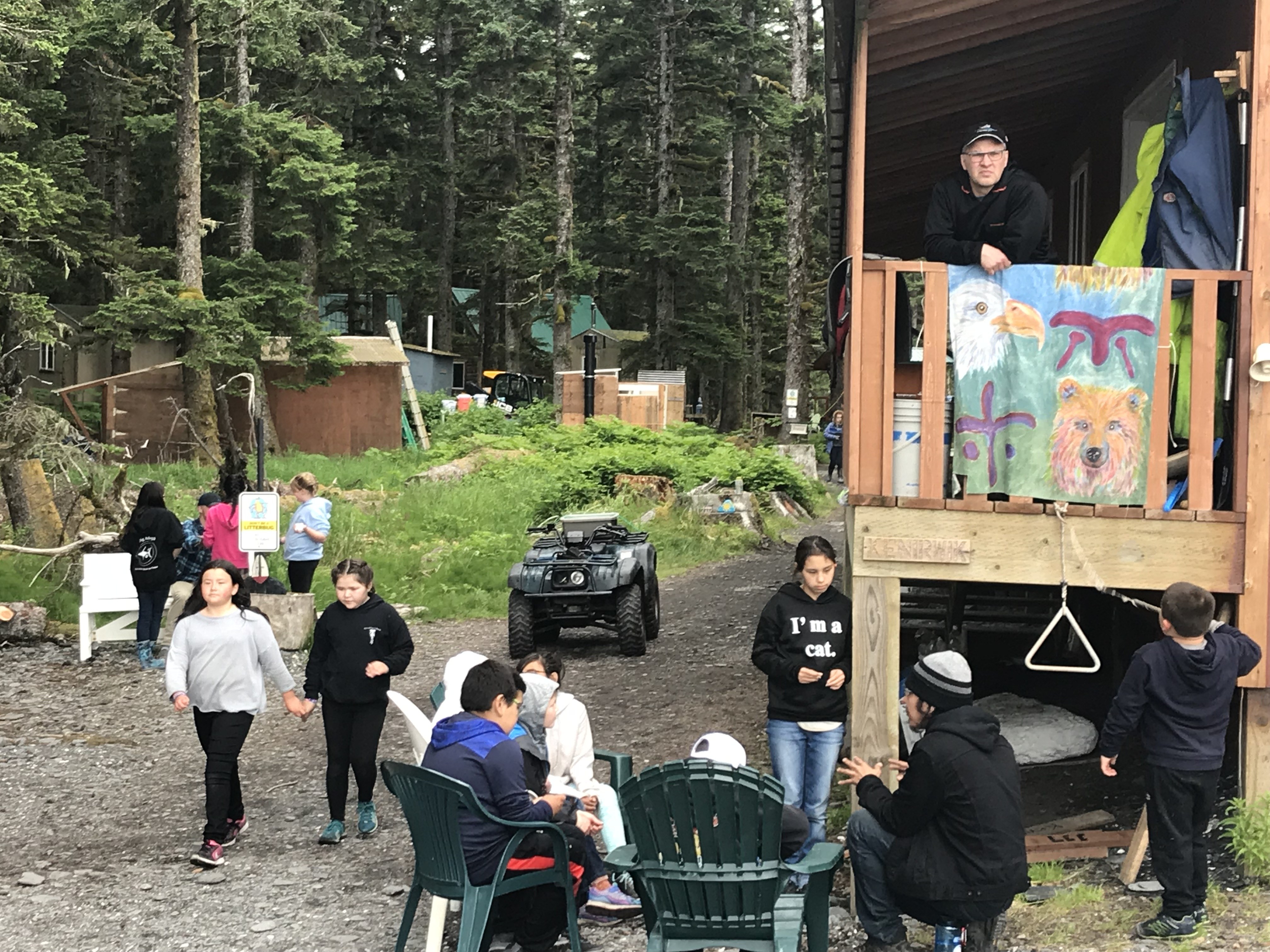 A 1964 earthquake devastated the island of Afognak, near Kodiak, and scattered its indigenous people to other parts of Alaska and the Lower 48.
Many lost touch with their culture and language.
Afognak descendants are making sure a new generation has a connection to Alutiiq culture, language and to the land where their ancestors lived.
Two young Alaska Native women who work at a nearby weir counting fish during summer are teaching the kids at this camp about salmon.
"This is Dig Afognak on Afognak Island and its a kids cultural camp," said Taletha Gertz, who has spent the past seven summers working at the camp,
The camp site was previously the site of an archeaological dig, and before that, the home of her ancestors.
The village was destroyed after the 1964 earthquake and tsunami.
"They decided not to rebuild on Afognak and some of the villagers went to Port Lions and the rest dispersed throughout the United States, Kodiak and Alaska," Gertz said. "To me, I've realized that Dig Afognak, it's a place where we can all come together and talk about those original roots of Afognak."
The land on which the camp sits was owned by Afognak Native Corporation and, after an archeaological dig was completed, the camp was turned over to the tribe and later the land was donated as well.
Native Village of Afognak turned it into the kids cultural camp.
They host four week-long camps with themes like subsistence hunting and survival skills and Alutiiq music and dance and language immersion. Kids, Native and non-Native, learn about science, the arts and the outdoors through the lens of Alutiiq culture.
Gertz said visiting the place where her ancestors once lived helps her feel connected. And she says it is also important for her three kids.
16-year-old Skylar Gertz is the oldest.
"If it wasn't for this camp I think I probably would have been like, completely oblivious to who I am," she said.
With light hair and eyes, she says growing up in Kodiak people didn't always recognize her Native identity.
But at the summer camps, she feels like she is part of a big family. Now she works here as an intern, helping out in the kitchen and mentoring younger campers.
Sometimes she tags along to help out on excursions to forage for plants or to hunt and fish.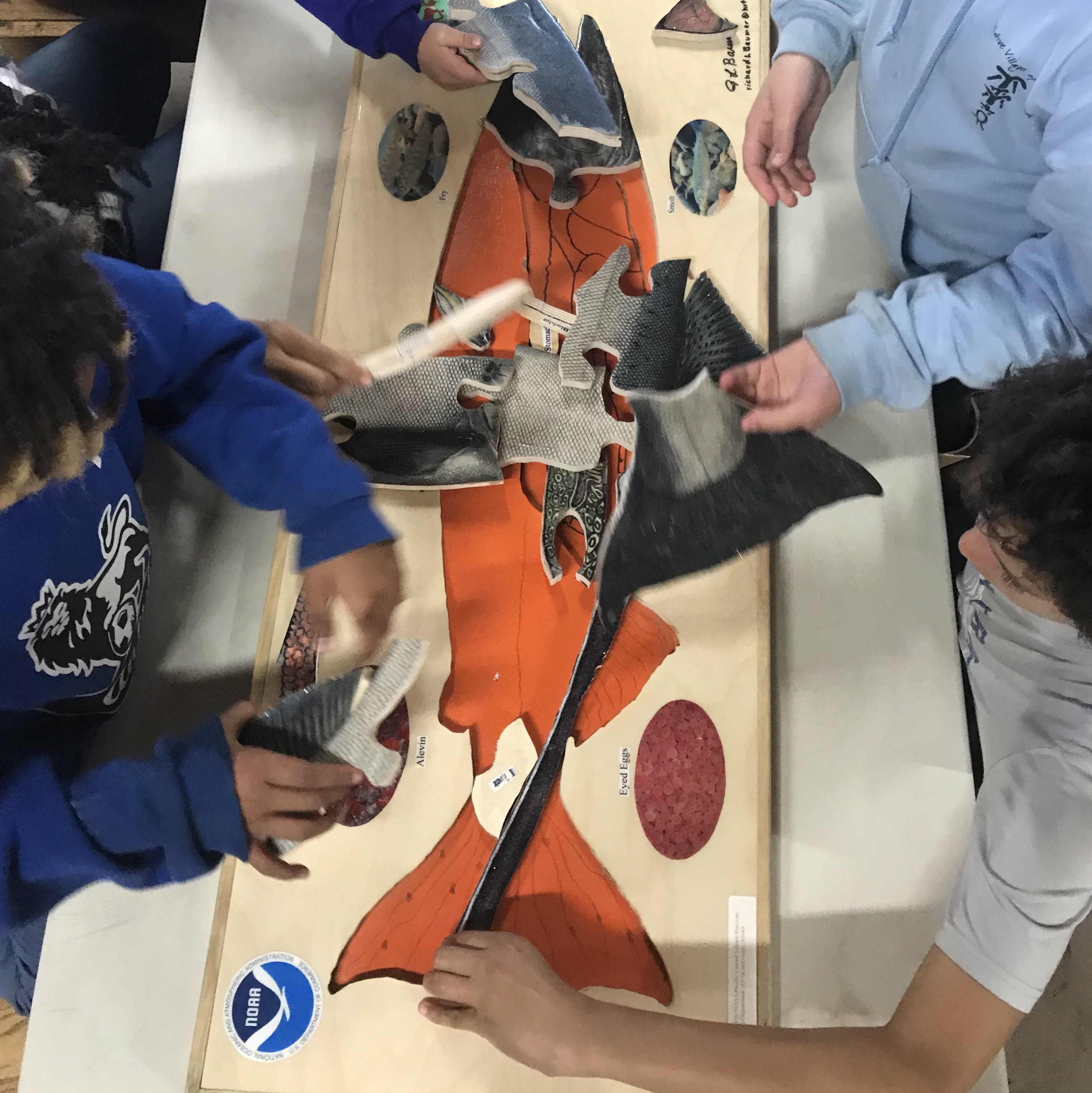 It also immerses campers in the Alutiiq language.
Signs with Alutiiq words for household items are posted around the camp.
"The language is a big part of it because as we learn the language and go into the different concepts we learn about tradition, why this word is what it is, when it was used by the elders, the different kinds of ceremonies they had, the different kinds of family structures they had," said Susan Malutin, who teaches Alutiiq culture and language at the camp. "And these words describe those things and that's how they learn."
Camp manager Nancy Nelson says the camp is critical for boosting the next generation's skills and confidence.
"It's mostly building their self-esteem, making them have that self-confidence in themselves because they're our future leaders," she said.
James Dunham is a member of the Afognak Tribal Council, which views the development of the camp as one of their most important accomplishments.
Dunham said the camp is very important to him because, like many Afognak descendents, his grandchildren are growing up in the Lower 48, and he doesn't want them to forget their roots.
"We want to make sure our kids are able to hold their heads up and be proud of who they are and where they come from," Dunham said.
And it seems to be working.
Skylar Gertz, whose mother is a descendent, but whose father is not, said she cannot participate in some cultural activities, like hunting for otters and seals during camp because of the way the government defines her eligibility through blood quantum.
However, she says the camp has taught her to feel confident in who she is.
"Being Native isn't about how much Native you are," Skyler Gertz said. "It is just about your ancestors and how you live up to that today."
Dig Afognak summer camps run through the end of July.