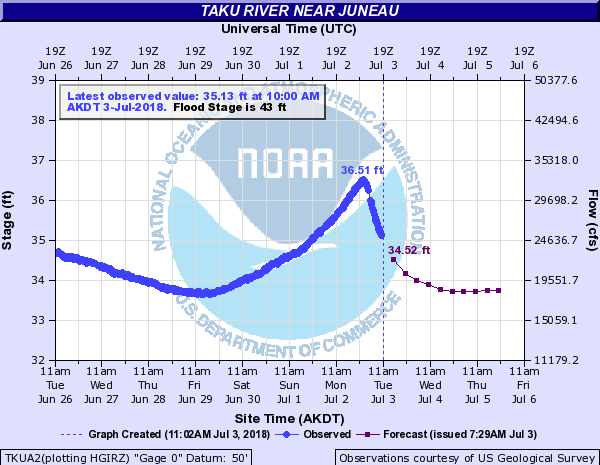 Taku River levels are now falling after a glacial dam release over the weekend in Lake No Lake above the Tulsequah Glacier.
Brian Bezenek of the National Weather Service in Juneau said the river crested at 36.5 feet at their gauge near the U.S.-Canada border about 1 a.m. Tuesday. About nine hours later, the river level had fallen to 35 feet.
Ed Jones with the Alaska Department of Fish and Game's Sport Fish Division said they run three different stock assessment programs every season out of Taku River's Canyon Island. That's just a few miles downstream from the border and several more from where the Tulsequah River enters the Taku River.
Five biologists are currently operating fish wheels for their sockeye assessment program.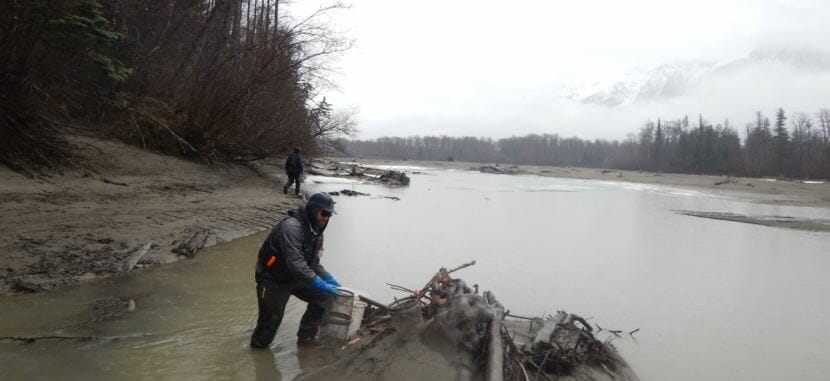 Jones said they also monitor water temperature. In addition to rising water levels, rapid cooling can signal that a glacial dam release may be underway instead of the usual snow melt or rainfall runoff.
When river levels starting rising dramatically, Jones said they usually stop and disengage the fish wheels.
"If the water velocity is too fast, the wheels will spin so fast they'll just break," Jones said.
Jones expects the wheels will only be out of action for a day or two.
"The fish aren't really moving during that high water anyway," Jones said. They kind of settle back and find a holding spot. So, we're not missing any valuable information there."
With the Taku River running low recently, Jones said they just tell their crew to stay off the water until river levels subside.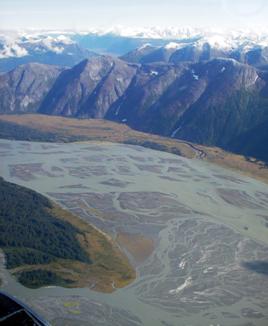 "Some of the biggest issues with these events is that it takes material that's accumulated on the shoreline all season long when the water was lower and it puts it in the river," Jones said. "So, you'll have lots of trees and limbs floating in the water and that's a hazard for boaters that they'll have to take note of."
Depending on the season, Jones said as many as twenty biologists may be working up the Taku River. That doesn't include their Canadian counterparts who work with them at Canyon Island.
A 2004 McDowell Group report also refers to the Taku River as important for subsistence, recreational, commercial fishing, and mining activities in Southeast Alaska. It describes as many as 40 private cabins and three public use cabins along the Taku River.