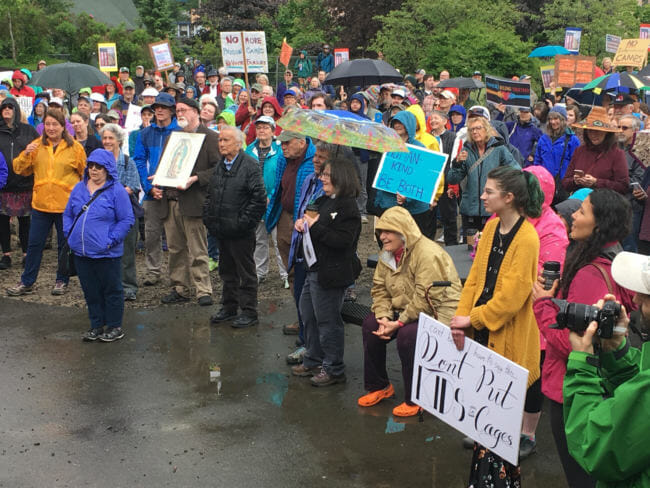 Juneau residents joined others around the nation Saturday to voice their opposition to immigration policies separating migrant children from their parents at the United States' southern border.
Weathering rain, a rally of close to 400 people denounced family separation and called for the release of detained children and immediate reunification with their families.
The Department of Homeland Security has said more than 2,300 immigrant children have been separated from their families since May under President Donald Trump's "zero-tolerance" immigration policy.
Although Trump has since reversed the policy so that families are detained together, thousands of children are still being held indefinitely in detention centers with no contact with their parents.
Libby Bakalar led the Families Belong Together Rally at the Capital School Playground Park. She is a lawyer known for her political and comedic writing online.
"They have done this on our behalf, in our name, in the name of our country and it is appalling," Bakalar told the crowd.
She said Alaskans need to keep calling and writing representatives like U.S. Sen. Lisa Murkowski, who represents a crucial swing vote in Congress on issues like immigration.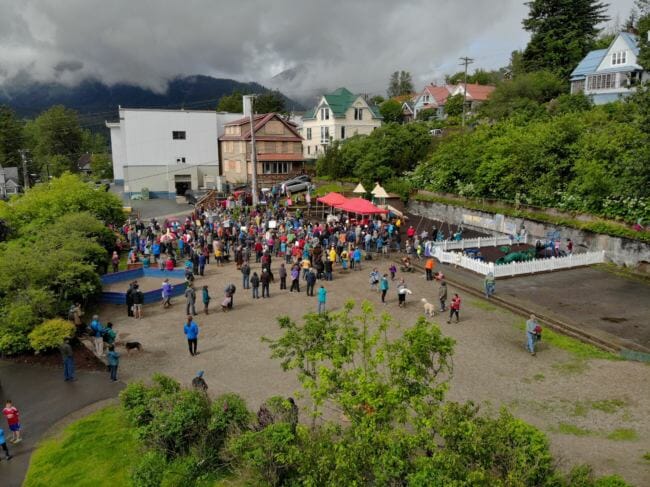 "We have to continue to think about these issues and stay focused on them because the news cycle moves so quickly, people can get apathetic and it's not going away and it's certainly not over for these kids who are in indefinite detention," she said afterward.
The League of Women Voters registered voters and the Alaska Institute for Justice took names and contact information of anyone looking to get involved.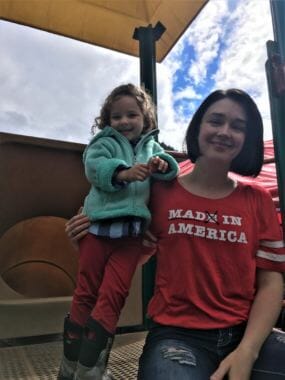 The institute's deputy director, Kari Robinson, said the non-profit provides immigration legal services for up to 900 Alaskans each year.
Several people with legal expertise approached the table asking how they could get involved.
Robinson said they have an asylum pro bono project to provide legal services to those who can't otherwise afford them.
"We have a lot of people who want to volunteer in many capacities," Robinson said. "They can go to our website, akijp.org, and they can send us an email, they can look at our three programs and see the that we do in Alaska."
As the adults spoke and organized, dozens of kids played and ran through the crowd, offering a visual reminder of what's at stake.
Jessica Rider brought along her 4-year-old daughter, Camilla.
"I think it's significant to show a presence of parents and also just to remind us of why this is important," Rider said.
After the rally, organizers invited attendees to continue putting pressure on politicians to end family separation.