While cleaning out the apartment of a recently deceased relative Wednesday, family members found a surprise — a World War II era Japanese hand grenade.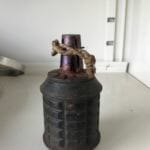 Juneau police were called to the apartment in the 800 block of West 12th Street.
Police Lt. Krag Campbell said JPD notified their bomb disposal unit and asked the military for advice.
"Ultimately, we were given advice that it was safe to move," Campbell said. "Our explosive ordnance officers removed that device from the location."
Campbell said he thinks it's pretty rare to find old war ordnance like this.
"It looks like everything was still in tact and in good condition," Campbell said. "I have not seen it myself but what I'm told from officers, it looks like it's a functional grenade."
Campbell says the bomb disposal officers will explode it at a later date.