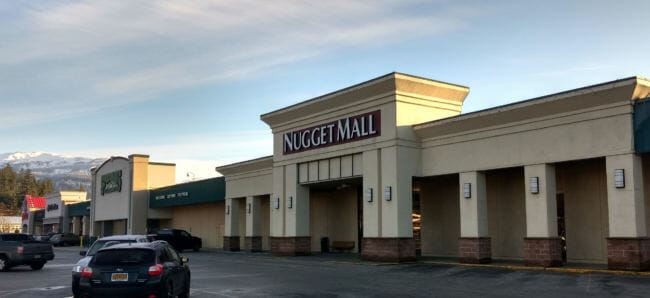 The sale of Juneau's Nugget Mall fell through after a prospective buyer found the 44-year-old properties needed more work than expected.
"There was too much deferred maintenance, too much capital expenditure that was going to be required to bring the mall up to the standard they wanted," said Kevin Hanchett, head of the court-appointed firm running the mall.
Aventine Development Corporation then requested the selling price of $12.5 million be reduced.
The mall's main creditor balked at the buyer's request, Hanchett said Thursday.
"We gave them the choice to either taking it back or having us to continue to market it," Hanchett said. "They elected to take it back."
Ownership will soon transfer to Columbia Pacific Advisors, a Seattle-based lending group.
The mall had nearly $12 million in outstanding debt, fund manager Brad Shain said when reached for comment Thursday.
He said his firm is "super excited" to own the mall once a judge approves the transfer. His investment group plans to manage the mall and Shain would visit Juneau in the next month.
Hanchett's receivership firm helped oversee renovation of the Nugget Mall, which has struggled with vacancies.
He said the mall is in a stronger position than when his firm took over in 2015.
"It's been a long, fun adventure," Hanchett said. "We're glad we could add our two bits to the mall to get the improvements in there, get the Sportsman's Warehouse done and things like that. I think we're leaving it better than we arrived. It's just unfortunate that we didn't end up with an actual sale of the property."
The mall was built in the 1970s by a now-defunct partnership. Tenants include Petco, JOANN Fabric, Sportsman's Warehouse and a number of locally owned shops.