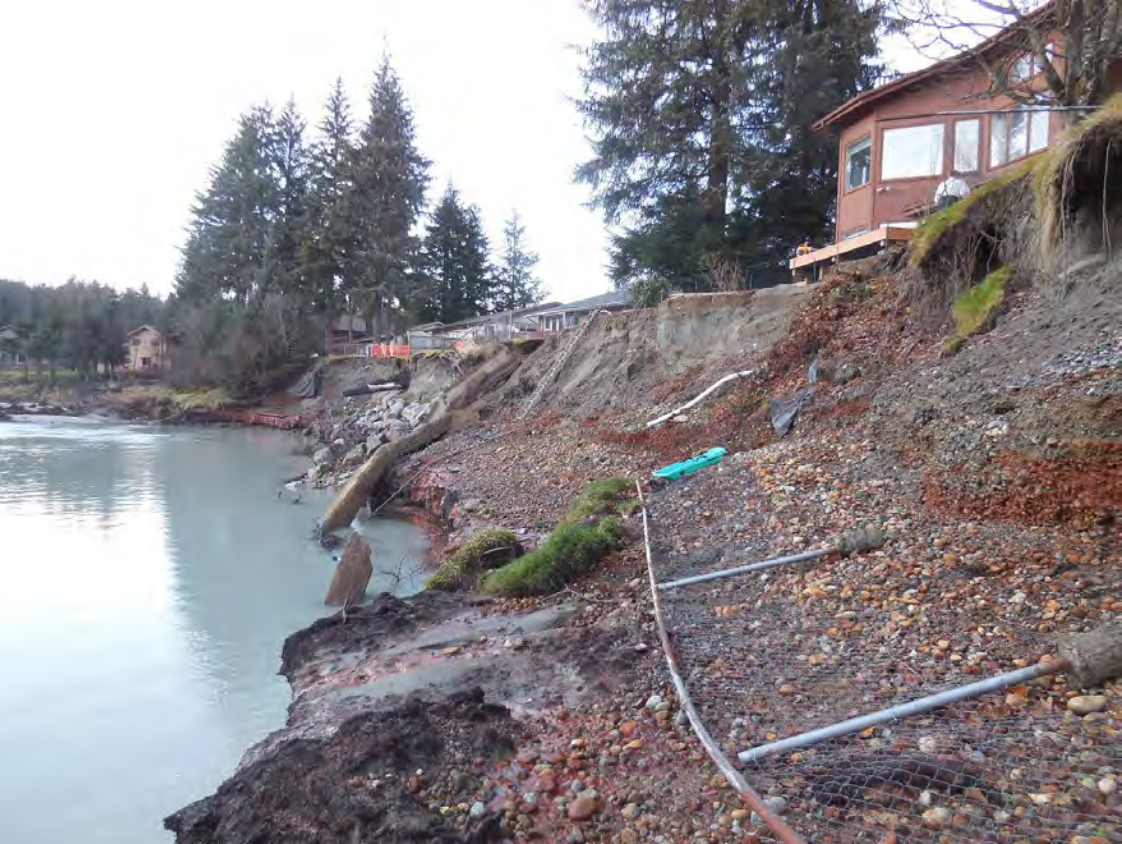 In Western Alaska, the village of Newtok is in the process of leveraging federal funds to relocate. It has taken decades to find a solution. Meanwhile, in Juneau, a similar conversation is happening on a much smaller scale, where a couple of homes are at risk of crumbling into a glacial-fed river. The neighborhood can't seem to agree: As the erosion gets worse, who should pay for it?
At first glance, the neighborhood on Meander Way looks like any ordinary subdivision built in the 1980s. But there's a unique feature snaking along some of the home's backyards: the Mendenhall River.
Joyce and Curt Goehring wave at paddlers floating down the river. For the couple, having the river right outside their door was a huge attraction. On their deck, they can see things they couldn't have imagined at their old home in Utah.
"We have beavers going up and down the river everyday … Sometimes we have harbor seals come up. I mean it's just a wonderland," said Joyce Goehring.
A wonderland that isn't as idyllic as it seems. Besides paddlers and seals, there's another sight visible from the Goehring's: down the river, you can see a couple of homes that look dangerously close to river's edge.
The situation was alarming enough to catch the attention of a federal emergency watershed program. And for the past few years, the agency has been trying to develop a solution so the neighborhood could be placed on a priority funding list.
That plan was to essentially build a large retention wall — big enough to protect 28 homes, including the Goehring's. It would cut off several feet of their beloved backyard.
"So we'd a walked out the door to a fence," said Joyce Goehring.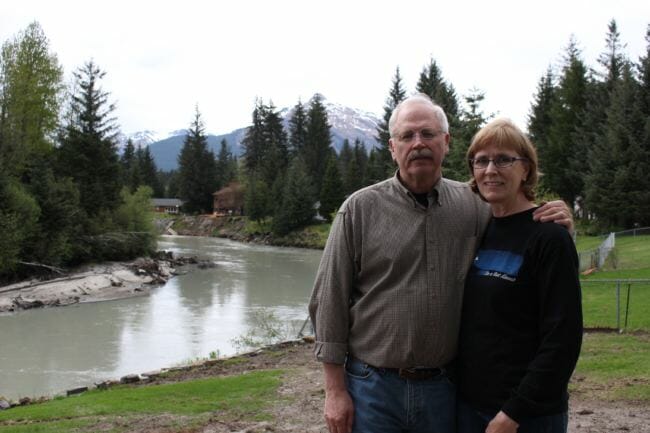 Each homeowner would be responsible for paying up to $80,000 to build the wall, but that's not what the Goehrings say upset them most about the plans. The vast majority of the money was to be spent from federal funds.
"Just the absurdity of it all really fired us up," said Curt Goehring.
"Especially when you have all those people from California from the fires and the flooding and stuff," Joyce Goehring added. "That, in our opinion, is what government funds of that nature should go to."
The Goehrings say they knew the risks when they bought this property.
River erosion isn't anything new. In fact, some of the homeowners who live on Meander Way built their own retention walls back in the 1990s. But what they couldn't have expected was a surprise climatic event that would speed it up.
Seven years ago, the couple saw the river rise in a matter of hours. Water started seeping into their grass.
"We were just standing there watching going, 'Wow, is this normal?' And our neighbor over here said, 'No, this is not normal,'" said Joyce Goehring.
Eran Hood, a professor of environmental science at University of Alaska Southeast, says when the water started to rise back in 2011 it was a "huge mystery."
"It was July, it was sunny and it was a beautiful day," Hood said.
After receiving concerned calls from the city's emergency response coordinator, he boarded a helicopter to try to figure out what was going on. He flew above the Mendenhall Glacier, which feeds the river.
"You don't have to fly very far up before you see Suicide Basin, and as soon as we pulled the helicopter into the basin you could see all these icebergs stranded," Hood said. "So, it was very clear that it had been full of water."
That water used to be ice flowing down from the Suicide Basin Glacier. But as that glacier retreated, due to warming, it carved out a bowl.
"That's why this area is flooding now is because this basin is essentially a bathtub that can be filled up with millions of gallons of water," Hood said.
And that's bad news for the Meander Way neighborhood. Because once that water spills over, it flows under the Mendenhall Glacier and eventually floods into the river. It's happened every summer since 2011 — with some years being worse than others. Hood says this type of event could go on for decades, and it's possible the flooding itself could become more severe.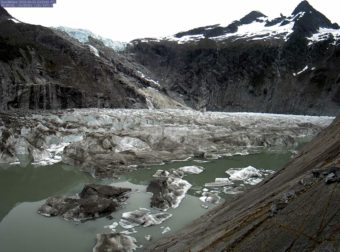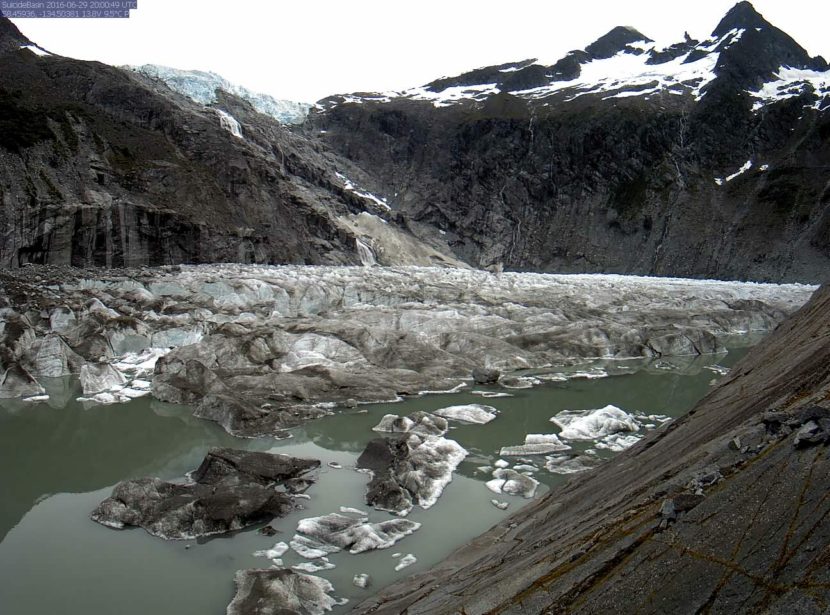 Back on Meander Way, Nico Bus describes some of the damage in one of the home's backyards.
"All that is sloughing off, too. See where the rock is falling and the lawn starts sagging," Bus said.
Bus has lived on Meander Way for about 30 years, almost as long as the neighborhood has been around.
Lately, he has been playing the role of community organizer, knocking on doors trying to get everyone to reach an agreement, so the neighborhood could get some kind of uniform fix for the river erosion.
He says the federal plan to build a giant retention wall between the river and the homes wasn't perfect, but it was better than the alternative.  
"Without it, your backyard is going to be gone completely," he said.
In the end, Bus wasn't able to drum up enough support in all 28 houses along the river. And with the neighborhood divided, the Juneau Assembly decided in May it didn't want to force the issue and facilitate the federal funds.
Bus says his backyard isn't bad off. He's done his own work to try to secure a barrier. But when he sees the river inching closer to his neighbor's home — just a few doors down — he wonders if that's his future.
Curt and Joyce Goehring, the couple from before, agree with Bus that something should be done about the neighborhood erosion, but not at the expense of millions of dollars of taxpayer money. They have considered contributing to some kind of community nonprofit, where the most vulnerable homes would pitch in more, so someday, they could all fix the erosion problem themselves — as neighbors.
But Joyce Goehring says right now she's just ready to move on.
"I don't care if their houses go down the river at this point. I am just done," Joyce Goehring said. "We're responsible for this little slice of heaven, and that's what I'm concerned with right now."
But the Goehrings are looking to share their "little slice of heaven" with someone else.
Their home will be up for sale this summer.